BRATT, Benjamin                                        SOTO, Talisa                        2002 –
Talisa in License to Kill
Benjamin and Julia Roberts
Benjamin Bratt is quite an accomplished movie actor who has been seen opposite the likes of Sandra Bullock in Demolition Man in 1993 and in Miss Congeniality in 2000, and Meryl Streep in the 1994 thriller The River Wild. His profile received a significant boost between 1997 and 2001 when he became engaged to Julia Roberts, arguably the most famous female on the planet at that time. They eventually went their separate ways and he married the former Bond girl Talisa Soto in 2002. The Puerto-Rican beauty played Lupe Lamora in the 1989 Bond offering License to Kill, but has devoted her recent time to raising their two children. Bratt is of Peruvian descent on his mother's side.
BRENT, George                                CHATTERTON, Ruth                     1932-34 (div.)
                                                                WORTH, Constance                       1937-37 (div.)
                                                                SHERIDAN, Ann                             1942-43 (div.)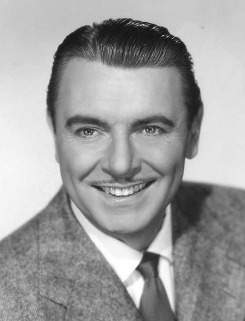 George Brent
Ruth Chatterton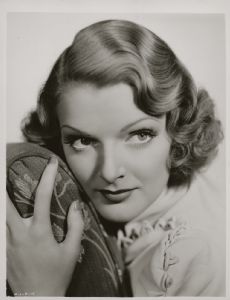 Constance Worth
Ann Sheridan
George and Bette in Jezebel (1938)
Irish-born George Brent was the favorite leading man of Warner Bros' hottest leading lady, Bette Davis. In fact, they made no fewer than eleven pictures together and would be involved off-screen as well for two years. Orphaned at eleven, George spent his teenage years as a courier for Sinn Fein leader Michael Collins, always on the run from the Black and Tans and with a price on his head. At 16 he served on Collins' assassination/hitman squad, although whether or not he killed anyone is not known. After joining the Abbey Theatre Players he moved to New York City when things got too hot for him in Ireland. His career took off from there.
A young George
In all George had five wives, although only three were movie actresses. In 1948 he made Luxury Liner with songstress Jane Powell and fell in love with her. Indeed, the feeling was mutual, yet George did not express his feelings for her until he was in his seventies! Only then did he propose marriage, but it was not to be. In 1935, after Robert Donat had turned down the lead in Captain Blood, George was considered as his replacement, but in the end the newcomer Errol Flynn landed the role and it made him a star overnight.
George & Jane in Luxury Liner (1948)
Ruth Chatterton, the first of his three actress wives, was already 40 years old when they wed. A former Broadway A-Grader, she came out to Hollywood to make movies once her star had begun to wane. Even so, she was 44 when she played Fran Dodsworth, her best movie role, in Dodsworth (1936). Her union with George barely lasted two years. She died in 1961 at the age of 67. Constance Worth was an Australian actress who never really progressed beyond B features. Her marriage to George was even less successful and was over inside six months. She would pass away at 50 in 1963.
Actress wife number three was the delightful Ann Sheridan, the 'Oomph Girl', a sobriquet she positively loathed. She and George were married one year to the day. Ann was a Texan whose sister posted her photograph to Paramount, resulting in a movie contract at 19. She was pretty much flat-chested and had a wide gap between her front teeth in which she inserted a porcelain cap whenever her picture was taken. Despite these blemishes the public loved her and she enjoyed a brief but popular career. Sadly, she too died young. Throat cancer claimed her at 51 in 1967. Twelve years later George departed this earth as well.
BRITT, May                                      DAVIS Junior, Sammy                     1960-68 (div.)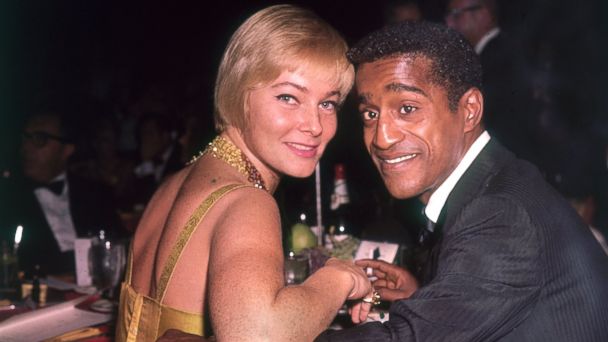 Lovely May Britt was discovered by Carlo Ponti, the Italian director who would one day marry Sophia Loren, when she was working as a photographer's assistant. From 1956 until 1958 she featured in three big movies – War and Peace, The Young Lions and The Hunters – and seemed set for a strong career until love stepped in. In 1959 she fell for black American singer Sammy Davis Junior and married him a year later. At that time marriage between whites and blacks was illegal in 31 American states and generally frowned upon in the other 19. Consequently, the couple faced a torrent of racial abuse throughout their eight years together. The story goes that John F. Kennedy personally asked Sammy to delay his wedding to May until after the 1960 presidential elections, fearful that his friendship with the singer could damage his chances of winning, given the attitude of most Americans to mixed-race marriages.
May at her peak
Lola Falana – 'The Black Venus'
In the end, however, the race issue was not what drove Sammy and May apart. In 1968 she caught her husband having an affair with dancer Lola Falana, a lady nick-named 'the Black Venus', and their controversial union was over. May was a unique beauty who put her family before fame and career, which was a great pity for her fans, for she added a quality to her films that promised much. Today, she is 82 years of age and happily married to her third husband. Sammy fell to cancer in 1990 at 64.
BRODERICK, Matthew                              PARKER, Sarah Jessica                        1997 –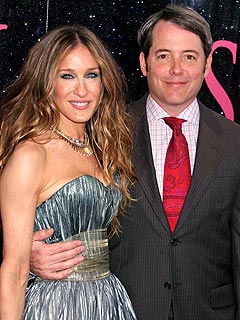 Fans of the TV series Family (1976-80) would recall Matthew Broderick's father, James Broderick, playing the patriarch Doug Lawrence in all 86 episodes. Matthew is one of those fortunate actors whose looks allow him to play a great many characters much younger than his actual age. For example, he was 23 years old when he portrayed schoolboy Ferris Bueller in the 1986 hit movie Ferris Bueller's Day Off. In 1985, just as that picture began to take off, he and fiancée Jennifer Grey (star of Dirty Dancing) were involved in a terrible car accident in Ireland that killed a mother and daughter. Neither Matthew nor Jennifer could remember any details of what happened (they said), so he was only required to pay a small fine to the victims' family and the issue was kind of swept under the rug. Three years earlier he was asked to accept the role of Alex Keaton in a new TV series called Family Ties, but he did not wish to be tied down to a television series, so the part went to Michael J. Fox instead. A year after the accident he turned down the role of Maverick in Top Gun.
James Broderick
Jennifer & Matthew
Kim Cattrall & Sarah, stars
of  'Sex in the City'
His wife, Sarah Jessica Parker, was enjoying Broadway success (plus a little film work), before suddenly acquiring international prominence, in 1998, in the highly popular (and grossly over-rated) TV series Sex in the City, in which she played Manhattan sex-columnist Carrie Bradshaw. Extraordinarily, she was nominated for a Golden Globe for her work on that series seven years in a row. Prior to her marriage she lived with Robert Downey Junior from 1984 until 1991, and dated the late John Kennedy Junior for a time. In 2007, Maxim magazine dubbed her 'The Un-sexiest Woman Alive'. She scotched rumours that she and Sex in the City co-star Kim Cattrall were enemies. 'I adore her', she said.