I was asked recently, on the radio, who my favorite actor was. I was caught unprepared and blurted out 'Gene Hackman'. Once I got home, however, I began to think deeply about the question and pretty quickly came to the conclusion that, although I admire Hackman's work, there were not a lot of his pictures that I would include in my 'favorites' list, primarily because he came late to movies after some extensive TV work. Anyway, just to prove it to myself I went through his resume. I was amazed to find eleven of his films that I have watched several times each! Eleven pictures that would make my top 100 of all time. Here they are in order of the eleventh best (in my mind) up to number one.
I hasten to point out that I am not, nor have I ever been, any kind of authority on the technical side of film-making. Nor do I spend my time analyzing the aesthetic qualities of the movies I watch. I am old-fashioned. I watch what pleases me, not what the so-called 'experts' tell me is worth watching. Consequently, I have never thought much of Citizen Kane, in spite of all the hot-shots rabbiting on about it being a masterpiece and the greatest picture ever made. Bollocks! In my opinion, it was over-rated in 1941 and it is still over-rated. Maybe it is cleverly directed with nifty use of lighting and camera angles and such. But so what? I don't like the bloody thing, so there! And, furthermore, I am indeed an expert after all – an expert on what I like. Nobody on planet Earth knows more about what I like than me. Nobody. And for precisely the same reason that makes you an expert too. So, don't let anyone tell you different. Like me, you are a unique critic.
Ok, so back to Mr. Hackman. No doubt, you will not agree with all my selections, but here are what I consider to be the best Hackman films. Why are they the best in my eyes? Because I like 'em. No other reason. So here goes:
No 11  NARROW MARGIN (1990)
For some reason the critics did not like this version, probably because they were too busy comparing it to the 1952 film noir of the same name that starred Charles McGraw and Marie Windsor. Who? A couple of B-Graders who were pretty good actually. Of course, the hot-shots have since declared their effort to be some kind of classic and Hackman's try, therefore, merely a lame copy. I beg to differ. His co-star is Anne Archer who is OK without setting the world on fire, but Gene is very good. He's always very good. I like the snappy bi-play between him and the hitman played by James Sikking, while much of the action takes place on a train amid marvelous scenery. And I like trains.
No 10  UNDER FIRE (1983)
This picture is partially based on true events that took place in Somoza's Nicaragua in 1979. Ed Harris, Nick Nolte, Hackman and Joanna Cassidy form a strong cast for this at times harrowing tale. Jack Palance's daughter Holly also gets a run as a journalist, possibly because she was married to the director, Roger Spottiswoode, at the time. Without delivering a 'spoiler', an atrocity depicted here was captured on film for real back in 1979, and later led to the USA withdrawing its support for the Somoza regime.
No 9    BAT 21 (1988)
This is a fine Vietnam War story based on an actual incident that happened in 1972. The script takes enormous liberties with the facts (see my book Movies Based on True Stories for details), but the result is a highly watchable rescue tale in which Hackman is terrific. He is ably supported by Danny Glover and Jerry Reed. The only downside is the stereotypical portrayal of the Viet Cong and the 'kiss my ass' heroism of the Reed character. For the record, the real life heroes' deeds were ommitted from the picture altogether, which I find really odd.
No 8    BITE THE BULLET (1975)
Bite the Bullet is an unusual western in that it focuses on the contestants in a cross-country (well 'cross-desert actually) race, set during the final days of the American west. It was inspired by a 700 mile race in 1908 from Evanston, Wyoming to Denver, Colorado, sponsored by the Denver Post, for prize money of $2,500 to the winner.  Hackman is at his best here, ably supported by a terrific James Coburn, as well as one of my all-time favorite character actors Ben Johnson. A thoroughly entertaining and enjoyable western that does not rely on gunfights and/or the killing of native Americans for its jollies. Candice Bergen provides the eye candy.
No 7    CRIMSON TIDE (1995)
I am not usually a fan of submarine pictures. There are only so many plots that can be used, that damned 'pinging' gets very annoying after a while, and the scenery positively sucks! However, thanks to a fabulous cast led by Hackman and Denzel Washington, one that includes the likes of Matt Craven, George Dzundza, Viggo Mortensen and James Gandolfini, this particular Silent Service drama is first class from beginning to end. The confrontations between the two leads are brilliantly written, as is the entire script. And good scripts always make good movies.
No 6    GET SHORTY (1995)
The year 1995 was a good one for Hackman. After Crimson Tide came another gem – Get Shorty.  Although John Travolta has the lead, Hackman still has a fine contribution to make as part of a cast of big names delivering cameo-type performances. Every once in a while a movie comes along that does not quite fit into any of the known categories. Get Shorty is one such picture. It is a witty, tongue-in-cheek, slightly violent swipe at Hollywood and movie-making in general. It also has Travolta at his best – and his best is usually well worth watching. I don't care about his questionable sexuality and I don't care about his crazy religion. All I know is that, ever since Welcome Back, Kotter he has been a dead-set movie star. Great film with top notch performances from everyone.
No 5    ENEMY OF THE STATE (1998)
By this time in his career Hackman was past his box-office drawcard status and content to choose his supporting cast vehicles carefully. This thriller is Will Smith's picture all the way, but Hackman's appearance about half-way through gives it a fillip at just the right time. It is so cleverly made that even a technological dinosaur like me can easily follow the high-tech plot. Just six years before Hackman chose to retire, this is one of his best roles and one of his best films.
No 4    CLASS ACTION (1991)
Hackman plays the lawyer father of Mary Elizabeth Mastrantonio's character, who is also a lawyer. Surprise, surprise, they end up being pitted against each other in a big money court-case involving an auto company. 'Class action' is the relatively new American term for 'a type of lawsuit where one of the parties is a group of people who are represented collectively by a member of that group'. Miss Mastrantonio got the part, narrowly besting Julia Roberts for it. And she is terrific.
No 3    THE FIRM (1993)
As seems to be the norm these days, this picture did not get the credit it deserved, presumably because it starred Tom Cruise. He just does not appear to get the recognition he merits, yet his movies make money virtually every outing. This thriller is well-scripted and well-acted, and it bounces along at an interesting clip. Hackman, as usual, gives his character credibility (even likeability), providing a 'baddie' with a difference.
No 2    NO WAY OUT (1987)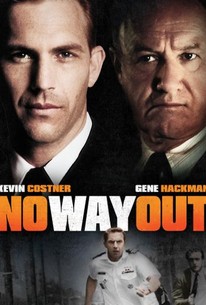 A first-class thriller that has you on the edge of your seat throughout. It even provides a sting in the tail that I, for one, did not see coming. Kevin Costner is the star and at the peak of his cinematic powers. Hackman and the oily Will Patton make up a strong supporting cast, although Sean Young is only OK as the love interest. There is, however, one idiotic sequence involving the police escorting a couple of eye-witnesses into a room by room search of – wait for it – the Pentagon! Only the biggest building on the planet. Then, just to add insult to injury, they had them do it again! Oh well, it's a good movie all round once you steel yourself for that slice of insanity.
No 1    MISSISSIPPI BURNING (1988)
This picture just had to be number one. It has everything. Hackman is so damned watchable in it. He and Willem Dafoe are great together, the support cast features an array of the very best character actors available in 1988, and a formidable group they are. Brad Dourif, Michael Rooker, Kevin Dunn, Gailard Sartain, Stephen Tobolowsky, R. Lee Ermey, Badja Djola, and capped off by the wonderful Frances McDormand. I read recently that Tony Curtis considered this movie to be a 'chicken shit worthless piece of crap. Lousy studio bullshit.' Perhaps, he saw something in it (or missing from it) that I missed. Who knows?