BLOOM, Claire                                STEIGER, Rod                                 1959 to 1969 (div.)
Claire & Chaplin in Limelight
Claire Bloom was catapulted into stardom in 1952 when Charlie Chaplin personally selected her for his leading lady in his sentimental drama Limelight. From then until 1954, however, the Shakespearian-trained actress toured with the Old Vic Company playing a string of the Bard's heroines.
With Burton in Alexander the Great
Her movie roles were opposite many of the leading men of her day and included Yul Brynner, Fredric March, Charlton Heston, and a couple of films with Richard Burton whom she knew from her stage experience. They made Look Back in Anger (1959) and The Spy Who Came in From the Cold (1965). In his biography he rather ungallantly revealed that he took Claire's virginity in 1949 just days after his wedding to Sybil Williams, adding that their affair continued intermittently until 1957.
With Philip Roth
Claire became romantically involved with Laurence Olivier as well prior to her 10-year marriage to Rod Steiger which, by all accounts, was a tumultuous one. Her third husband was writer Philip Roth who penned The Human Stain, Goodbye, Columbus and Portnoy's Complaint.  
BLUNT, Emily                                  KRASINSKI, John                            2010 –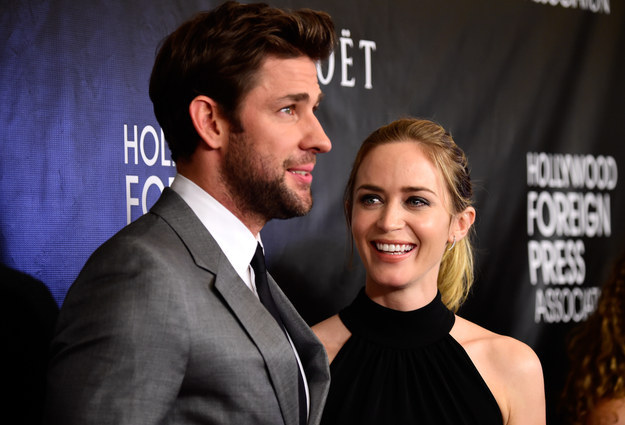 Emily as young Queen Victoria
London-born Emily Blunt was superb as Queen Victoria in 2009's The Young Victoria, landing one of her five Golden Globe nominations thus far (she won for Gideon's Daughter in 2005). She is also a strong alto singer and a Grade 8 cellist. Fans of The Devil Wears Prada (2006), and there are many, would recall her playing the snooty secretary to Meryl Streep's character. Emily and her co-star Anne Hathaway are good friends off-screen.
Emily & singer Michael Buble
Singer Michael Buble moved in with Emily at her $2.2 million Vancouver home during their 3-year romance, but the relationship ended in 2008. It was Anne who introduced her friend to actor John Krasinski in 2009 and the couple were married a year later at George Clooney's estate on Lake Como, Italy. Krasinski played nice guy Jim Halpert in the series titled The Office, and it is his voice you hear emanating from Lancelot in Shrek the Third (2007). Incidentally, if you were wondering if Emily is in any way related to singer James Blunt – she isn't.
BONO, Sonny                                    CHER                                                 1964 to 1975 (div.)
Pop icons Sonny & Cher
Sonny Bono was the markedly less-talented half of the highly successful recording and television duo Sonny & Cher who enjoyed enormous success the moment their first hit single I Got You Babe rocketed to number one on the pop charts around the world in 1965. The couple married in 1964 and had their own TV series from 1971-1974 called The Sonny & Cher Comedy Hour.
Congressman Sonny Bono
Sonny accumulated 29 TV and screen credits before exiting the entertainment scene to enter politics, becoming the Congressman for California. He said his interest in acting waned on the set of Fantasy Island when the diminutive Herve Villechaize ('de plane, de plane') abused him in front of the entire company.
Cher went on to great acting kudos including an Oscar for Moonstruck (1987). In 1998, at the age of 62, Sonny was killed in a skiing accident near Lake Tahoe. Most people who knew him found him to be a self-deprecating man and a genuinely nice guy.
BOOTH, Connie                               CLEESE, John                                  1968 to 1978 (div.)
As Polly and Basil in Fawlty Towers
If you are English or Australian and, like me, a huge fan of the 1975-9 British comedy series Fawlty Towers, then you would recognize American actress Connie Booth who played Polly Sherman (the maid) in that hilarious but short-lived show. For some reason only 12 episodes were ever made over the four seasons, but for fans of her real-life husband John Cleese they were twelve gems. What might surprise some readers is the fact that she also co-wrote the Fawlty Towers episodes with him.
Connie as the witch in Monty Python
& the Holy Grail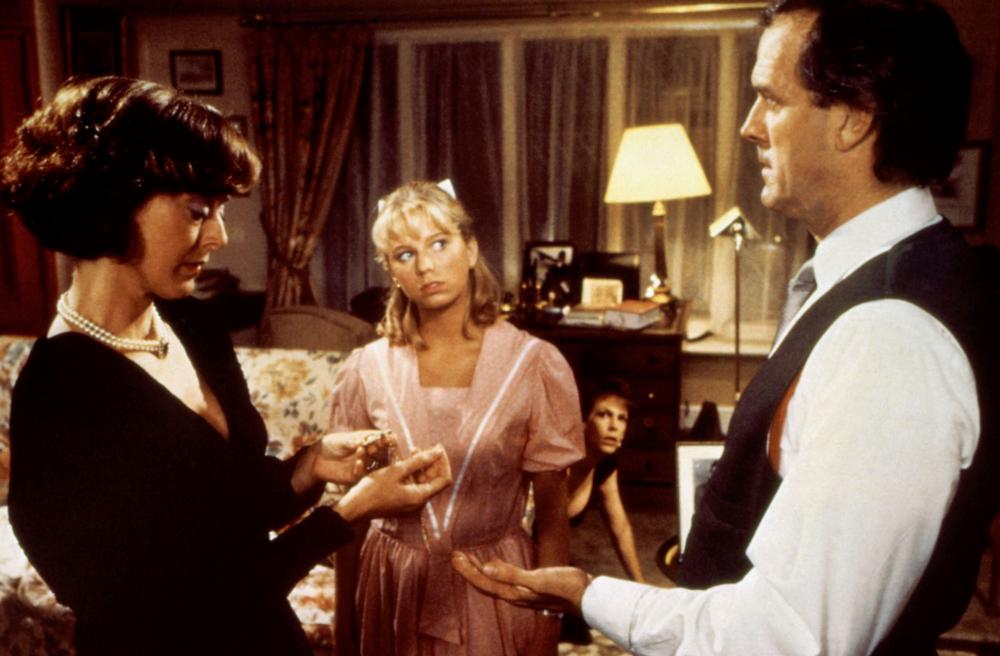 A Fish Called Wanda – Cynthia Cleese (centre)
Fans of the Monty Python films will recall her playing the witch in Monty Python and the Holy Grail (1975). Connie and John have a daughter named Cynthia who is also an actress. In 1988's A Fish Called Wanda she plays John Cleese's daughter Portia. John was unsuccessfully nominated for Best Screenplay. Connie decided to retire from acting to pursue a career as a psychotherapist in the late 1990s. She and her ex are still friends.
BORGNINE, Ernest                         JURADO, Katy                                 1959 to 1963 (div.)
                                                                MERMAN, Ethel                              1964 to 1964 (div.)
Ernie and Katy
Ernie and Ethel
Ernest Borgnine was born to Italian immigrant parents in Hamden, Connecticut in 1917. After a ten year stint in the US Navy he took up acting, spending a four-year apprenticeship at the famous Barter Theatre in Abingdon, Virginia. In 1953 his career positively exploded when he portrayed 'Fatso' Judson in From Here to Eternity (1953). In 1955 he was a surprise Best Actor Oscar-winner for Marty, eclipsing Spencer Tracy, James Cagney, Frank Sinatra and James Dean in doing so. His marital record was not quite so good. Of his five wives two were actresses, Katy Jurado and Ethel Merman. Borgnine was certainly not a handsome man, yet he managed to woo and wed Katy Jurado in 1959 (she was only 35 and still beautiful) after they co-starred in The Badlanders, but the union was far from being a happy one. They fought, split up, got back together again; then split again. The moment he was rid of her he married Ethel Merman, a classic case of 'out of the frying pan and into the fire'.
Borgnine in From Here to Eternity
Merman (centre) in It's a Mad, Mad, Mad, Mad World
with Dorothy Provine and Milton Berle
If Ethel's persona was anything like the horrendous mother-in-law she played in It's a Mad, Mad, Mad, Mad World in 1963, it is little wonder she and Ernie divorced after just four months. In fact, they parted company eleven days after the wedding. According to Borgnine she simply could not handle him getting more fan attention than her. At the time he was riding high as Commander McHale in the TV series McHale's Navy.
Their marriage truly was made in Hell. 'Biggest mistake of my life', said Borgnine later. 'I thought I was marrying Rosemary Clooney.' As for Ethel, she devoted a chapter of her autobiography to Ernie. It consisted of a single blank page!
BOSTWICK, Barry                          NELKIN, Stacey                               1987 to 1991 (div.)
Barry in 'Rocky Horror'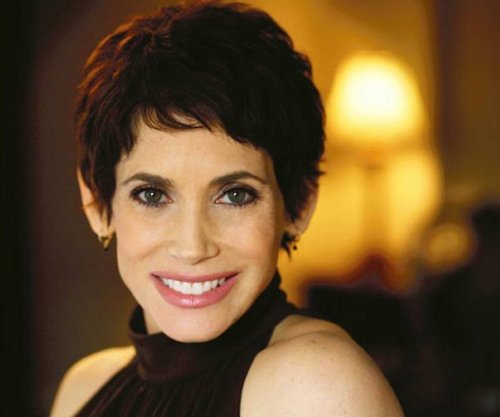 Stacey Nelkin
Barry Bostwick has over 150 screen credits and many, many more stage credits accumulated over his more than fifty years of acting, yet he will forever be remembered as Susan Sarandon's nerdy boyfriend Brad in the movie version of The Rocky Horror Picture Show (1975), even though Tim Curry stole the picture lock, stock and barrel. In 1987 Barry married a young actress named Stacey Nelkin, a name possibly not all that familiar with movie-goers – unless they are Woody Allen fans that is. She and Woody were involved in a romantic relationship when she was still a teenager; a relationship that inspired him to write Manhattan. The 1979 movie interpretation feature's Mariel Hemingway, and her character 'Tracy' is based on Miss Nelkin. Long after she and Woody were no longer an item, Stacey landed the role of Rita in another of his movies Bullets over Broadway in 1994. These days she has become a relationship expert with her own YouTube channel and website.