BENET, Brenda                                PETERSEN, Paul                             1967 to 1970 (div.)
                                                                BIXBY, Bill                                         1971 to 1979 (div.)
Brenda & Paul Petersen
Bill Bixby & Brenda
Brenda in Walking Tall
Paul (rear left) in The Donna Reed Show
Walston & Bixby in My Favorite Martian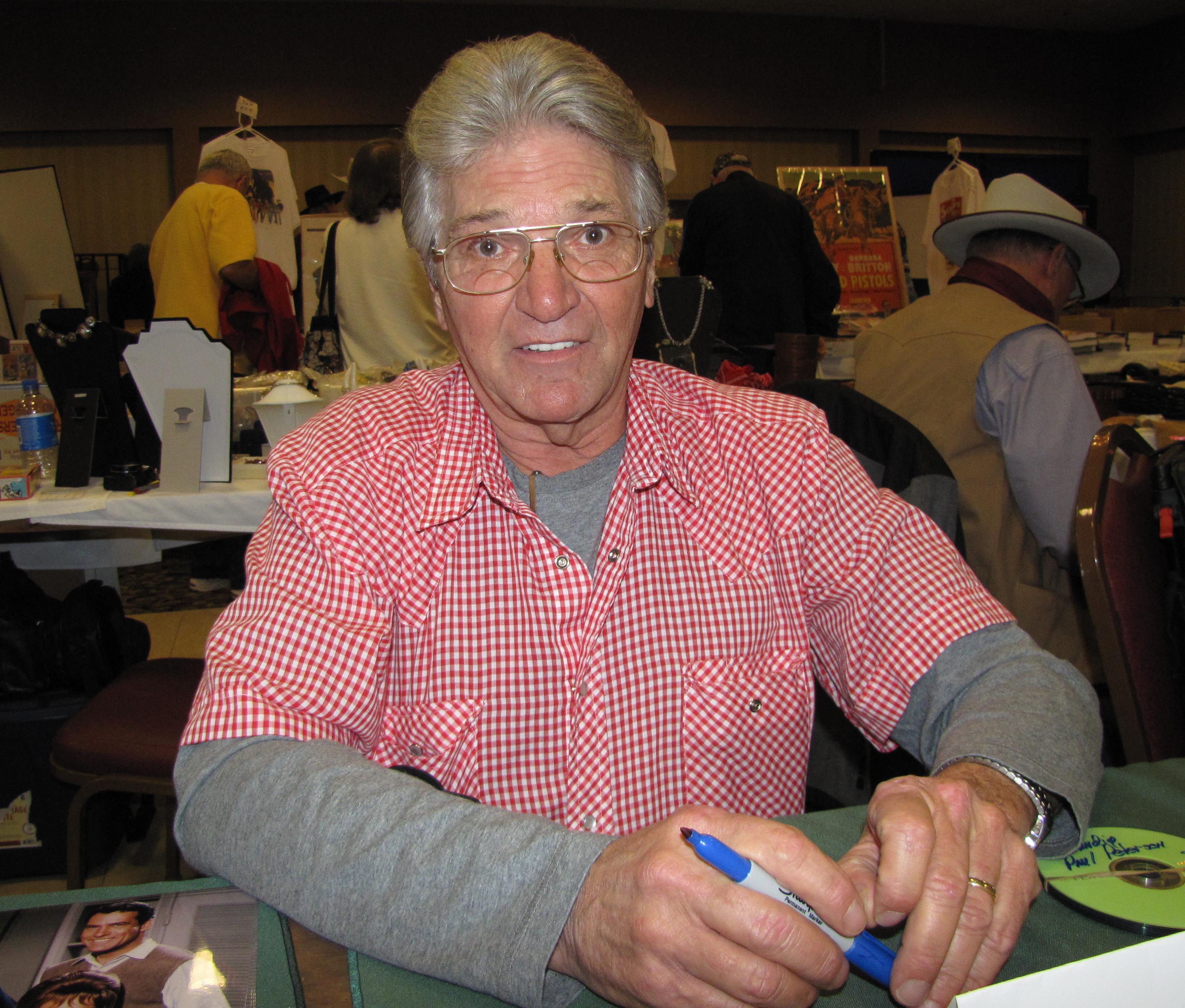 Paul Petersen today
Although she acted for 16 years before her death at 36, Brenda Benet's highpoint in her acting career would probably be when she played a kind-hearted prostitute in Walking Tall (1973). Her relationship with Bill Bixby commenced while she was still wed to former child star Paul Petersen of 1958's The Donna Reed Show. His big-screen efforts included a sound performance in 1958's Houseboat as the elder son of Cary Grant. Brenda and Bixby moved in together in 1969, a year before her divorce came through. Bixby really was one of the golden boys of American television in the sixties. He co-starred with Ray Walston in My Favorite Martian in 1963 until 1966, and won the lead in the even more popular 1969 series The Courtship of Eddie's Father in which he began a lifelong friendship with Brandon Cruz, the boy who played Eddie. He also found time to adorn a couple of Elvis Presley's less memorable vehicles – Clambake (1967) and Speedway (1968). In 1977 he starred in his third highly successful series, The Incredible Hulk, which lasted four years. Just one year after his divorce from Brenda their six-year old son died from a rare infection. His death and the divorce seemed to cause Brenda to spin out of control. On 7 April 1982 she went into her bathroom, arranged a circle of lit candles on the floor, laid down, placed a .38 Colt revolver in her mouth and pulled the trigger. Bixby, too, would die young when colon cancer claimed him at 59. Petersen, to his great credit, formed 'A Minor Consideration' in 1990, an organization that looks after the rights and welfare of child actors in Hollywood.
BERRY, Halle                                   MARTINEZ, Olivier                                    2013 to 2015 (div.)
Together in Dark Tide where they met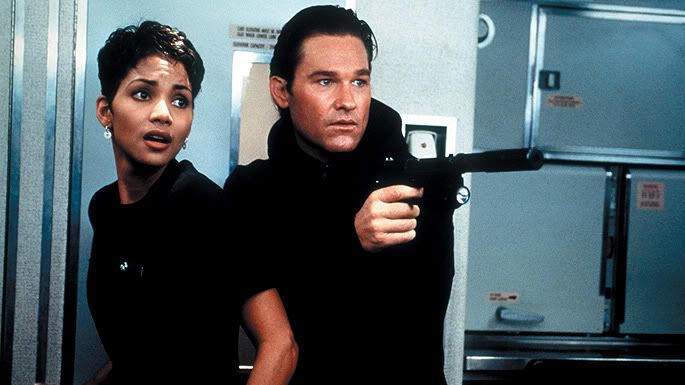 With Kurt Russell in Executive Decision
Halle won the Miss Teen All-American Pageant at 17, was Miss Ohio in 1985, and Runner-up in the Miss USA pageant of 1986 to Christy Fichtner. Her movie career consisted of several highs and lows before she became the first African-American actress to win a Best Actress Oscar for her role in Monster's Ball in 2001. Seven years earlier she had turned down the lead in Speed, a role that catapulted Sandra Bullock into the big time. Halle's first $1 million salary was for Executive Decision in 1996. She gave birth to her first child at 41; her second when she was 47! Frenchman Olivier Martinez is her second child's father. Halle and he met on the set of Dark Tide in 2012. After their 2015 divorce she had this to say: 'I'll never get married again, and I always hate to say never to anything, but I will never marry again.' Martinez has cut a swathe through the ranks of entertainment's beautiful women. His relationships include 4 years with Kylie Minogue, three with Juliette Binoche, and shorter affairs with Angelina Jolie, Rosie Huntington-Whiteley and Mira Sorvino.                          
BETTANY, Paul                               CONNELLY, Jennifer                     2003 –
Jennifer and Oscar
Paul as Geoffrey Chaucer in A Knight's Tale
Paul Bettany is a tall English actor (1.92m) who used to busk on Westminster Bridge in London, playing his guitar for pennies. He has come a long way since then. His acting career was boosted by his turn as Geoffrey Chaucer in A Knight's Tale (2001) and enhanced even further when he portrayed Russell Crowe's imaginary friend in A Beautiful Mind in the same year. Paul's beautiful wife Jennifer Connelly made several movies of varying quality, including one called The Hot Spot in 1990 in which she went topless. Eleven years farther down the track saw her pick up a Best Supporting Oscar for her portrayal of Alicia Nash in A Beautiful Mind. Although she and Bettany met on the set of the picture they were both still in relationships with other partners, so they did not get together until much later. Paul had nursed a crush on her since his teenager days when he saw her in Labrynth. They wed in 2003 and are still together.
BIEHN, Michael                               BLANC, Jennifer                              2015 –
Biehn as Johnny Ringo in Tombstone
Michael Biehn's career accelerated in leaps and bounds after he was chosen to play Kyle Reese, the guy sent back in time to stop Arnie in James Cameron's 1984 blockbuster The Terminator. Cameron used him again in Aliens (1986) and as the psychotic Lt. Coffey in The Abyss three years later. He was good as Johnny Ringo in Tombstone in 1993 (his most preferred role); in fact, he is a quality ingredient of almost every movie he makes. If you look closely you will even find him playing an athlete named Mike in the 1978 hit musical Grease. His wife (since January 2015) is 42 year-old actress Jennifer Blanc. She has over 80 acting credits in her resume, among them her stint as Kate Bishop in the 1994-5 TV series Party of Five and playing Tiffany in another short-lived series called The Mommies a year or so earlier. She and Biehn co-starred in the rather lamentable 2007 thriller The Victim which Michael directed.
BIEL, Jessica                                     TIMBERLAKE, Justin                    2012 –
14 year-old Jennifer in Ulee's Gold
In Stealth
With Chris Evans in Cellular
Britney Spears and Justin 2001
The gorgeous Jessica Biel began her film career at 14 when she appeared in Peter Fonda's acclaimed Ulee's Gold in 1997, but she has come a long way since then, starring as Abigail Whistler in Blade: Trinity (2004) and as Lt. Kara Wade in Stealth the following year. In the highly enjoyable Cellular (2004) she played the girlfriend of Chris Evans, the star of the film. He happened to be her real-life boyfriend at the time. They split up in 2006. In 2012 she married singer/actor Justin Timberlake, her boyfriend for the previous five years. He broke with his long-time girlfriend Brittany Spears in 2002 and has since branched out into an acting career.
BLESSED, Brian                              NEIL, Hildegard                               1978 –
Brian and Hildegard with daughter Rosalind 1981
As Augustus in I, Claudius
Hildegard in Antony & Cleopatra
Brian Blessed is a giant of a man, boisterous, bearded, and possessed of a booming voice that was made to be hurled across the footlights. I first saw him playing the Emperor Augustus in the brilliant TV series I, Claudius in 1976 and have been a fan ever since. Modern fans will probably recall him portraying Robin Hood's father in Kevin Costner's Robin Hood: Prince of Thieves (1991). Away from acting he has become an accomplished adventurer, having become the oldest person to reach both the geographical North Pole and the magnetic North Pole. He has also attempted to climb Mount Everest three times and has completed training as a cosmonaut. An extraordinary man. He and wife Hildegard Neil have played opposite one another in King Lear (1999). Her other roles of note include her terrific Cleopatra opposite Charlton Heston in 1972's Antony and Cleopatra and as Kate Farrant in England Made Me (1973).  
BLONDELL, Joan                            POWELL, Dick                                1936 to 1944 (div.)
Joan and Dick on their wedding day 1936
Joan in The Blue Veil
'Blousy' is a word used by many of the men who knew Joan Blondell. Today, of course, that would be considered politically tactless at best, but back in the thirties it was said with genuine fondness and admiration by men who truly adored her as a person and as a woman. Jimmy Cagney made six films with her and always said that he loved just two women in his life – his wife and Joan Blondell. She was nominated once for an Oscar in a supporting role for The Blue Veil (1951), when she was in her forties. She married three times; first to cinematographer George Barnes, then to actor Dick Powell, and last to producer Mike Todd, the entrepreneur who would later marry Liz Taylor and meet his end in an air crash. 'Barnes provided my first home', Joan said when asked about her spouses, 'Powell was my security man, and Todd was my passion. But I loved them all.' It would be fair to say that George must have been reasonably passionate too, considering she aborted two of his children before marrying him. Leukemia would claim Joan's life at the age of 72 in 1979. All three of her exes were long dead by then.