BAXTER, Meredith                         BIRNEY, David                                 1974 to 1990 (div.)
                                                                BLODGETT, Michael                      1995 to 2000 (div.)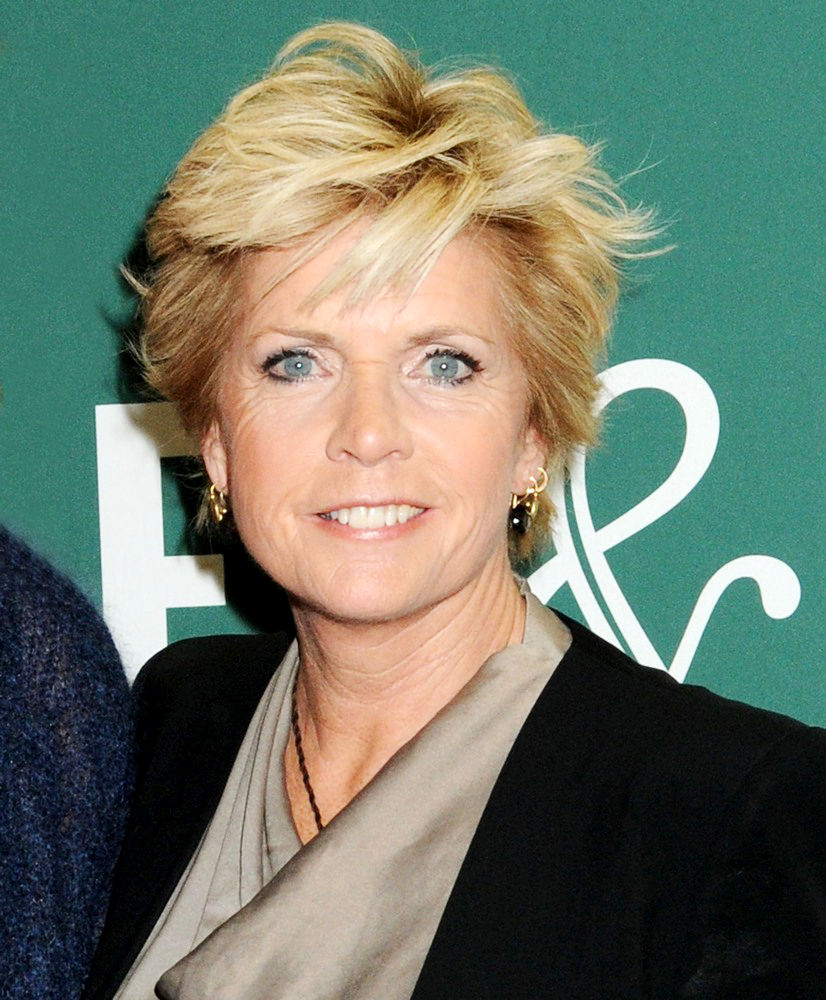 Meredith Baxter
With David in Bridget Loves Bernie
Michael Blodgett
Meredith and Nancy Locke
Meredith met her second husband, David Birney, when they co-starred in the seventies TV series Bridget Loves Bernie. Their 16-year marriage produced three children. In the eighties she became a household name portraying Michael J. Fox's mother, Elyse Keaton, in the long-running series Family Ties (1982-89). Western-lovers might recall her third husband, actor Michael Blodgett, as the prisoner who gets flogged in the penitentiary yard in Kirk Douglas's There was a Crooked Man… (1970). Meredith came out as gay in 2009. Four years later she married her lover of 7 years, a lady named Nancy Locke.
BAXTER, Warner                            BRYSON, Winifred                          1918 to 1951 (his death)
Warner Baxter
Winifred Bryson
When he was 9 years old Warner's widowed mother moved with him to San Francisco where they were forced to live in a tent for two weeks following the great earthquake and fire of 1906. From vaudeville to the silent screen he became a matinee idol in the 1920s, winning an Oscar for In Old Arizona in 1928. By 1936 he was one of the industry's top earners, amassing an incredible $284,000 that year. In 1918 he had married a pretty silent screen actress named Winifred Bryson, the union lasting 33 years until his unexpected death in 1951. He had undergone a lobotomy to ease the arthritic pain he had suffered from for years, contracted pneumonia after the procedure and failed to recover from it.
BEAN, Sean                                       HILL, Melanie                                   1990 to 1997 (div.)
                                                               CRUTTENDEN, Abigail                  1997 to 2000 (div.)
                                                               SUTCLIFFE, Georgina                    2008 to 2010 (div.)
Sean Bean
Melanie Hill
Abigail Cruttenden as Jane Sharpe
with Sean in the 'Sharpe' series
Sean with Georgina Sutcliffe
Sean Bean is a first class actor capable of playing any number of diverse roles, although for much of his early career he specialized in bad guys until he tired of the type-casting and began chasing more sympathetic parts. Today, he is best-loved for portraying Boromir in the Lord of the Rings trilogy. He has been married four times; three of his wives are actresses. Melanie Hill and Bean were husband and wife for 7 years. A prolific performer in television series, Melanie has starred as Aveline Boswell in Bread (1989-91), as Rita Dolan in Playing the Field (1998 – 2002), as Maggie in Waterloo Road (2012-15) and as Cathy Matthews in Coronation Street. The year Bean and Melanie divorced saw him wed his co-star from the Sharpe telemovies, Abigail Cruttenden. He was cast in the title role and she played his wife Jane. That union was over inside three years. Wife number four was Georgina Sutcliffe, who played Helen Eastman in A Dark Reflection in 2015. That marriage was the shortest of the four, barely lasting 34 months. Bean has a distinctive Yorkshire accent, yet a lot of fans still believe he is an Irishman.
BEATTY, Warren                            BENING, Annette                             1992 –
Warren & Annette in Bugsy
Stephanie Seymour
Beatty surprised everyone by marrying Annette Bening just before his 55th birthday in March 1992. The notorious womanizer had only recently been on the receiving end of a relationship when wild super-model Stephanie Seymour dumped him to be with Guns 'n' Roses lead singer Axl Rose. Whether or not this unceremonious turning of the tables caused Beatty to re-examine his hitherto unfettered treatment of the opposite sex is debatable, but he certainly married soon afterwards. He and Annette have four children and are fast approaching their 25th anniversary. They wed soon after co-starring in Bugsy in 1991, but had met several years earlier.
BEAUMONT, Hugh                         ADAMS, Kathryn                             1941 to 1974 (div.)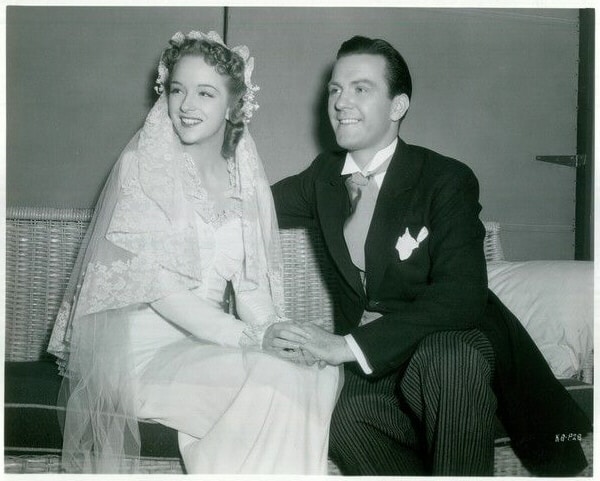 Kathryn & Hugh's wedding day in 1941
Hugh and the cast of Leave it to Beaver
Despite being an accomplished leading man in a career that spanned 30 years and 140 or more credits, Hugh Beaumont was also an ordained minister in the Methodist church. Even so, he will probably always be identified for his portrayal of Ward Cleaver, the father of 'the Beaver' in the hit fifties sitcom Leave it to Beaver. After retiring from the screen he became (of all things) a Christmas tree farmer in Minnesota on Balgillo Island which he actually owned. Back in 1941 he was fortunate to marry a promising and beautiful actress named Kathryn Adams. Her acting highpoint was playing Mrs. Brown in Alfred Hitchcock's 1942 thriller Saboteur, but she was happy to give up her career to raise their three children.  They divorced 33 years later and Beaumont passed away in Munich, Germany in 1982 while visiting his son who was a psychology professor there.
BEERY, Wallace                              SWANSON, Gloria                           1916 to 1919 (div.)
Beery with Jackie Cooper in The Champ
Beery began as an assistant to the elephant trainer at Ringling Brothers Circus in 1902 when he was 16 years old. In a 1915 movie called Sweedie Goes to College he swept 16 year-old ingénue Gloria Swanson off her feet and married her a year later. It was a marriage made in Hell. Gloria wrote of him raping her so savagely on their wedding night that she crawled into the bathroom, bleeding profusely, and locked herself in. She put up with his alcoholism, abuse and violence for nearly three years before eventually walking out. Years later Beery told an interviewer that he must have given her a real taste for married life because she went on to have five more husbands after him. It was thought that the coming of sound would terminate Beery's career, but instead it enhanced it, culminating in a Best Actor Oscar for The Champ in 1931. By then he was playing dim-witted oafs with hearts of gold, a far cry from the man himself. Eight-year-old Jackie Cooper made five pictures with him and found Beery to be cold and unfriendly. The 'loveable oaf' died in 1949 at the age of 64.
BELLUCCI, Monica                        CASSELL, Vincent                           1999 – (separated since 2013)
Monica in The Apartment
Vincent in Elizabeth
Stunning Italian actress/model Monica Bellucci made her TV debut in 1990 and her first American movie in 1992 at the age of 28 with Bram Stoker's Dracula. Four years later the French thriller The Apartment made her a star. She made nude calendars for Italian magazines in 1998 and 2000, had her first child at 39 and her second at 45, both to her estranged husband Vincent Cassel. He played Thomas Leroy in Natalie Portman's Black Swan in 2010. Fans of Cate Blanchett's Elizabeth (1998) will know him for his portrayal of the cross-dressing Duc d'Anjou who endeavors to secure Elizabeth's hand in marriage. Monica and Vincent choose to live in their own apartments in separate cities. She lives mostly in Rome, he in Paris.
BENNETT, Constance                     ROLAND, Gilbert                            1941 to 1946 (div.)
Constance with Cary in Topper
Roland minus his trademark moustache
Blonde and blue-eyed Constance was the prettiest of the three Bennett sisters (Barbara and Joan were the others) who adorned a number of movies for three decades beginning in the Roaring Twenties. Her 1931 Warners contract guaranteed her $300,000 for two pictures (a phenomenal amount of money for the time), and is believed to have instigated tax legislation aimed directly at the movie industry. She accepted the female lead in It Happened One Night (1934), but then rejected it because she could not get permission to produce the picture herself. Claudette Colbert replaced her and won the Oscar for her performance. In 1937 Constance made her best film, Topper, co-starring with a delightful Cary Grant. Her legendary rivalry with Pathe Films' Gloria Swanson may well have stemmed from director Henri de la Falaise being married to both women at different times. Constance had long ago married at 16 on a whim, the union annulled a year later. Husband number two was a millionaire socialite. Henri became number three and dashing Mexican actor Gilbert Roland tied the knot with her in 1941 to become number four. They divorced after five years and two children. The last of her five husbands was a Brigadier-General which, combined with her own work during WW2 and with the Berlin Airlift, warranted Constance's interment in Arlington National Cemetery where she and the general rest side by side to this day.