BANDERAS, Antonio                                   GRIFFITH, Melanie             1996 to 2015 (div.)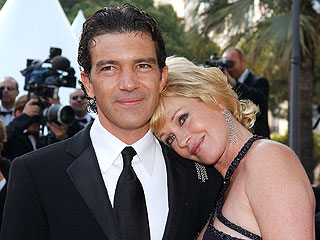 Antonio as Zorro
And as the voice of Puss in Boots
Melanie as Tess McGill in 
Working Girl (1988)
Antonio and Melanie met in 1995 on the set of Two Much when both actors were married to others. Banderas had already admired Melanie from afar and was dying to meet her. A whirlwind romance ensued, both obtained divorces from their respective spouses, and their 18-year marriage commenced in 1996. Melanie's obsession with her looks and with undergoing plastic surgery regularly strained the union to breaking point, although neither partner has been willing to explain the break-up publicly. Melanie (approaching 59 in August 2016) has moved into a new, beautiful home (she owns two others) and has been awarded alimony of $65,000 a month from her ex. Banderas at 56 was recently seen squiring a young Dutch consultant 20 years his junior. And he still hates being perpetually identified with Puss in Boots.
BARDEM, Javier                                          CRUZ, Penelope                   2010 –
As Anton Chigurh in No Country for Old Men
Cruz & Cruise
Not surprisingly, Javier is the only major movie star to be born in the Canary Islands. That makes him a Spaniard, by the way. He is the youngest member of a family steeped in Spanish cinema history and would go on to win a Best Supporting Actor Oscar for No Country for Old Men (2007). A former member of the Spanish National Rugby Team, he was the first Spanish actor win an Oscar. He and Penelope met in 2008 when they worked on Vicky Cristina Barcelona together. Bardem has often been quoted as saying: 'I don't believe in God, I believe in Al Pacino.' Penelope Cruz and Tom Cruise were in a relationship for almost three years (2001-2004).
BARKER, Lex                                               DAHL, Arlene                       1951 to 1952 (div.)
                                                                           TURNER, Lana                     1953 to 1957 (div.)
Barker as Tarzan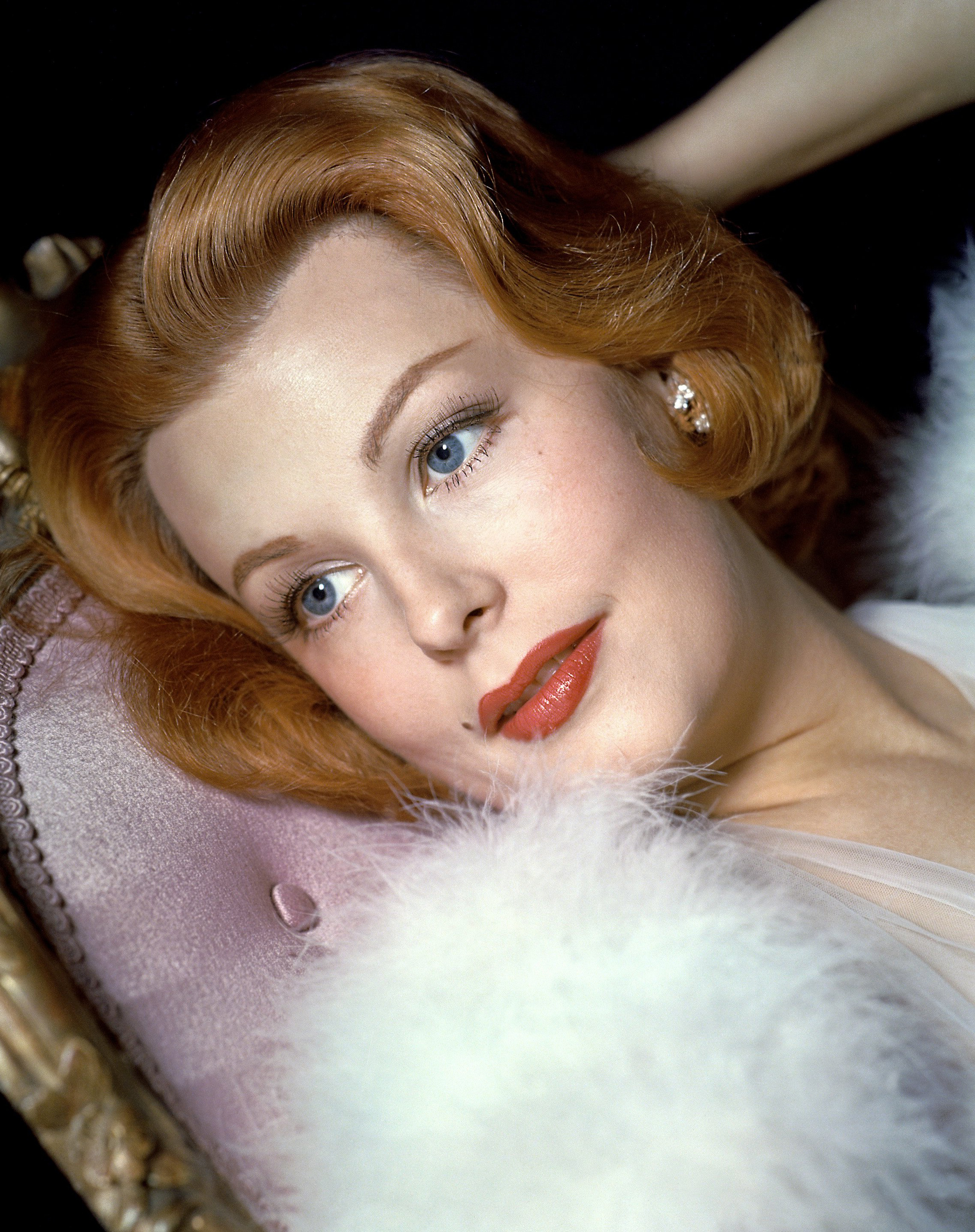 Arlene Dahl
Lana Turner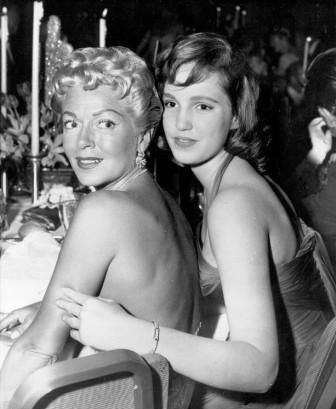 Lana and Cheryl
At the commencement of America's participation in World War Two Lex Barker enlisted as a private. Four years later he emerged as a major, suffering two wounds while fighting in Sicily. He scored the first of his five leading roles as Tarzan in RKO's Tarzan's Magic Fountain (1949). The multi-lingual actor (he spoke English, French, German, Spanish and Italian) gained film roles all over the world. These included his portrayal of Anita Ekberg's fiancée in Fellini's La Dolce Vita (1960). The second of his five wives was the beautiful Arlene Dahl, but the union only lasted 18 months. Wife number three was another stunner, Lana Turner. That, too, ended in divorce. According to a biography written by Cheryl Crane, Lana's daughter by another man, Barker was evicted from the family home after Cheryl accused him of sexually molesting her daughter from the age 10 until she was 13. Lana sent him packing at gunpoint. A reporter asked Lana 15 years later if she was aware that Barker had just died from a heart attack. 'What took him so long?' was her icy response.
BARKIN, Ellen                                             BYRNE, Gabriel                   1988 to 1999 (div.)
Ellen in Sea of Love
Gabriel in Miller's Crossing
Another product of the Actors Studio of New York City, the sultry, ultra-sexy Ellen Barkin became the subject of just about every teenaged boy's fantasy with her steamy performance opposite Al Pacino in Sea of Love in 1989, although she was equally 'hot' in The Big Easy (1986) and Siesta (1987). She married Irish actor Gabriel Byrne in 1987, bore him a son and a daughter, but the couple then separated in 1993. Six years later they divorced. In 2000 she married the billionaire chairman of the Revlon Company, but in 2006 they, too, divorced. Her divorce from Byrne has been described as one of the most amicable in Hollywood. His career has been sound without being brilliant, although he can always hang his hat on playing Keaton in The Usual Suspects in 1995. He was also quite superb in Miller's Crossing in 1990.
BARRYMORE, John                                   COSTELLO, Dolores            1928 to 1934 (div.)
'The Great Profile'
Dolores at her peak
Evelyn Nesbit, known as 'The Girl
in the Red Velvet Swing'
Aficionados of criminal history would be interested to learn that John Barrymore, the legendary actor of stage, silent screen and talkies known as 'The Great Profile', was once involved in a torrid affair with the notorious Evelyn Nesbit, a young socialite known as the 'Girl in the Velvet Swing'. Her promiscuity resulted in her husband shooting to death another of her suitors, millionaire architect Stanford White, in broad daylight before a hundred witnesses in the Madison Square Tea Gardens in 1906. Barrymore had just found out she was pregnant (possibly to him), so he gallantly (or drunkenly) proposed to her. Evelyn turned him down. The exquisite Dolores Costello was known as the Goddess of the Silent Screen and wed Barrymore in 1928. Today's Drew Barrymore is their grand-daughter. In 1934 the marriage sank in an ocean of whiskey and whatever other alcohol John could lay his hands on, and by 1942 he had drank himself to death.
BASEHART, Richard                                  CORTESE, Valentina            1951 to 1960 (div.)
Richard Basehart
Valentina Cortese
Ingrid Bergman's gracious
acceptance speech
In July 1950 Richard Basehart was making a film called Fourteen Hours, which happened to be Grace Kelly's first movie. During the shoot his first wife fell desperately ill with a brain tumor and suddenly died. Basehart finished the picture and dived headlong into another, a film called The House on Telegraph Hill, determined to overcome his grief through hard work. There he met the Italian actress Valentina Cortese. Less than eight months later they were married. When Ingrid Bergman won an Oscar for Murder on the Orient Express over Cortese's brilliant performance in Day for Night in 1973, Ingrid apologized in her acceptance speech, graciously saying Valentina's nomination should have won. TV fans will remember Basehart playing Admiral Nelson in the popular sixties series Voyage to the Bottom of the Sea. The day after he finished recording the voice-over for the closing ceremony for the 1984 Los Angeles Olympics, he suffered the first of a series of fatal strokes. Valentina is still alive and in her mid-nineties.
BASSETT, Angela                                        VANCE, Courtney B.            1997 –
Angela as Tina Turner
Courtney as Asst. DA Ron Carver
If Angela Bassett never acts again, she will always be exalted for her sensational performance as rock idol Tina Turner in the biopic What's Love Got to Do with It? (1993), as well as her turn as Betty Shabazz in Spike Lee's Malcolm X a year earlier. Given her exceptional talent, had she not refused the lead in Monster's Ball in 2001 (because she would not perform nude), she may well have also secured the Oscar that was awarded to Halle Berry for the role. Her husband of 19 years, Courtney B. Vance, is well-known to fans of Law & Order: Criminal Intent for playing Ron Carver in 111 episodes over five years.
BAXTER, Anne                                            HODIAK, John                     1946 to 1953 (div.)
As Eve Harrington in All about Eve
Hodiak and Tallulah in Lifeboat
Anne Baxter's mother was the daughter of world-renowned architect Frank Lloyd Wright. Anne and her first husband, John Hodiak, met on the set of Dinner for a Soldier in 1944 and married three years later. She picked up an Oscar and a Golden Globe for The Razor's Edge (1946), but most fans regard her most memorable role to be that of the scheming Eve Harrington in the 1950 classic All about Eve. I still think she is the weak link in an otherwise perfectly cast film, but she nevertheless received an Oscar nomination for it. Her refusal to be moved to the Supporting Oscar category (to give Bette Davis and her a better shot at an award each) resulted in them taking votes off each other in the premier category. Consequently, Judy Holliday won for Born Yesterday. Anne had no time for the outrageous Tallulah Bankhead, referring to her as 'a marvelous female impersonator'. More than likely that was in response to Tallulah's affair with Hodiak back in 1944 when they made Lifeboat for Hitchcock; in particular Bankhead's telling all and sundry after their one-night stand that he was 'definitely a two-hander'. Anne suffered a fatal brain aneurysm while walking down Madison Avenue, New York in 1985. She was 62 when family members agreed to turn off her life support eight days later.