ANDRESS, Ursula                –           DEREK, John                        1957 to 1966 (div.)
Ursula and Jean-Paul Belmondo
Ursula today
A good seven years before she waded out of the Caribbean and into movie legend with her debut in the first Bond film Dr No (1962), Swiss-born Ursula Andress met the fading movie star John Derek. She was just 19, but two years later Derek ditched his wife and two children to marry her. Ursula barely spoke English at the time. As his wife she was compelled to put her acting ambitions on hold for a few years. In 1965 she left him for French star Jean-Paul Belmondo. In 1966, the over-rated actor/director Mr. Derek went on to wed Bo Derek and Linda Evans. Who needs talent when you possess that kind of luck?
ANGELI, Pier                       –           DAMONE, Vic                      1954 to 1958 (div.)
Pier and James Dean
Sisters – Pier & Marisa
One of Hollywood's tragic stories, Sardinia-born Pier Angeli was briefly engaged to Kirk Douglas after they met on the set of The Story of Three Loves in 1953. But then she fell head over heels for James Dean, much to the disapproval of her mother who could not stand the guy. So, the old girl 'arranged' for her daughter to wed crooner Vic Damone instead. Ten months later Dean was killed in an auto crash and the Pier was inconsolable. She had a twin sister who acted under the name of Marisa Paven, by the way. According to friends and family Pier was terrified of turning 40, so they were not overly surprised when she overdosed on barbiturates at 39.
ANISTON, Jennifer              –           PITT, Brad                            2000 to 2005 (div.)
                                                                  THEROUX, Justin               2015 – 
Brad & Jennifer
Justin & Jennifer
Jennifer's 2000 marriage to Brad Pitt came after two years of dating, but it only lasted for five years. He claimed he was stifled by the marriage long before it was rumored that he and co-star Angelina Jolie were intimate whilst shooting Mr. and Mrs. Smith in 2005. Fans of Romy & Michele's High School Reunion (1997) will recall Justin Theroux playing the cowboy who wins Janeane Garofalo's character towards the end.
ANN-MARGRET                 –           SMITH, Roger                      1967 –
Still together in 2010
Three years after her sensational turn in 1964's Viva Las Vegas opposite Elvis Presley, not to mention her lengthy affair with 'the King', Ann-Margret up and married smooth, clean-cut actor Roger Smith, two years after he divorced Victoria Shaw, his Australian actress wife of 9 years. Fans of the 1958 series 77 Sunset Strip will remember Smith playing Jeff Spencer, the younger of the show's two private-eyes. In 1963 ill health forced him to retire from acting. He had been diagnosed with neuromuscular disease which, miraculously, went into remission in 1985. The happily married couple are approaching their 50th wedding anniversary due in 2017.
ANSARA, Michael                –           BYRON, Jean                        1949 to 1956 (div.)
                                                                 EDEN, Barbara                     1958 to 1974 (div.)
Jean Byron
Michael & Barbara
Michael as Cochise in Broken Arrow
The face of Syrian-born Michael Ansara became well known to TV viewers from 1956-8 when he played Cochise in the series Broken Arrow. From 1963 until 1966 Jean Byron played the vivacious 'Natalie Lane', the mother of identical cousin Patty Duke on The Patty Duke Show. Barbara Eden, of course, delightfully portrayed Jeannie in the smash TV series I Dream of Jeannie from 1965-70. In 2001 their 36 year-old son Matthew died from a drug overdose.
ARNAZ, Desi                         –           BALL, Lucille                       1940 to 1960 (div.)
The former stars of TV's iconic I Love Lucy series need no introduction except to say that Cuban-born Desi was a virtually talentless singer/band leader who struck it big by marrying the future brilliant businesswoman and comedienne Lucille Ball. Convinced that Desi was cheating on her (and he was), Lucy sued for divorce in 1944, but spent the night before their scheduled court appearance in a hotel room with him and changed her mind. Their union continued to be turbulent, mostly because of Desi's serial womanizing, yet they managed to stay together for twenty years. How much of that was due to the image of happily married life they portrayed in their TV series' is open to conjecture.
ARNOLD, Tom                     –           BARR, Roseanne                   1990 to 1994 (div.)
The acrimonious bust-up of Arnold and Barr made headlines for ages, as did their outrageous behavior in their personal life. They met in 1983 when she saw his act, then strengthened their relationship on the set of Barr's sitcom Roseanne when Arnold was hired as a staff writer. Right from day one he was experiencing drug and alcohol addiction issues. Nevertheless, romance apparently blossomed and before long Tom was also acting in the show. He even converted from being a Methodist to Judaism prior to their marriage and claims to still practice Judaism today. He has also overcame his substance abuse issues and his film career received an enormous boost when played Schwarzenegger's off-sider in 1994's True Lies.
ARQUETTE, David              –           COX, Courteney                   1999 to 2013 (div.)
WCW World Heavyweight Champion
David Arquette played Drew Barrymore's brother in 1999's Never Been Kissed, the same year he married Friends star Courteney Cox. They met when he guested on that series in 1996 and renewed their acquaintance later that year on the set of Scream in which he played Deputy Dewey. In 2000 he became the WCW World Heavyweight Champion. He said years later that he was totally against the idea, feeling that fans would dislike having a non-wrestler as champion, but promoters said it would be good for the company and publicity. And that's how you become a world champion – in some sports anyway. He has since married again following his divorce from Cox in 2013.
ARQUETTE, Patricia          –           CAGE, Nicolas                      1995 to 2001 (div.)
                                                                 JANE, Thomas                      2006 to 2011 (div.)
Patricia & Nicolas
Patricia & Thomas Jane
Patricia's four siblings are all actors – Rosanna, Richmond, Alexis and David. She won a Best Supporting Actress Oscar for Boyhood in 2015. Marriages to two actors were failures. Nicolas Cage needs no introduction, but husband number two, Thomas Jane, is considerably less known. He played Mickey Mantle in the excellent 2001 biopic 61*. Evidently, Patricia tends to second-guess her relationships, for both her marriages went through a 'file for divorce – withdraw the file – refile it – rigmarole, before inevitably ending in an end to both unions.
ASHLEY, Elizabeth             –           FARENTINO, James            1962 to 1965 (div.)
                                                                 PEPPARD, George               1966 to 1972 (div.)
Elizabeth & James
Elizabeth & George
Elizabeth Ashley's movie career blazed briefly in 1964-5 when she made her debut in The Carpetbaggers (1964) and followed it with another strong performance in the acclaimed Ship of Fools a year later. Her 1962 marriage to actor James Farentino lasted just three years. Her affair (and eventual marriage) to her The Carpetbaggers co-star George Peppard hastened the divorce, although both she and Farentino were heavily into cocaine at the time. She and George lasted for six years. In 1977 she became the victim of a vicious rape, something she kept secret until 1993.
AYRES, Lew                         –           LANE, Lola                           1931 to 1933 (div.)
                                                              ROGERS, Ginger                 1934 to 1940 (div.)
Lew & Lola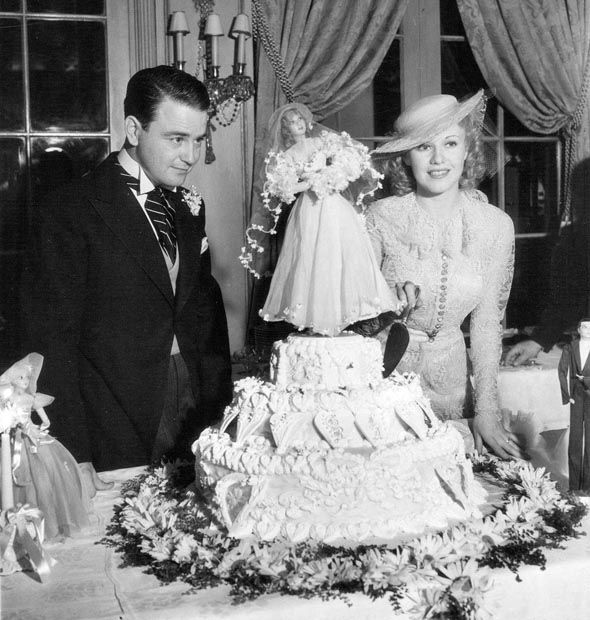 Lew & Ginger's wedding day 1934
Lew's first wife was minor star Lola Lane, the sister of Rosemary and Priscilla Lane. Priscilla had a significant career whereas Lola's most memorable effort was her portrayal of a tough nightclub hostess in Marked Woman (1937). For six years Lew was married to Ginger Rogers, but her close relationship with her universally detested, overbearing mother eventually put paid to that. Lew played Dr Kildare in a series of films movies long before Richard Chamberlain did so on TV. Ayres courageous conscientious objector status during WW2 severely damaged his career, however, despite his conspicuous bravery under fire as a medic in the south Pacific.
AZARIA, Hank                     –           HUNT, Helen                        1999 to 2000 (div.)
                                                               WRIGHT, Katie                   2007 –
Hank & Helen
Hank & Katie
Hank Azaria is responsible for between 100 and 150 character voices heard on The Simpsons TV series over the years. His 17 month marriage to Helen Hunt ended in 2000, two years after she won the Best Actress Oscar for As Good As It Gets, a part she only got because Holly Hunter had rejected it. In 2007 he wed Katie Wright, an actress whose chief claim to fame would probably be portraying Chelsea Fielding in 13 episodes of Melrose Place over two seasons.