In this series of articles I shall be examining many of the 'Hollywood' marriages down the decades. By 'Hollywood marriages' I mean those between actors and actresses involved in the industry, not the unions where one half comes from outside the business. Of course, like anywhere else, there have been strong, lasting marriages in Tinsel Town between individuals of flawless character (Joel McCrea and Frances Dee spring immediately to mind), but they are more a rarity than the norm. Other long, loving marriages, however, such as the 44-year union between James Stewart and Gloria Hatrick do not fall within the parameters of this series of articles. Gloria did appear on three TV specials under her married name, but she was not an actress in the true sense of the word.
I think there are several reasons for the high percentage of actor-actress unions that fail to go the distance. Most of them are probably doomed from the outset because they are born of one or more flawed premises. First, there have always been those who marry as a 'career move'. Once their objectives are achieved they go their separate ways. Second, are those who confuse lust with love (scarcely unique to the movie industry I agree, but prevalent in an environment where physical beauty is everywhere and readily available). Neither lust nor beauty, as we know, tend to last long. Third, a business that thrives on pretending is bound to have its predators and pretenders adept at falsifying emotions. For whatever ulterior motive, these people have little difficulty in espousing true love and eternal devotion to achieve their goals. Finally, maintaining a heterosexual image has led to scores of 'lavender' marriages in which one (or both) partners marry someone of the opposite sex simply to allay any suspicions regarding their sexuality. Actually, many of the latter unions go on for decades out of necessity and convenience, but they are anything but great love affairs.
This is not a comprehensive list, not by a longshot, but some of the unions will probably come as a surprise to you, as indeed they did to me. I may occasionally make comment if I think it could be of interest, but I shall attempt to refrain from being judgmental. The old adage 'those in glass houses should not throw stones' readily comes to mind. My list, therefore, is for information purposes only. It is in alphabetical order, for example 'Affleck – Garner'. Miss Garner, however, was once wed to another actor as well, so she will appear later under 'G', although her union with Affleck will not be mentioned again there.
AFFLECK, Ben                    –           GARNER, Jennifer               2005 –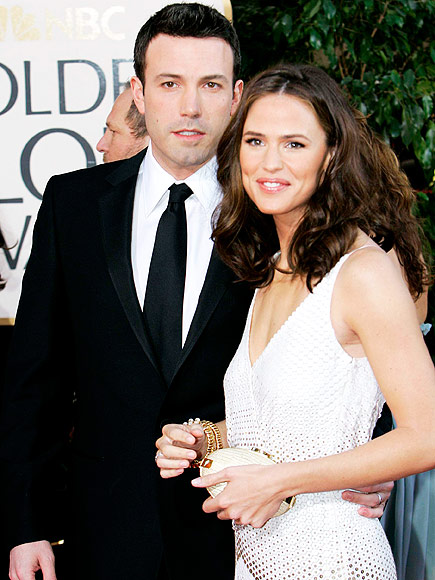 Affleck & Christine Ouzounian
Jennifer won a Golden Globe in 2002 for portraying Sydney Bristow in the TV drama series Alias. She and Affleck met on the set of Pearl Harbor in 2001 when Ben was in the middle of his relationship with Jennifer Lopez. The renewed their friendship after he broke with J-Lo. Affleck's good friend Matt Damon has openly stated that he believes Jennifer's anger led to the marriage breakdown long before Ben seduced his children's nanny, Christine Ouzounian, in the shower at his home in 2015. A year has elapsed since the couple split over the incident (July 2016), yet neither party has yet filed for divorce.
ALBRIGHT, Lola                 –           CARSON, Jack                     1952 to 1958 (div.)
                                                               CHADNEY, Bill                    1961 to 1975 (div.)
Lola with Craig Stevens in 
Peter Gunn
Lola with husband Jack Carson
Lola became a well-known face to TV viewers in the early sixties playing the sultry nightclub singer Edie Hart, girlfriend of Peter Gunn in the series of that name. In 1952 she wed 42 year-old character actor Jack Carson who was on the rebound after Doris Day ended their two-year relationship after meeting her third husband Martin Melcher. His best work was probably playing Cagney's arch rival for Rita Hayworth's affections in The Strawberry Blonde (1941). Lola would later marry Bill Chadney, the actor who played Emmett the piano player in Peter Gunn and was the house pianist at the Tropicana Hotel in Las Vegas.
ALDERTON, John               –           COLLINS, Pauline               1969 –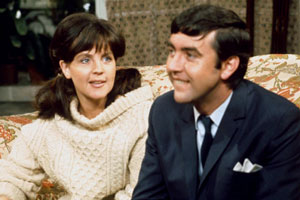 In later years
English actor John Alderton has been gracing UK TV for almost 50 years in series such as Upstairs, Downstairs and Please Sir! He and wife Pauline Collins have acted together many times, among their successes being the 1979 TV series Thomas and Sarah in which they co-starred in the title roles. Pauline's' best remembered film stint would probably be in the title role of Shirley Valentine in 1989.
ALLEN, Gracie                     –           BURNS, George                    1926 to 1964 (her death)
Since almost all film featuring her was in black and white, not many fans would be aware that Gracie had one blue eye and one green one. She and George first performed together in 1922 and Burns quickly realized the audience loved Gracie's ditzy persona, so he switched their act around and gave her all the funny lines while he played the straight man. Her birth certificate was lost during the California earthquake of 1906 that destroyed San Francisco. It is a tribute to George that he was, in my opinion, the funniest 'straight-man' in comedy history.
ALLEN, Woody                    –           LASSER, Louise                   1966 to 1970 (div.)
Louise as Mary Hartman
Six years after divorcing Allen, Louise won the role of pig-tailed heroine Mary Hartman in the TV series Mary Hartman, Mary Hartman. Allen would one day controversially wed Soon-Yi Previn, the adopted daughter of Woody's then partner Mia Farrow and composer Andre Previn. Officially, that makes Woody the son-in-law of his former lover Mia.
ALLEY, Kirstie                    –           STEVENSON, Parker          1983 to 1997 (div.)
Kirstie Alley is a pretty good actress who, unfortunately, might only be remembered in the long run for her 'Fat Actress' TV series and her strong Scientology convictions. She once shared an apartment with Tom Cruise's ex-wife Mimi Rogers, is best friends with John Travolta, and donated over $5 million to the 'church'. Enough said. Her ex-husband Parker Stevenson was a teenage idol as Frank Hardy in The Hardy Boys/Nancy Drew Mysteries (1977-9), played Billy Hazard in the 1986 series North & South Bk 2 (where he and Kirstie met), and later acquired an adult following portraying Craig Pomeroy in Baywatch.
ALLYSON, June                   –           POWELL, Dick                    1945 to 1963 (his death)
June Allyson was everybody's All-American girl of the forties, gracing numerous romantic comedies and musicals. She was a close friend of Judy Garland, Esther Williams, Jimmy Stewart and his wife Gloria. In later years she was a regular dinner guest at the White House when her friends Ronnie and Nancy Reagan were in residence. LB Mayer of MGM ordered her to date Van Johnson towards the end of WW2, probably to diffuse media suspicions about Van's sexuality. She also dated JFK in 1945 before suddenly marrying her real beau of 13 years, crooner Dick Powell. Their 18-year marriage encountered the occasional road bump (June's bout with alcoholism for one), almost coming to an end in 1961. Two years later cancer claimed Dick's life.