The history of movies is literally riddled with iconic male villains, but not so many women have been fortunate enough to sink their teeth into a genuinely meaty, nasty role. One of the first (and best) appeared in Hitchcock's 1940 classic Rebecca. Dame Judith Anderson positively oozed malevolence as Mrs. Danvers, although she did receive a little help from the director. Hitch, with his uncanny feeling for the sinister, made sure that Mrs. Danvers was never seen walking into shot. She always just 'appeared', and the effect was quite chilling. On the rare occasions we see her in motion she appears to be eerily gliding. Ms. Anderson was also instructed by Hitchcock to avoid blinking if it was possible, thus giving her a kind of robotic coldness that added to her menacing demeanor. She and Laurence Olivier did not get along with the female lead, Joan Fontaine, either, and this lack of warmth off-screen was apparent on it as well. To further add to the somber nature of the movie Hitchcock insisted it be shot in black and white, and not in color.
Joan Fontaine & Dame Judith Anderson
in Rebecca
The movie itself won the Best Picture Oscar for 1940, the only Hitchcock feature to do so. He did not, however, get the nod as Best Director – not then, not ever. In fact, the Oscars were not kind to him. Not only were his five nominations – Rebecca (1940, Lifeboat (1944), Spellbound (1945), Rear Window (1954) and Psycho (1960) – all unsuccessful, but equally surprising is the fact that only one actor picked up an Oscar for one of his movies, and that was Joan Fontaine for Suspicion (1941). Indeed, over all of his films only eight actors/actresses were even nominated. Three of those losers, Olivier, Fontaine and Anderson, were nominated for Rebecca.
Four years after Rebecca it was Barbara Stanwyck's chance to play an evil woman when she accepted the role of Phyllis Dietrichson in Double Indemnity. She was reluctant at first to play her when she realized the lady was a ruthless killer, but director Billy Wilder was unimpressed when she voiced her concerns to him. 'Are you a mouse or an actress?' he snorted. She relented and turned in a terrific performance that earned one of her four unsuccessful Oscar nominations. Ingrid Bergman won for Gaslight that year. Wilder required Stanwyck to wear a blonde wig for her role as Phyllis, a decision he regretted about half-way through the shoot, but it was too late to redo all her early scenes so the rather ratty-looking thing remained in the picture. Personally, I think she looks better as a blonde, but the wig is a real shocker all the same.
The wig that even looked like a wig
James M. Cain's, Double Indemnity was based on the subject of a notorious trial of the Roaring Twenties; that of a cold-blooded killer named Ruth Snyder. Dick Powell desperately wanted to play the role of Walter Neff, but his studio would not release him. The decision so enraged him that he tore up his contract. Fred MacMurray had to be talked into taking the job. He was approached after George Raft had made demands that were totally unacceptable. George had a habit of looking gift horses in the mouth and then walking away. He would only play Neff if the screenplay was altered to reveal at the end of the movie that he was really an undercover FBI agent on an assignment to catch Mrs. Dietrichson red-handed! Well, that was never going to fly. Exit George. Double Indemnity joined Casablanca and The Maltese Falcon on the list of super roles he had been offered and had rejected. One gets the impression that George was about as sharp as a bowling ball.
Fred, Barbara and Eddie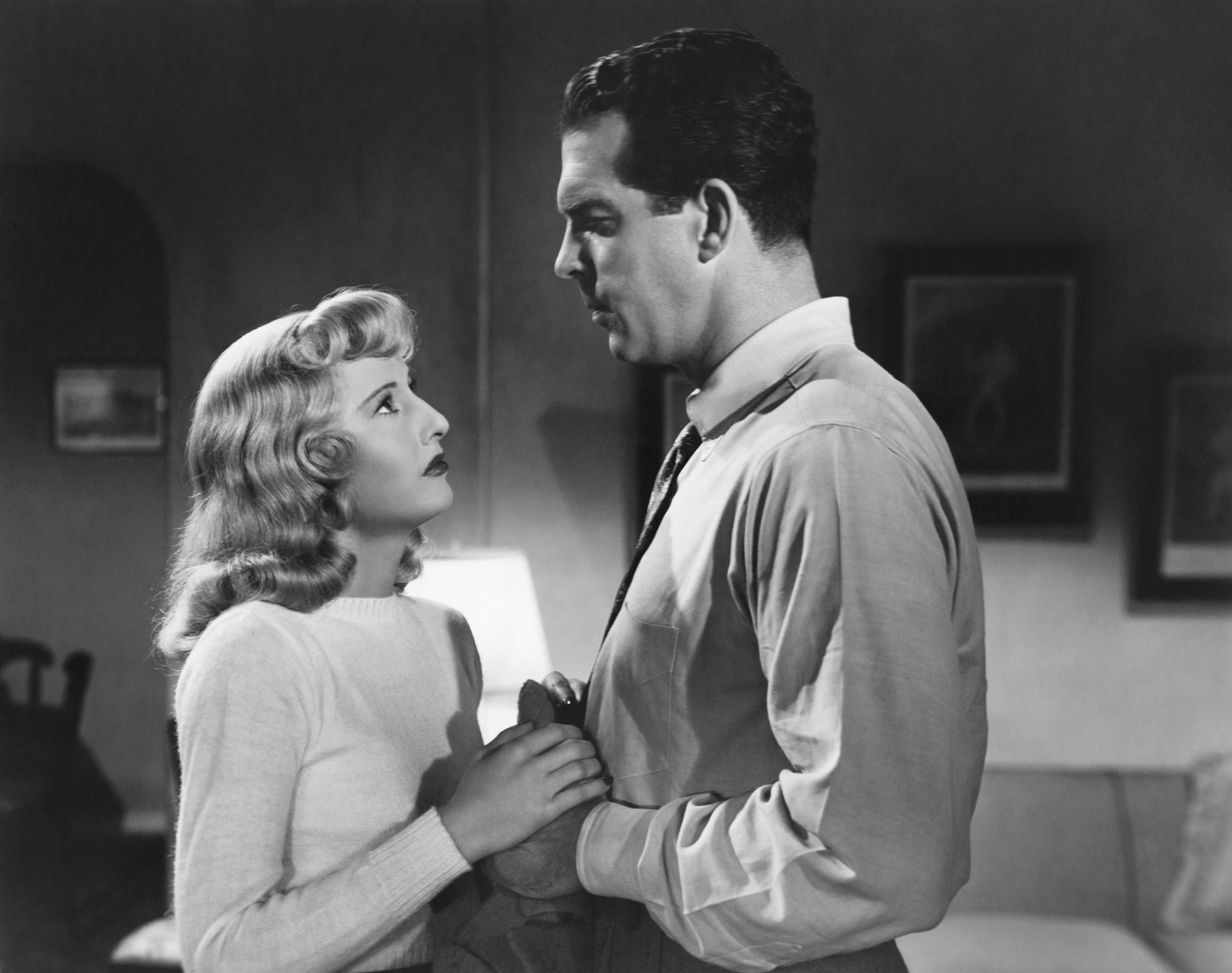 One of many tense moments in Double Indemnity
Edward G. Robinson almost didn't sign for the picture because his character only had third billing. His reluctance was appeased by the producers deciding to pay him the same as the two leads, Stanwyck and MacMurray. In one of Oscar's great injustices Double Indemnity failed to beat the syrupy Going My Way for the Best Picture that year. Wilder, it was said, was so incensed by Going My Way sweeping all the awards that he deliberately stuck out his foot and tripped its director Leo McCarey as he headed towards the podium to collect his award. It seems Billy did not take losing all that well.
A year after Double Indemnity hit our screens a neat little thriller called Leave Her to Heaven came bobbing along. This picture gave Gene Tierney the opportunity of an acting lifetime and she grabbed it with both hands. Rita Hayworth had already turned down the role of Ellen Berent Harland, a woman so obsessed with her new husband that she was prepared to remove anyone from his life who diverted any of his attention away from her. Tierney gives the performance of a lifetime as a beautiful but psychotic killer, earning herself a Best Actress nomination along the way. Joan Crawford would take the award that year for Mildred Pierce. (At least it did not go to Ingrid Bergman for The Bells of St. Mary's, another nomination). I always felt that Crawford played Crawford, much like John Wayne always played John Wayne. She was fortunate to win. Not for the first time justice took a back seat at the Academy Awards.
What a look! 'Gene – you wuz robbed'.
Gene and Darryl Hickman
Darryl with Fonda in The Grapes of Wrath 
It is interesting to note that the actor playing young Danny Harland in Leave Her to Heaven was the much in demand (at the time) Darryl Hickman. His older brother Dwayne would achieve brief TV recognition in the sixties as Dobie Gillis in The Many Loves of Dobie Gillis, but until then it was Darryl who was considered to be the more important actor in the family. After all, at the age of eight he had appeared in the classic 1940 Henry Fonda drama The Grapes of Wrath. In his most memorable scene in Leave Her to Heaven with Tierney, shot in the freezing waters of California's Bass Lake, he actually caught pneumonia and could have lost his life. Director John M. Stahl treated the boy badly on the set until that particular scene was sent across to Darryl F. Zanuck for approval. Zanuck thought the rushes were sensational and from that moment onwards Stahl's attitude towards Hickman improved dramatically.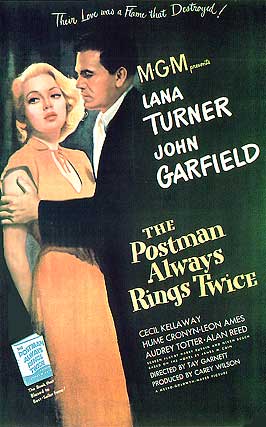 The last of these four legendary 'bad woman' roles was taken by Lana Turner in 1946. The Postman Always Rings Twice has become a classic film noir and rightly so. As a writer of film noirs James M. Cain had few peers. This was his first, written in 1934, followed by Mildred Pierce (1941), Double Indemnity (1943) and many more. The Bob Mitchum 1947 film Out of the Past was also based on a Cain short story titled Build My Gallows High. Lana always said that Cora Smith was the role she liked best. Little wonder. She was at the peak of her extraordinary beauty and perfectly suited to the part. She also got to play opposite John Garfield, a man with exceptional talent whose career was tragically cut short by a weak heart before he could turn forty.
Lana as Cora – always dressed in white
Female villains were few and far between in the studio days, especially if portrayed by big stars who had 'images' to uphold. Director Tay Garnett deliberately had his 'heroine' wear white throughout the picture to highlight the contrast between her 'pure' image and her inherent evil character. And it worked. Audiences were shocked that lovely Lana could play a calculating killer. They were even more shocked when it became evident that Mr. Garfield had used his tongue in one of the kissing scenes! How this slipped past the censors (but not the cinema-goers) is a mystery in itself. The relationship off-screen between the two stars varied dramatically. On day one on the set he raised her hackles when he called out, 'Hey, Lana, how's about a little quickie?' From that moment on there was tension between them yet, according to Vincent Sherman, a director and good friend of Garfield's, they had a very brief affair on a moonlit beach – a one-night-stand, so to speak. Sherman remained convinced that this was the only time his friend became romantically involved with a co-star. Others don't agree and number him among Crawford's seemingly endless list of conquests for starters.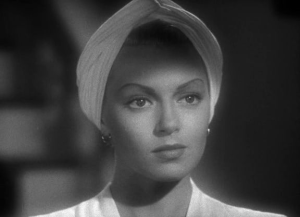 Lana Turner's greatest role
The Breen office initially barred the film after MGM purchased the rights in 1934. It was six years before negotiations could be renewed, and even then Breen's objections were many and varied. Describing the plot as 'unwholesome and thoroughly objectionable', he went on to cite the 'numerous sexual irregularities', the 'explicit treatment of criminal acts' and, last but not least, he deplored the 'emphasis on the dishonesty of the lawyers and representatives of the insurance companies'. The man truly lived in Fantasyland.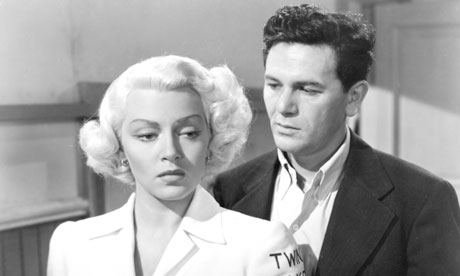 Turner and Garfield
Lana meets writer James M. Cain
One final piece of explanation is in order here. How on Earth did Cain come up with the title The Postman Always Rings Twice? After all, at no time in the book or the film does a postman even appear, much less ring the doorbell twice. Cain always said it stemmed from his novel Double Indemnity, which in turn stemmed from the real-life Ruth Snyder court case of the twenties. In her testimony Snyder told how she had prevented her husband from learning of the changes she had made to his life insurance policy by instructing the postman to ring her doorbell twice when delivering the policy payment notices, thereby enabling her to collect the document ahead of her husband. So there you have it.