Tom Sizemore – Saving Private Ryan
Tom Sizemore's drug problem was common knowledge in the movie business when he was given the chance to perform in Saving Private Ryan (1998) by Steven Spielberg. 'Steven said he was going to give me a second chance, but that he would have me tested throughout the shoot', he recalled. 'He said that even if I only started using on the last day of production he'd re-cast the part and re-shoot everything. He didn't want to be part of my problem'. That same year Sizemore was portraying mob boss John Gotti in Witness to the Mob when his pal Robert De Niro, accompanied by Tom's mother, arrived at the actor's home and issued him with an ultimatum over his drug problem. They were there to drive him either to jail or rehab. The choice was his. He chose the latter and it may very well have saved his life. It certainly saved his career. For the time being.
Edie Falco as Carmela
Sizemore's driving ambition saw him leave his girlfriend, actress Edie Falco, behind in New York City to pursue his Hollywood dream. She would one day achieve worldwide recognition as Carmela Soprano in the record-breaking TV series The Sopranos. Given Tom's future running battle with substance abuse, it could be safely said he did her an enormous favour by bidding her farewell when he did. He was not in L.A. long before Robert Downey Jr. introduced him to cocaine at a party. The ever-cooperative Downey also introduced him to his dealer, and before long Sizemore was not only a daily user, but was soon to graduate to heroin as well and start hanging around the notorious Viper Room.
Elizabeth Hurley
He and Wesley Snipes made Passenger 57 in 1992. Both men were soon in hot pursuit of co-star Elizabeth Hurley. Sizemore won the race. According to his 2012 memoir, 'By Some Miracle I Made It Out Of Here', he moved in with her after she jumped atop her coffee table on their second date and stripped for him! At the time she was heavily involved with British actor Hugh Grant and insisted Tom move his things out of their apartment whenever Hugh came to town. Sizemore, not surprisingly, did not enjoy the arrangement and soon (reluctantly) ended their relationship.
With his wife Maeve Quinlan
In 1999 his three-year marriage to Irish-American actress Maeve Quinlan ended. A former outstanding tennis-player ranked at 105 in the world, Maeve took the advice of a University of Southern California drama professor and gave up tennis for acting. She was an extra on Natural Born Killers when she first met Sizemore and they were married two years later. A year into the marriage saw her have her husband arrested on assault charges after he allegedly struck her during an argument in their apartment. This, coupled with Sizemore's drug-taking, signalled the beginning of the end of their five years together. Fans of The Bold and the Beautiful TV series (1987) might recall her playing Megan Conley in several episodes in 2006. 
Juliette Lewis
Also in Natural Born Killers was the feisty Juliette Lewis, herself a substance-abuser of Olympic promise. She was 19 and Tom was 32 when they embarked upon a volatile relationship. For a while Sizemore virtually lived in her mansion, but she liked to stay at home watching her massive TV on which porn played continuously, and he eventually tired of that. 'Essentially, we were really high and really rich', he wrote. They didn't last either.
With Heidi Fleiss
Hollywood madam Heidi Fleiss and Sizemore had been 'seeing each other' for several years. She was found guilty of 'pandering' and sentenced to three years gaol in 1994. The following year she was indicted on tax evasion and money laundering charges as well. Her declared income of just $33,000 a year as a real estate broker did not exactly sit right with her $1.5 million purchase of Michael Douglas's former mansion in Hollywood. It was from her headquarters there that she supplied hookers at $1,500 a night, $900 of which went directly to her. By the time she and Tom became an 'item', he was totally hooked on meth and having sex with every woman he could lay his hands on. Heidi being what she was proved to be the ideal girlfriend for a guy obsessed with his libido. Many of her hookers used his home as a 'flop-house'. In 2001, she rejected his proposal of marriage and the couple parted company. Two years down the track she had him charged with assault (he has always claimed the charges were fabricated), and a judge sentenced him to jail-time and rehab.
Despite the rejuvenation of his acting career courtesy of Mr. Spielberg in 1998, Sizemore's drug-taking issues kept re-emerging. In 2005 he hit the headlines again when he failed a drug test and was found guilty of using a device designed to submit a false urine sample. The 'Whizzinator' is a prosthetic penis that provides a flow of 'clean' urine for testing. It was the second time he had been caught using the device. He was also sentenced to seventeen months gaol and four months rehab for repeatedly failing drug tests while on probation. Like most drug abusers he continued to repeat the same errors. Indeed, he gave 'slow learners' a bad name. To further add to his woes of 2005, an eight-hour sex tape surfaced on the Internet in August that featured him cavorting with six women. He had been at an all-time low when he agreed to do it for the money. In fact, he was homeless at the time.
He also claimed he slept with 19 year-old Paris Hilton. In October 2005 she flatly denied his claims. The 44 year-old actor insisted that she begged him for sex after a party. 'She knew what she could do to people', he said; adding that the young heiress showed him a very good time. 'He is not an acquaintance of mine', she responded, 'nor have I ever had intimate relations with him'. A few days later a photograph of the pair at his home was released to the press. The year 2005 was indeed a busy one for Mr. Sizemore. In July an ex-girlfriend, Janelle McIntire, gave birth to his twin sons Jayden and Jagger. Following a meth bust he was gaoled again in 2007, this time for 16 months. Whilst inside he managed to fight off a potential rapist, but spent the final six weeks of his sentence in his cell, fearful for his life should he venture out into the prison population.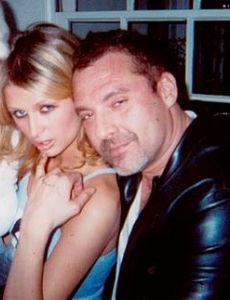 With Paris Hilton
To say he is finding work these days as an actor is a major understatement, for over one hundred and fifty of his 180 plus screen credits have come since 1998's Saving Private Ryan. I first saw him in the delightful Heart and Souls (1993) and became an instant fan. He was good in Natural Born Killers (1994), Devil in a Blue Dress (1995), Enemy of the State (1998) and a quaint little sleeper called The Match in 1999. But the drug problem (or the possibility of its re-emergence) was ever present. 'People talk about my bizarre behaviour at the 1995 Toronto Film Festival when we were promoting Devil with a Blue Dress', he said. 'I was so high during that period I don't remember making the movie, let alone promoting it.'
In Devil with a Blue Dress
Lately, however, I get the impression he is at last through with all that, although as far as his acting assignments go, he seems more interested in quantity and less in quality, which is a great pity because he is a seriously versatile, talented actor who is very believable on screen. Or maybe the opportunities are no longer there. Still, overall he has a terrific resume. Not bad for a guy who spent three years waiting on tables at the World Trade Centre as he desperately searched for an opening into the acting business.