Born in Kansas City, Missouri in 1911, 16 year-old Harlean Carpenter ran away from home to marry a 21 year-old businessman named Charles McGrew in 1927. The couple lived off his rather large inheritance for a couple of years, but it is believed that his drinking led to an early divorce. In 1928, at the age of 17, she was photographed nude in Griffith Park by Hollywood photographer Edward Bower Hesser. By 1929 she and McGraw had gone their separate ways and Harlean (now Jean) began getting bit parts in movies, mostly as walk-ons or people passing by in a street scene. How much of this was in some way due to the nude photographs is anybody's guess.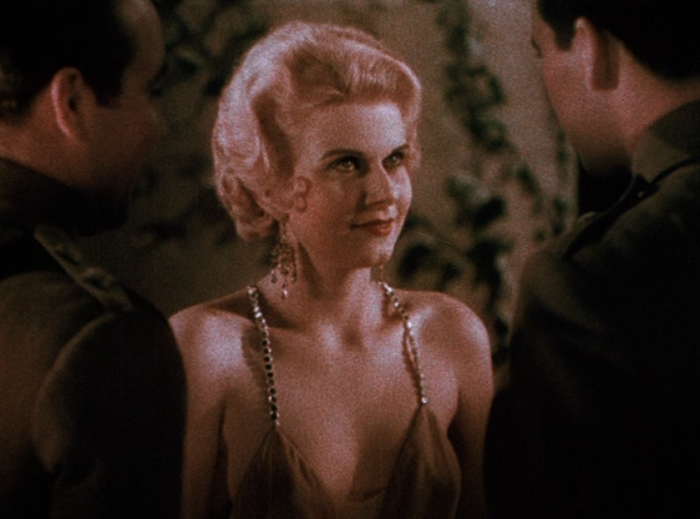 The colour sequence in Hell's Angels (1930)
In 1929 alone she popped up in eleven films and shorts, but it was landing a great role in Howard Hughes' 1930 WW1 epic Hell's Angels that put her on the map and brought her to the attention of the paying public. The part was initially Greta Nissen's, but her broad Norwegian accent was unacceptable to Hughes so he replaced her with Harlow. The picture contains an eight-minute, two-colour sequence, the only colour footage of Jean ever shot. Hughes later sold her contract to MGM for a whopping (for the time) $60,000, and she was on her way to unprecedented heights as a major motion picture star.
LB Mayer and Jean
L B Mayer once offered the diminutive Jean (she was just 1.56m, 5'1" tall) a mink coat if she would sleep with him. She turned him down, but not before adding that the only way she would agree to the proposal was if she contracted a dose of the 'clap' first! Then, he could keep his mink coat and she would service him for free. She did, however, find time to date notorious gangster Abner 'Longy' Zwillman who purchased jewels and a red Cadillac for her. FBI tapes, however, have him making derogatory remarks about her to mob associates. It was also said that he liked to give his pals lockets containing snips of her pubic hair as mementos. Why Harlow would consent to such a thing has never been adequately explained. Zwillman was found hanged in 1959 shortly before he was to appear before the McClellan Senate Committee Hearings on organized crime. Suicide? Not likely.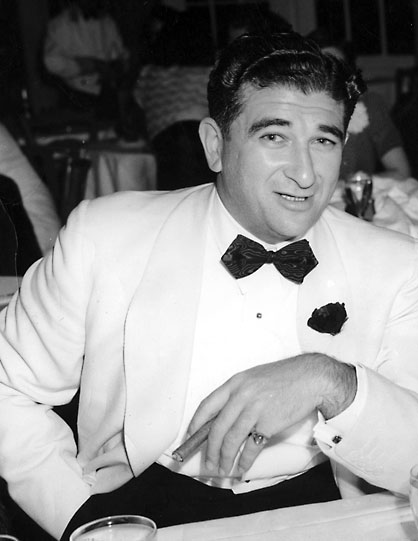 Mobster 'Longy' Zwillman
There exists a rather funny anecdote regarding Harlow that may or may not be true, but it is worth repeating here nonetheless. It appears she was at a dinner party and continuously addressed Margot Asquith, the wife of the British Prime Minister H. H. Asquith, as 'Margot', pronouncing the 'T' each time. The exasperated Mrs. Asquith eventually tired of this and corrected poor Jean in front of the entire gathering: 'No, Jean', she patiently explained, 'the 'T' is silent, like in 'Harlow'. As I said, the story may not be true – but I sure would like it to be.
Dame Margot Asquith
During the shooting of the famous rain barrel sequence in Red Dust (1932), Harlow stood up topless, 'for the boys in the lab', she magnanimously proclaimed. Very sporting of her, but not quite what the studio wanted from one of its hottest properties. Director Victor Fleming quickly removed the film from the camera in case it managed to find its way onto the black market. One wonder's if it managed to find its way into his (or someone's) private collection. Probably. It was while making Red Dust that Harlow's second husband, writer Paul Bern, was found shot to death, a probable murder although MGM went to great lengths to have the public believe the poor man suicided. He and Jean had only been married two months.
With Gable in Red Dust (1932)
Newlyweds – Paul & Jean Bern
A year after Bern's death she married her third husband, noted cinematographer Harold Rosson, the man who was behind the camera for three of her biggest hits. He also photographed The Wizard of Oz and the burning of Atlanta sequence in Gone with the Wind, both in 1939. Rosson would receive many accolades for his work over his spectacular career and would live until the age of 93. His bride of just eight months would not be so fortunate. After the end of this, her third and final marriage, Jean and William Powell became an item. In fact, they were engaged for two years and some historians believe she may have aborted his child. They were still engaged to be married at the time of her death.
With Harold Rosson
With William Powell
All in all Harlow made six movies with Clark Gable. The last of these was Saratoga in 1937. Shooting was nearing completion when she became gravely ill. Her sudden death at 26 took the entertainment world by storm. Powell was grief-stricken. So was Gable. Consideration was given to reshooting the entire film with Tallulah Bankhead playing Jean's role, but in the end it was decided to go with what they had of the deceased actress, and to insert long-shots using doubles for those scenes in which she was still required. The overall result was a very ordinary movie indeed, but it became a smash hit as people across America and the world flocked to see the late Platinum Blonde in her final outing.
Bable & Harlow in Saratoga
To the public Harlow was the sex goddess supreme. In reality she knew little about the sex act or how to enjoy it. After her husband's death she set herself two private goals – to learn how to enjoy sex and to become a mother. Donning different coloured wigs and makeup, she is alleged to have embarked upon an extraordinary spree of one-night-stands, picking up men in bars and truck stops in and around nearby towns. For months she let men from all walks of life service her for free, yet she never discovered any real enthusiasm for the act – nor did she become pregnant. Then, all too soon at just 26, she was dead from uremic poisoning. By most accounts, on the sets of her movies, she was both popular and down to earth; enjoying the company of the crew as much, or more, than that of her fellow thespians.
Decades later Marilyn Monroe was offered the opportunity to star in a biopic as Harlow. Jean was her idol, but on reading the script she rejected it outright, saying to her agent, 'I hope they don't do that to me after I'm gone.' Of course, the circus that ensued after Marilyn's demise dwarfed even Jean's. Coincidentally, both actresses would be playing opposite the same leading man, Gable, in their final films – Jean in Saratoga in 1937 and Marilyn in The Misfits in 1961.