This was a typical Danny Kaye offering, one that show-cased the considerable comic talents he was blessed with. Sadly, his over the top style dated quite quickly (much like that of Jim Carrey later). Watching most of Danny's films today is hard work, the probable exception being the very funny The Court Jester (1955). I chose this one to investigate primarily because of its interesting supporting cast. We often think of movies purely in terms of who the leading players are (or were), but a close examination of the rest of the cast can often produce some surprising and interesting discoveries. On the Riviera (1951) is one such film.
Danny's female co-stars were two Hollywood beauties – Gene Tierney and Corinne Calvet. Gene, of course, at 30 was already an established star with some most impressive credits to her name. These included the iconic Laura (1944), Leave Her to Heaven (1945), The Razor's Edge (1946) and The Ghost and Mrs. Muir (1947). You might recognize a portrait of her displayed in this picture. It is the same one we see in Laura, only in colour.
The 'Laura' portrait in colour
The statuesque Corinne was a multi-talented individual. Born in Paris in 1925, she attended the Sorbonne studying criminal law, but chose instead to qualify as an interior decorator specializing in fine arts and antiques. Her mother, incidentally, was one of the scientists who contributed to the invention of Pyrex glassware. Corinne's dazzling beauty soon led her to the Parisienne stage, followed by work as a radio hostess in the years immediately following World War Two. Small film roles soon brought her to the attention of Paramount's Hal Wallis who took her to Hollywood under contract in 1947. She was 22 and at the height of her beauty and sex appeal.
Right from the start Corinne made it clear she was not about to be exploited by producer Wallis, Paramount or anybody else. She immediately disputed her salary, her fiery temperament and exchanges with Wallis gaining her a reputation as 'difficult'. Nevertheless, she was cast alongside Burt Lancaster and Paul Henreid in Rope of Sand (1949) and her sexy, husky voice enhanced her sultry appeal to audiences in her role as a nightclub singer. It was scarcely a 'stretch' for the talented Corinne, for she was an accomplished singer anyway, and would later headline at the prestigious Le Cupidon nightclub in Manhattan.
Danny Kaye & Corinne Calvet
Despite her appeal to the opposite sex, Hollywood really did not know how to use Corinne and her career meandered along. Perhaps, her volatile temperament caused her to be disregarded by some producers who thought she was not worth the trouble. In 1952 she and Zsa Zsa Gabor staged a 'feud' to help boost both careers, but everyone saw through it. She made Powder River with Rory Calhoun in 1953 and was soon involved off-screen with him. In her 1983 biography, 'Has Corinne Been a Good Girl?' she tossed the cat among the pigeons by telling the world that she and Rory broke up after she discovered he had a boyfriend!
Corinne & Rory Calhoun in Powder River (1953)
Her memoirs pulled no punches. She described sitting at a dinner alongside screen legend Clark Gable who talked incessantly about hunting and killing animals. Disgusted, Corinne stood up and left the table. Orson Welles asked to date her because she resembled Rita Hayworth who had left him a few months earlier. Corinne told him she was not Rita Hayworth and Orson dismissed her on the spot. While working on The Bellboy (1960), directed by Jerry Lewis, she complained about Jerry's girlfriend Gloria DeHaven suddenly visiting the set. Corinne was promptly cut from the picture. Any reference to her character were deleted from the final print. Within a decade the volatile Frenchwoman had left the movie industry for good and started a career as a therapist. She passed away in 2001.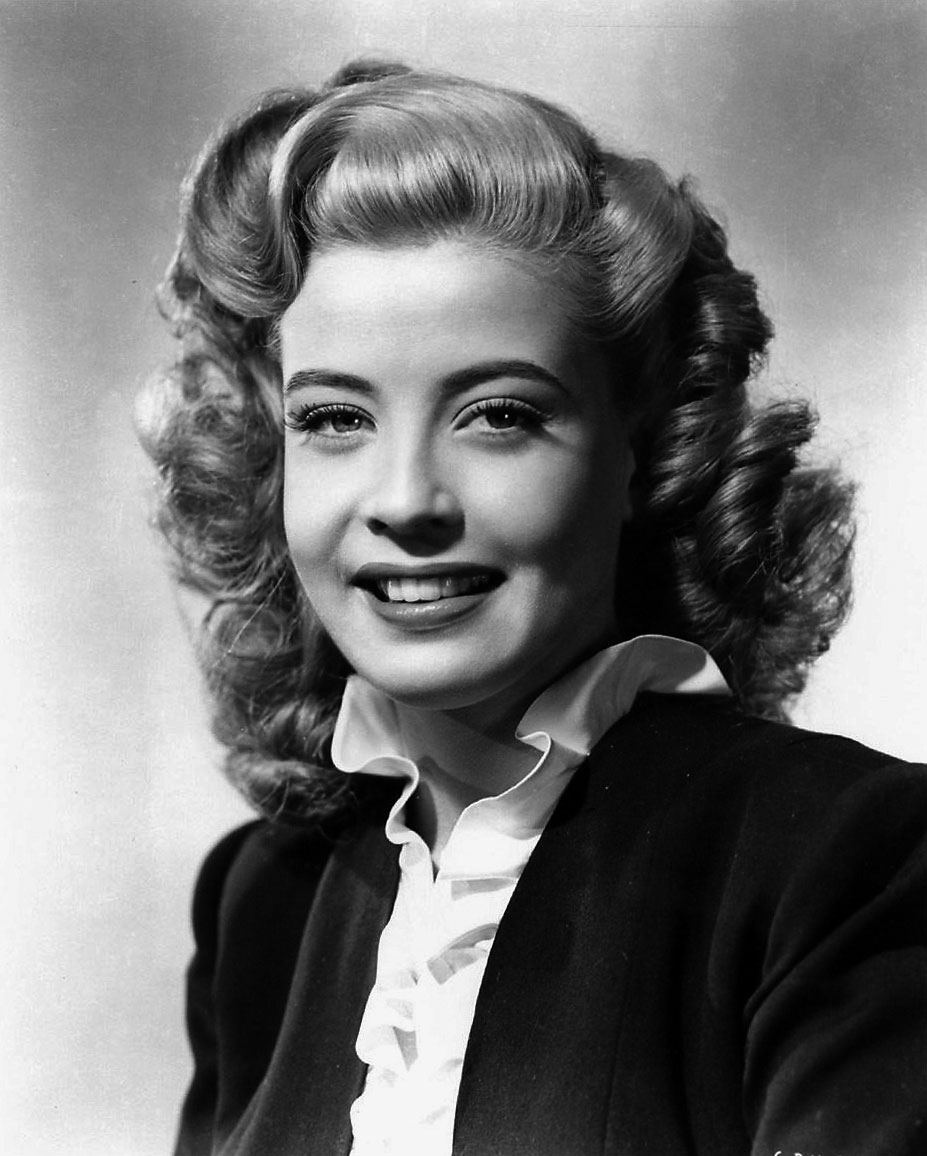 Gloria DeHaven
Among the bit part players in On the Riviera is the uncredited Mari Blanchard playing Eugenie. She would go on to accumulate 61 acting credits, among them the female lead opposite Audie Murphy in Destry (1954). The voluptuous Mari (36-25-36) suffered from polio as a child, but responded to three years of rehabilitation before running away to join a circus where she rode elephants and performed on the trapeze. Her movie career was steady but unspectacular. One of her chief claims to trivia fame saw cartoonist Al Capp use her as his inspiration for the character 'Stupefyin' Jones' in Li'l Abner. Interestingly, Mari's name appeared in the 'little brown book' owned by gangster Johnny Stompanato, together with those of June Allyson, Zsa Zsa Gabor and Anita Ekberg, by the way. Make of that what you may. Stompanato was the hood who was also Lana Turner's boyfriend until the night in 1958 when her 14 year-old daughter Cheryl (supposedly) stabbed him to death in their home. The name of June Allyson in the man's diary surprises. As for Mari, she developed lung cancer which took her life in 1970 at the age of just 47.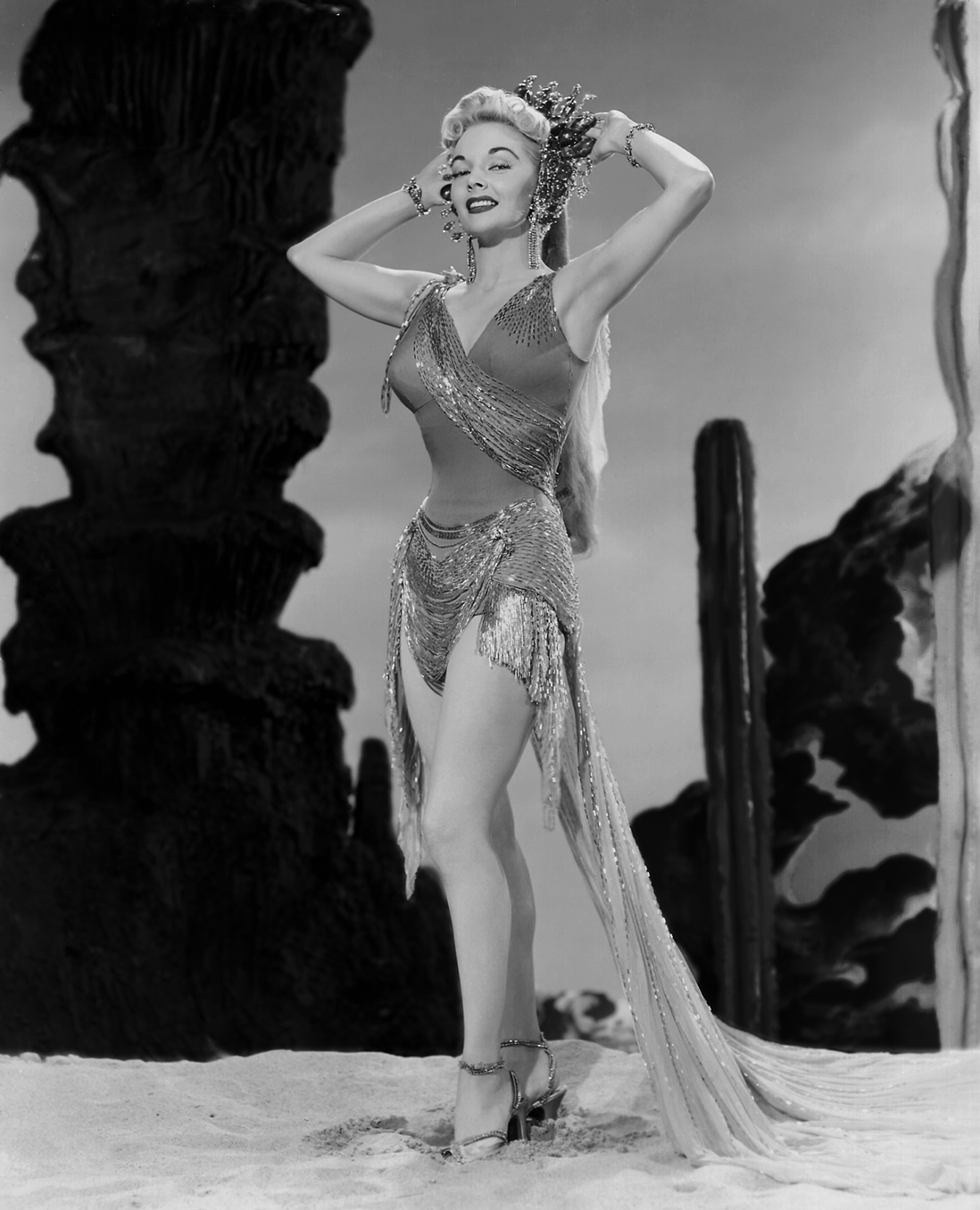 Mari Blanchard
   Julie Newmar
As 'Stupefyin' Jones' in Li'l Abner
Another colourful bit player was former model Joi Lansing (also uncredited) playing Marilyn Turner. Her physical development was such that she was modelling at 13, much to the concern of her devout Mormon parents. Hailing from Salt Lake City, Utah, she had no trouble finding work in California as her movie career kicked off. Mostly she was purely decorative, her sensational figure utilized at every opportunity. And she loved to party, among her boyfriends were George Raft, Mickey Rooney and Frank Sinatra. She almost landed the role in All About Eve (1950) that kick-started Marilyn Monroe's career, and another voluptuous actress named Sabrina beat her to the role of Venus de Marco in the 1969 horror film The Ice House. Unluckily for Joi, her well-received portrayal of Superman's wife in the final season of TV's Adventures of Superman did not lead to a return in the next season because of George Reeves' murder. Breast cancer took her in 1972 before her 44th birthday.
Joi Lansing
Joi as Superman's wife
A lady seen watching TV at a bar is a former silent era actress named Bess Flowers. Her great claim to fame is that she can be seen in more movies than any other actor or actress. Known as 'The Queen of the Extras', she accumulated a staggering 877 credits in her 42 year career, and was in five Best Picture Oscar winning films – It Happened One Night (1934), You Can't Take it with You (1938), All About Eve (1950), The Greatest Show on Earth (1952) and Around the World in 80 Days (1956). Bess was a 'dress extra', meaning she brought her own clothes to wear whenever she appeared in a film. Her first picture was in 1922, her last in 1964. After that she made TV commercials for Chevrolet. Bess died in 1984 aged 86.
Bess Flowers
Yet another uncredited performer in On the Riviera is the Broadway legend Gwen Verdon playing an un-named specialty dancer. She would later marry choreographer Bob Fosse and pick up no fewer than four Tony Awards for her dancing on Broadway. Considered by many critics to be the greatest dancer the world has ever seen, Gwen had to overcome a crippling bout of rickets that deformed her legs as a child. Her mother enrolled her in dance classes in an attempt to straighten and strengthen the young girls' legs. Eventually, Gwen was able to perform many dance forms at the highest level. Her marriage to Bob Fosse produced a daughter (Nicole), herself a dancer who appeared in the 1985 musical A Chorus Line, playing Kristine. Gwen taught both Marilyn Monroe and Jane Russell to dance for their roles in Gentlemen Prefer Blondes (1953). She even taught them how to walk – Marilyn 'less sexily', Jane 'more sexily'. Her marriage to Fosse collapsed because of his chronic womanizing, but they never divorced. Gwen's death in 2000 resulted in the lights on Broadway being dimmed in her honour.
Gwen Verdon
Bob Fosse & Gwen
   Nicole Fosse
In A Chorus Line (1985)
One of the many Hollywood beauties who came and went after a brief moment in the sun was a girl named Francesca de Scaffa. Here she is uncredited playing the minor role of Elna Petrovna, but for a short time she would hit the headlines – but not for her acting. Francesca, you see, became a paid informant for the Hollywood scandal publication called Confidential. She was undoubtedly beautiful; Bruce Cabot must have thought so, for he married her in 1950. They divorced seven years later in the same year the Confidential magazine scandal trials commenced. Francesca was quickly exposed as a spy for the publication, thus terminating her movie career at once. She quietly slipped over the border into Mexico after her divorce and married matador Jaime Bravo. With the assistance of Bravo's good friend, artist Pablo Picasso, the union was quickly annulled and Francesca returned to the USA. In 1965 she married a diplomat in Houston.
Francesca de Scaffa
Bruce Cabot
The scandal trials of August 1957 created a sensation in the USA. Actor Tab Hunter managed to avoid testifying when the 1955 smear article about him being gay was brought up. The Defence Attorney for Confidential editor Howard Rushmore tried his damndest to get stars on the stand so that he could question them about their private lives, but he was largely unsuccessful. Too many careers were being threatened, so money more than likely changed hands to prevent them testifying. A lot of celebrities left town to avoid taking the stand. Rushmore developed a stable of informants, openly stating that Francesca was 'our chief Hollywood source', because she had access (through her marriage to Cabot) to just about every Hollywood home. 'She said she would get material', he testified, 'even if it involved affairs for her with male subjects.' It later transpired that Francesca was more than happy to 'invent' stories if she was unable to get close enough to her targets. 'This gave me concern as to her reliability', he under-stated. Her attempted suicide in May 1957 whilst hiding out in Mexico City also damaged her credibility as a witness. Francesca's entire life has always been cloaked in mystery. I have been unable to find a birth date or place for her. Nor can I determine if she is still alive or not.