Most baby-boomers (like me) are familiar with the story of the PT-109, so this precis is for those late-comers who are, perhaps, a little less intimate with the war record of John F Kennedy, the man who would later become the 35th President of the United States, albeit all too briefly, from January 1961 until his assassination in November 1963.
Lieutenant Kennedy was posted to the Solomon Islands as a PT boat commander to fight the Japanese during World War Two. Many people may not be aware that the PT-109 was not the young lieutenant's first command. Between December 7, 1941 and April 24, 1943, he skippered four boats before being assigned to PT-109 at Tulagi in the Solomons. Later, he would skipper  PT-59 towards the end of the war.
Kennedy aboard the PT-109
On the night of August 1-2 his vessel was struck by the Japanese destroyer Amagiri and cut in half. Two of the thirteen 109 crewmen lost their lives. Unlike in the movie, Kennedy asked his surviving ten crewmen to vote on whether to surrender to the Japanese or attempt to evade capture. 'There's nothing in the book about a situation like this', he told them. 'A lot of you men have families and some of you have children. What do you want to do? I have nothing to lose'. (Incidentally, the actor (uncredited) playing the helmsman of the Japanese destroyer is George Takei who would later play Mr. Sulu in the 1966 TV series Star Trek.)
PT-109 crewmembers – Kennedy at right
It was agreed to swim to a nearby island. Kennedy swam the three and a half miles towing an injured man behind him, a life belt strap clenched in the lieutenant's teeth. It was a heroic effort as Kennedy's back had been severely injured in the collision and would trouble him for the remainder of his life. Later, all eleven men swam to another island in search of food and water, before being rescued with the help of some Solomon Islanders and an Australian coast watcher named Evans. The islander who first contacted Kennedy and the stranded men was a man named Eroni Kumana. He would live until August 2014 before dying at the age of 93.
The movie PT 109 stuck pretty much to the facts (but not to all of them, as I shall show here), and was released in June 1963 five months prior to President Kennedy's death. It was mostly shot at Little Palm Island, Florida. Cliff Robertson was JFK's personal choice to play him, even though the actor was 40 years old and would be portraying Kennedy when he was in his early twenties. Jacqueline Kennedy, the nation's First Lady, wanted Warren Beatty to play her husband, but the President won the day and Robertson got the nod. He also gave the actor permission to use his own voice, rather than try to copy Kennedy's distinct Boston accent. Unusually, there is not a female to be seen anywhere in this movie. Not one. For Hollywood, a rarity indeed. For Kennedy it was an equal rarity.
Edd Byrnes
TV idol Edd 'Kookie' Byrnes almost landed the role of Kennedy. He was a 25 year-old from New York City who had leapt to national and international prominence as a hip-talking parking lot attendant in the 1958 series 77 Sunset Strip. According to Byrnes' autobiography, the president was not too crazy about being impersonated by an actor whose chief claim to fame was his ability to flourish a comb and call everybody 'dad'. Another member of the 77 Sunset Strip cast, Roger Smith, was also considered for the role, as was young Peter Fonda who bore a strong physical and facial resemblance to the young Kennedy.
Several liberties were taken with the truth in the movie PT 109. For example, the boat itself was not a derelict that Kennedy and his crew devotedly restored to duty in a week. It had been fully operational for five months before Jack took command. It was, like all PT boats in the Pacific, painted dark green to enable it to hide when moored along the jungle shoreline. In the movie it is painted navy grey.
Cliff Robertson as JFK
The final cast of the movie contained a few rather interesting individuals. Robertson himself was a man of principle who courageously uncovered a major studio fraud during the 1970s that brought down the powerful Columbia Pictures president David Begelman. Indicative of the appalling morality existent in Hollywood at the time, Robertson's career was strongly hampered by his actions, while Begelman was hired to run MGM soon afterwards. Cliff passed away in 2011 at the age of 88.
Ty Hardin as Ensign Thom
Hardin the radical
Eight times married Hollywood hunk Ty Hardin portrays Ensign Thom, Kennedy's second in command. Born in New York, he grew up in Texas, which may (or may not) account for his later life as a self-proclaimed 'freedom fighter' from about the 1970s onwards. Hardin became a vitriolic anti-Semitic, anti-immigrant, anti-black leader of a radical right-wing group called The Arizona Patriots who spent much of their time stock-piling weapons in preparation for their ultimate 'rise to power'. Needless to say that did not happen, and in 1986, following a two-year FBI investigation into their activities, the group ceased to function and Hardin left Arizona, presumably for good. He is 86 years old today.
Blake (centre) and Norman Fell (right) PT 109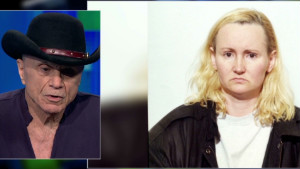 Blake and Bakley circa 2000
Robert Blake plays Gunner's Mate Charles 'Bucky' Harris in PT 109. He would go on to star in a popular TV series Baretta (1975), but it was his private life that hurled him into the headlines. In 2000 he married a woman named Bonnie Bakley, whom he quickly discovered was a chronic con-woman specializing in becoming pregnant to celebrities, coercing them into marriage, and then fleecing them of their wealth. Blake soon detested her. Then, in 2001, she was shot to death as she sat in her car outside a restaurant, and he was charged with her murder. In a trial that made world headlines he was acquitted by a jury who believed his defense over the evidence presented by the prosecution. Eight months later a jury found him 'responsible for her death' in a civil suit, and he was ordered to pay 30 million dollars in damages to his dead ex-wife's children. As Blake told reporters after the verdict: 'Every time you think you got it made, old Mother Nature kicks you in the scrotum'. He is now 83 years old.
Robert Culp                                                   France Nuyen in South Pacific
Robert Culp plays Kennedy's buddy, Ensign 'Barney' Ross. Five times married, Culp had the enormous good fortune to count among his spouses the lovely France Nuyen at the height of her staggering beauty. She played Bloody Mary's enchanting daughter Liat in the 1958 musical South Pacific. I have no idea why four of Culp's wives (including France) chose to divorce him, but it is worth noting that his poker-playing buddy was Hugh Hefner, and Bob spent an awful lot of time at Hugh's Playboy Mansion. Few wives, I imagine, would be crazy about that. A heart attack claimed Culp in 2010. He was 79.
Norman Fell (centre) in Bullitt (1968)
Much-respected character actor Norman Fell plays Machinist Edmund Drewitch, the sailor who keeps the PT boat's engines running. Fell made several good movies during his career, among them Bullitt (1968), Ocean's 11 (1960) and The Graduate (1967). During World War Two he served as a tail-gunner on a B-24 in the Fifth Airforce and was credited with shooting down two Japanese fighters. He passed away in 1988 from bone cancer when he was 74.