M*A*S*H* was a phenomenally successful series that ran for eleven seasons over 251 episodes from 1972 until 1983. It concerned a US Mobile Army Surgical Hospital operating in Korea during the 1950-53 conflict. Only two members of the cast were contracted for all 251 episodes – Alan Alda and Loretta Swit. Only Alda, however, actually appeared in all 251. Loretta missed a few. Eight other 'regulars' chalked up in excess of 100 episodes each and the series won 8 Golden Globes in its 11 seasons on the air. The outdoor shots were done at the rather remote Fox Ranch in Malibu Canyon, the same place that How Green Was My Valley shot in 1941. The indoor scenes were completed in Los Angeles in a studio.
As the series headed towards its tenth season the supply of fresh ideas began to run out. Veterans of real M.A.S.H. units of the Korean War were interviewed about their experiences and several of the stories they recalled found their way into later episodes. In fact, it was the eventual dearth of new ideas that ultimately saw the executives move to close down the series. They then put the idea to the cast members and a vote was taken. Three leading members of the cast, Harry Morgan, Jamie Farr and William Christopher, voted to carry on, but the rest agreed to call it a day. Morgan, Farr and Christopher then signed for After MASH, a series set in a veterans' hospital after the Korean War has ended, but it folded after just two seasons.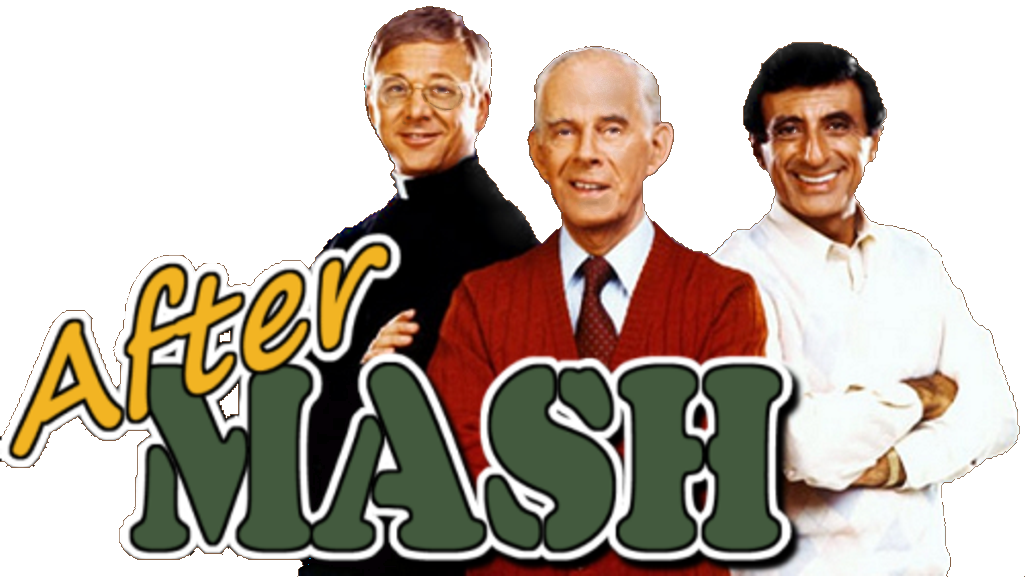 Christopher, Morgan, Farr
Among the many young unknowns who 'guested' on M*A*S*H* and went on to become successful stars were – Patrick Swayze, John Ritter, Joe Pantoliano, Bruno Kirby, Laurence Fishburne and Teri Garr. Future top director Ron Howard also made a guest appearance in one episode. Episodes set in the bleak Korean winter were usually shot in temperatures in excess of 100 degrees Fahrenheit. Cast members sweltered in snow jackets as they huddled around fires to 'keep warm'. In the 1990s cable TV was introduced into India and M*A*S*H* became a huge hit all over again in that country. It was telecast at 6pm weekdays until all of its seasons had been shown.
Ronnie Howard guesting in 1973
And Patrick Swayze
Joe Pantoliano in Episode 216
Teri Garr picnics with Hawkeye
John Ritter and Major Burns chatting
Here are a few facts about each of the major cast members that may be of interest:
Alan Alda: (Captain Benjamin Franklin 'Hawkeye' Pierce) – 251 episodes.
If you ever watch the 1945 biopic titled Rhapsody in Blue you will see Robert Alda, Alan's father, portraying the great George Gershwin, the musical genius on whom the film focuses. His first wife (and mother of Alan) was a 'Miss New York' beauty contest winner named Joan Brown. Tragically, she began suffering from severe mental illness shortly after the birth. Alan Alda contracted a severe case of polio as a child and at one time could only move his left arm. He was ten and a half years old, but thanks to the treatment developed by Australia's pioneer nurse in the field, Sister Kenny, he made a full recovery. He was living in New Jersey when this series began and refused to move his family to California where it was being filmed. Unsure how long the series would last, he chose to commute between the Fox Ranch in California and his Jersey home each weekend, and did so for eleven years! Throughout those eleven seasons he picked up no fewer than six Golden Globes for M*A*S*H* and was nominated for five more. Quite amazing. In 2005 he was even nominated for an Oscar for his performance in The Aviator, but missed out. By 1980 he was earning $200,000 an episode for M*A*S*H*. In January 2016 he turned 80 and he is still going strong.
    Robert Alda in Rhapsody in Blue (1945)
Loretta Swit: (Major Margaret 'Hot lips' Houlihan) – 251 episodes.
Stella Stevens was the first choice to play 'Hot Lips' Houlihan, but she turned it down to concentrate on her film career which scarcely went anywhere. Loretta wanted to leave after the eighth season to star in the new Cagney & Lacey series, but Fox refused to let her out of her contract. Her antagonism towards Hawkeye and Trapper was integral to the success of the show, so it came as quite a surprise in a 1977 episode titled 'Comrades in Arms Pt. 1' when she and Hawkeye were allowed to have an affair. They were never really rivals after that. She married Dennis Holahan in real life in 1983. He played Per Johannsen, a Swedish diplomat, who briefly becomes involved with 'Hot lips' in an episode of M*A*S*H*. The couple divorced in 1995. It was rumoured that she turned down a very big offer to pose nude for Playboy magazine. She had too much class for that. In November 2016 she will be 79 years of age. Everyone has his or her favourite character in the series. For me, Loretta was the star of the show.
'Hot lips' & 'Hawkeye'
Jamie Farr: (Maxwell Klinger) – 215 episodes.
Jamie Farr was supposed to be in just one episode, but he struck a chord with viewers and became a regular, so much so that he appeared in more episodes than anyone except Alda and Swit. Of the entire cast only Alan Alda and William Christopher were real life veterans of the Korean War, although their tours of duty took place after the cease fire. Despite this, stories persist that Farr was also a veteran, but they are completely unfounded, yet he did entertain in Korea years after the war had ended. The next time you see The Blackboard Jungle (1955), look for Jamie as one of the rebellious classroom alongside Sidney Poitier and Vic Morrow.
The Blackboard Jungle – Jamie with the glasses – in the
background Vic Morrow and Sidney Poitier.
After he took over Radar's job when Burghoff left the series, Farr chose to gradually fade out the 'wearing women's clothes' thing. He was worried his growing children might be taunted about it at school. Klinger's wedding dress was worn by three women during the series – by Laverne Esposito and Soon Lee when they married Klinger, and by Margaret Houlihan when she wed Lt. Colonel Donald Penobscott. In July 2016 he will be 82.
Jamie in the US Army in the mid-50s
William Christopher: (Father Francis Mulcahy) – 213 episodes.
The man who played a Catholic priest for 11 seasons is, in fact, a Methodist. Although he considers his time playing Father Mulcahy as being very much 'in the past', he has struggled to change the opinion of others about him as an actor, and seems to get offered a lot of priestly roles. In 2012 he landed eleven episodes of Days of Our Lives playing – you guessed it – Father Tobias. In October 2016 he will turn 84.
(Part 2 to be posted Thursday April 28)