It would most likely surprise fans of Frank Sinatra to learn that at his birth in Hoboken, New Jersey in 1915 he weighed an enormous 13.5 lbs! He would, however, grow up to be a very slight 5'7" (1.7m). His forceps delivery left a permanent scar on his face and damaged an eardrum, the latter injury keeping him out of the services during World War Two. His non-participation in hostilities, coupled with numerous tabloid tales of his womanizing, caused him to be detested by most men in uniform throughout the conflict, yet wherever he went he was swamped by his female fans, his 'bobby-soxers'. His records sold in millions and his movies were extremely popular. By the time the war ended, however, music tastes had changed; silly songs overshadowed sentimental ones, and his popularity began to wane. In 1951 he ditched his first wife of 12 years for the stunning actress Ava Gardner which further damaged his career and image. Of course, he had scores of affairs prior to Ava, but theirs was the one that finished his marriage. His highly publicized mob connections, however, ultimately took the greatest toll on his reputation.
Teenager Frank in Hoboken, NJ
Although he grew up in the dirty, industrial area of Hoboken, Frank was spoilt rotten by his parents. He left school at 15, had his own charge account at a clothing store, and was even given a car by his doting mother. Growing up, his hero was Bing Crosby, America's most successful singer, and Frank was determined to emulate him. The entertainment scene in New Jersey was run by mobsters in the thirties and one of them, an affiliate of Charles 'Lucky' Luciano and an underboss in the Genovese crime family named Willie Moretti, sponsored the young crooner who started out as a singing waiter in Jersey's Rustic Cabin. Before long famed band-leader Harry James signed him, but Frank was soon moving up fast and left him after about 18 months. Harry was an easy-going guy, but Sinatra's next boss was a much tougher individual, the even more successful Tommy Dorsey.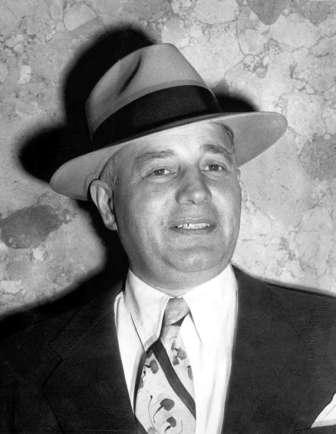 Mobster Willie Moretti
Frank evolved quickly into a top singer with the Tommy Dorsey band. He also developed a very big head. By 1942 he told Dorsey he wanted out of their contract to pursue a solo career. Tommy said no. What happened then has been etched into musical folklore but seems to be true, nevertheless. Frank's mentor Moretti paid Dorsey a visit and offered him an ultimatum. Holding a gun to the bandleader's head, he placed Frank's contract on the table and told Tommy to choose. Either his signature cancelling the contract would be on the paper or his brains would be! His choice. Tommy signed and Frank was free after paying him one dollar for his contract.
Bandleader Tommy Dorsey
Frank up front with Dorsey
Frank, Dean Martin and Jerry Lewis, and comedian Milton Berle all performed at Moretti's daughter's 1947 wedding reception. By 1951 Moretti was suffering from advanced syphillis and becoming 'too talkative', so an open contract was placed on him by Genovese and others. Martin and Lewis were supposed to meet him for lunch in a restaurant, but they received a message that the date was cancelled because Willie 'had the mumps'. That afternoon they heard on the radio that he had been murdered by persons unknown as he dined there.
Exit Willie Moretti 1951
Things moved pretty quickly after that. MGM signed him to a movie contract, Gene Kelly coached him in acting techniques, his recordings became best-sellers and bobby-soxers by the thousands mobbed him wherever he went. Then the draft-board rejected him for war service. A career that began in Mob joints in Jersey had made him a household name throughout America and much of the western world. He owed a lot to Moretti and the Mob and he would never forget that. Neither would they. For several years Frank rode the crest of the wave in both movies and music, but between the end of the war and about 1952 his career embarked upon a rather steep decline. He married 29 year-old Ava in 1951. She was at the height of her considerable beauty and in far greater demand than him, so the relationship was stormy at best. A year later he made the mistake of insulting LB Mayer at MGM and his contract was torn up. Then his agent left him and his recording contract was not renewed. Suddenly, the former super-star had hit rock bottom.
Frank and Ava tie the knot
Around that time he gratefully accepted a request to sing at a secret Mafia Summit Conference in Havana. It seems he was also asked to carry $2 million in cash belonging to Luciano, which he duly did. 'It was one of the dumbest things I did in my life', he later confided to friends, a mistake in judgment compounded by the press when he was spotted dining with Luciano and his associates at a Cuban restaurant. From that day forward his name would be forever connected to organized crime figures. Columbia Pictures were busy casting their blockbuster From Here to Eternity soon after Frank returned from Havana, and he knew that the significant role of Maggio could put him back on top. He went after it with a vengeance. It has been said that the Mob forced Harry Cohn of Columbia to cast him as Maggio, but that seems most unlikely. In the 1972 film The Godfather the role of singer Johnny Fontane was said to be based on Sinatra's real life efforts to acquire the Maggio role, but that almost certainly was not the case. For starters, Ava used her great clout to help convince Cohn that Frank was the only actor who could do the Maggio character justice, casually mentioning along the way that Harry could get him for nothing, so desperately did her husband want the job. Also, New Orleans Mob boss Johnny Roselli was a close friend of Cohn's and may have put a good word in for Frank. Anyway, he got the prized role of Maggio, won a Best Supporting Actor Oscar for his performance, and kick-started his career big time. He never looked back.
As Maggio in From Here to Eternity
As Frank's career regained momentum throughout the fifties he began to associate with a lot of famous people. Through his friendship with actor Peter Lawford he met the up and coming Massachusetts congressman John F Kennedy. Lawford was married to Kennedy's sister. A genuine friendship between Frank and Jack evolved, helped no doubt by Sinatra's Hollywood connections and his ability to set up the over-sexed congressman with any number of beautiful actresses. With Frank sounding out his actress friends and Lawford virtually 'pimping' for JFK, the future president happily began seducing the most desirable women in Hollywood on a more or less assembly-line basis. One of these beauties was Judith Exner-Campbell, the former wife of actor William Campbell. Sinatra slept with her and then handed her on to Jack. She was also sexually involved with mob boss Sam Giancana, and that could only spell trouble if Jack ever became President of the United States. In 1960, as we know, he was elected to that very office.
Sinatra with Sam Giancana. Also present
are Lauren Bacall and Sammy Davis Jr
with back to the camera.
Pals – Frank and JFK
Judith Exner-Campbell and her former
husband, actor William Campbell
Jack's bed-hopping was no secret, yet for some reason the press never exposed him, such was the incredible popularity of the man. FBI Director J Edgar Hoover, on the other hand, detested both the President and his brother Bobby, the Attorney-General. Aware they were working towards removing him as head of the Bureau, he had been amassing evidence of the President's philandering for the singular purpose of blackmailing his way into holding onto his job. His 'ace in the hole' was the Judith Exner-Campbell affair. Hoover knew only too well that exposure of the President, a family man and a Catholic to boot, cheating with a woman who was also sharing her favours with a Mafia boss, would completely destroy the Kennedy administration. When the time came he told the Attorney-General just that. Bobby immediately told his brother to sever all relations with Exner-Campbell and with Sinatra. Frank's Mob connections were political dynamite, so he had to be jettisoned. Hoover was promptly named 'Director of the FBI for life'.
Frank snapped with several mafia identities at the
Westchester Premier Theater, NYC, in 1976.
(L-R: Paul Castellano, Gregory DePalma, Frank, Frank Marson,
Carlo Gambino, 'Jimmy the Weasel' Fratianno, Salvatore Spatola,
Joe Gambino, Richard 'Nerves' Fusco, and an unknown person.)
Note: Castellano was shot to death in 1985 on orders from John Gotti. DePalma was a capo in the Gambino crime family and a friend of Dean Martin and Liza Minnelli. He regularly played golf with baseball legend Willie Mays. Carlo Gambino became head of the crime family after he assassinated Albert Anastasia in 1957. Fratianno ratted on his colleagues to the Crime Commission, admitted to personally murdering five men, and went into the Witness Protection Program. Spatola was indicted in 1988 for planning a hit on US Attorney Rudolph Giuliani who later became Mayor of NYC at the time of the 9/11 attacks.
While Hoover was executing his blackmail plans Frank was busy putting the finishing touches to his Palm Springs mansion in preparation for a scheduled visit from the President. He had extra rooms built for Special Agents, as well as a Heli-pad for the presidential chopper. Bobby had Lawford place the call cancelling the stayover. Frank never forgave either of them. Oddly enough, he always believed Jack had nothing to do with the decision. Years later, well after Jack's assassination, Frank switched to becoming a Republican and began supporting whoever was running against Bobby. His standing with the Mob plummeted accordingly because of his initial support for Bobby Kennedy. When the Attorney-General went after organized crime with all the power at his disposal, Mob bosses felt betrayed by both him and Sinatra. Old Joe Kennedy had personally asked Giancana if he could 'get us the vote in West Virginia', a vital electorate that was predominantly Protestant. Sam had delivered and swung the election in JFK's direction, yet he soon found the Justice Department hell bent on pursuing organized crime with him and Teamsters boss Jimmy Hoffa as its prime targets. In the end, Jack and Bobby were both assassinated, Giancana was murdered in his home before he could testify, and Roselli turned up in pieces inside a barrel floating off the coast. Hoover would die in office.
The Rat Pack – Sinatra, Dean Martin, Sammy
Davis Jr, Peter Lawford & Joey Bishop
In 1988 Judith Campbell gave an interview in which she stated that JFK arranged for her to see Giancano at least ten times, primarily to get his help with the West Virginia election. Sinatra, she said, dated her first, then introduced her to both Kennedy and the mobster. She claimed to have aborted Kennedy's baby about a year before he was killed in Dallas. His aide, Dave Power, denied he was the go-between for the lovers, and Giancano's daughter Antoinette said her father disliked Jack and never mentioned any contact with him while he was President. FBI files, however, list no fewer than 75 phone calls from Miss Campbell to JFK at the White House. Most historians concede the connection between Giancano, Exner-Campbell and the President to be a valid one, with Sinatra and Lawford providing access.
A great many entertainers got their start from Mob figures back in the twenties and thirties, even later. The best establishments were owned and run by organized crime. If a performer wanted success, he or she had to deal with these people and, once indebted, was always liable to be called upon to repay old favours at a later date. Sinatra surely carried laundered money for the Mob when called upon to do so. To refuse was scarcely an option. He owed them. Besides, he knew and liked these people, at least in the beginning, having grown up with many of them. For a while he even part-owned a couple of casinos, the Sands in Las Vegas and the Cal-Neva Lodge at Lake Tahoe, in which his partner was Sam Giancana, but his reputed association with Mob figures brought enormous pressure to bear from the Gaming Commission and he was forced out of the industry.
For the final twenty years of his life Sinatra had little or nothing to do with organized crime identities. He told friends he wished he had never been involved with them at all, but the reality was that a great many entertainers accepted favours back in 'the old days' just to get a foot in the door, and Frank was one of them. And once he availed himself of the Mob's help he 'belonged' to them, not only to his benefactor directly, but to his children and even his grand-children. If one of them came to him fifty years later asking for a favour, 'because my grandfather once did you a favour', he would be expected to accomodate him. Frank Sinatra was never a 'made guy', never a member of the Mafia. He was just a very famous man they liked to be seen with. He used them in the beginning and they used him from that time onwards.