Elisha Cook Jr. achieved screen immortality with two memorable roles. His portrayal of Wilmer (the 'gunsel') in The Maltese Falcon (1941) is probably the one remembered by most fans, but I personally prefer his playing of 'Stonewall' Torrey twelve years later in Shane (1953). Whether he was getting slapped around by Bogie in one or shot dead by Jack Palance in the other, he made both characters unforgettable. At just 5'5" (1.65m) 'Cookie', as he was known in the industry, was perfect as the little guy acting tough because he 'carries a rod'. No wonder he was also known as 'Hollywood's lightest heavy'.
Being disarmed by Bogie in The Maltese Falcon (1941)
Shaping up to Jack Palance in Shane (1953)
Born in 1903, he started out (as many actors did then) in vaudeville at the age of fourteen, and did not appear in a movie, not even a silent one, until 1930. In his later years he lived out in the desert near Bishop, California, but would summer at Lake Sabrina in the Sierra Nevada. Far from Hollywood, he made it known that if some producer wanted his services, he would have to make the effort to track him down. As director John Huston would later say: 'Cook lived alone up in the High Sierra, tied flies and caught golden trout between films. When he was wanted in Hollywood, they sent word up to his mountain cabin by courier. He would come down, do a picture, and then withdraw again to his retreat.' His second wife (of 52 years) must have not minded the arrangement for they remained together until his death. He died on the same day that the delightful Elizabeth Montgomery (Samantha in Bewitched) passed away – May 18, 1995. He was 91. Elisha was the last surviving member of the cast of The Maltese Falcon.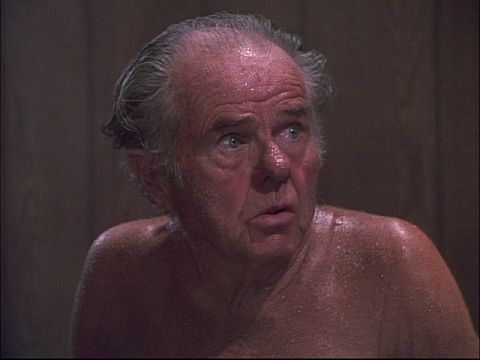 Towards the end of his career
The one and only Kathleen Freeman
One of the most prolific character actors in the history of movies and television would have to be Chicago-born Kathleen Freeman. She had one of those movie faces that we all recognized instantly, yet few could put a name to her. She began dancing as a child in her parents' vaudeville act during the Roaring Twenties, so performing was in her blood from the outset. Throughout her life she had no desire to do anything else.
With James Garner in Support Your Local Gunfighter
If a casting agent was looking for a busy-body, town gossip, interfering battle-axe, a nurse, a maid or just a cantankerous relative, Kathleen was the lady they invariably called upon. In a screen career (big and small) that lasted from 1948 until her death in 2001 she racked up a total of 291 credits. She never won a screen award, in fact, I doubt if she was even nominated for one, yet she added something to every role she played. The solitary piece of recognition she received happened right at the end when she was presented with a Theatre World Award, and was nominated for a Tony for her last role in 'The Full Monty'. Kathleen also played a foil to Jerry Lewis in eleven of his films, contributed to North to Alaska with John Wayne as well as Support Your Local Sheriff (and 'Gunfighter) with James Garner. She never married, but was survived by her long-time partner Helen Ramsey when lung cancer claimed her in 2001, aged 82.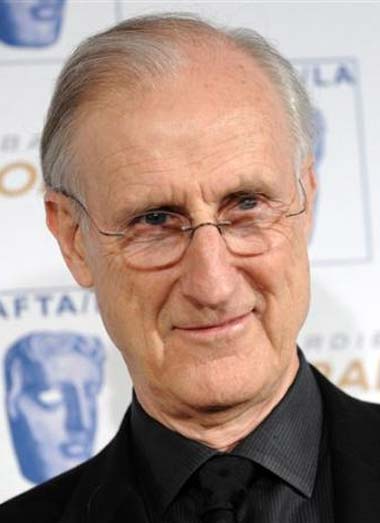 James Cromwell
American James Cromwell is a fine actor who rarely gets starring roles because of his height. At 6'7" (1.99m) he is just too tall for most directors. Indeed, he was genuinely offended early in his career by director Blake Edwards, (husband of Julie Andrews until his death in 2010), who took one look at Cromwell and said, 'What am I supposed to do with that?' As James remarked later, 'I was a little hurt to be referred to as an inanimate object at an audition. I was told by my agent that a number of big stars won't work with anyone two inches taller than them and most of them are under six feet, so you have to be prepared to have trouble.'
Young Cromwell in Murder By Death (1976)
One thing James Cromwell is no stranger to is trouble. All his adult life he has championed causes, mostly obscure or marginal ones, and has always been prepared to risk his freedom and his money to pursue them. In the 1960s, for instance, he openly supported the Black Panthers movement. In his opinion, 'the goal of the government was to get all the leaders of the Black Panther Party in jail so they could be killed systematically through prison violence, and that way they could stop what was a very powerful and evolving movement.' He was even a member of the Committee to Defend the Panthers that successfully defended 13 Panthers imprisoned in New York City on conspiracy charges. All thirteen were eventually released and in 2004 Cromwell went on CNN to praise the Panthers.
After playing Farmer Hoggett in the 1995 smash hit Babe, Cromwell declared himself to be an ethical vegan and has since been a strong advocate of animal rights on behalf of People for the Ethical Treatment of Animals (PETA). He also narrated Farm to Fridge, a documentary made by Mercy for Animals. On yet another front, Cromwell met with Representative John McCain on Capitol Hill to advocate funding for Native American arts education.
As Farmer Hoggett in Babe (1995)
A fierce opponent of former President George W. Bush, he strongly attacked the Republican Party in an October 2008 interview, stating that (in his opinion) their foreign policy would 'either destroy us or the entire planet.' When he interrupted a Board of Regents meeting of the University of Wisconsin, in February 2013, by displaying a graphic photograph of a cat as demonstrative of alleged mistreatment of animals on campus, he was actually arrested amid considerable media publicity. Having achieved the exposure he was after he pled 'no-contest' and agreed to pay costs and a small fine. Two years later he and five others were arrested while protesting the construction of a power station near Cromwell's home in Warwick, New York. There appears to be no end to the number (or variety) of causes he is willing to champion.
The evil Dudley Smith in L A Confidential (1997)
As an actor, his Oscar-nominated performance in Babe aside, Cromwell was a great villain in the brilliant L.A. Confidential (1997), and almost as impressive in The General's Daughter (1999). He has also portrayed Prince Philip, Duke of Edinburgh in The Queen (2006), and George H. W. Bush in Oliver Stone's W (2008).