Eve Arden was born Eunice Quedens in California in 1908. Her folks divorced when she was young and she quit school at 16 to join a stock theatre company. She made her film debut in Song of Love in 1929 and her Broadway debut (as Eve Arden) in 1934 in that year's Ziegfeld Follies Revue, but it was not until she played a wise-cracking, fast-talking, witty character who befriends a stray cat in 1937's Stage Door that her career really took off. It would be the first of numerous similar roles for Eve on film, radio and television. And nobody did it better. Ironically, she did not particularly enjoy playing these often vitriolic cynics. 'I just don't like that dame', she told a reporter in 1952. Fortunately for her, she would ultimately inhabit a character that embodied all the snappy, clever witticisms, but none of the cold-hearted cynic she detested so much.
Eve Arden's breakout movie – Stage Door (1937)
Eve married twice in her life, both lengthy relationships that produced four children, three of whom were adopted. In fact, when she played Jimmy Stewart's sardonic secretary Maida Rutledge in the 1959 courtroom drama Anatomy of a Murder, her husband at the time, Brooks West, played the district attorney opposed to Stewart. For some reason, however, pundits have been trying to label Eve a lesbian for decades, despite there being not the slightest shred of evidence to support their suspicions. Perhaps, her characters perpetually putting men down rub some chauvinists the wrong way.
Brooks West in confrontation with Jimmy Stewart as
George C. Scott looks on in Anatomy of a Murder (1959)
Her wonderful ability with witty screenplays eventually led to her enormous success on radio, beginning with the short-lived Danny Kaye Show, and culminating in her hugely popular Our Miss Brooks. From 1948 until 1957 she played Madison High School English teacher Connie Brooks on radio; from 1952 until 1956 on TV, and in 1956 she even brought Connie to the big screen in a feature film. Her clashing with the school principal Ozgood Conklin (played by Gale Gordon) kept the series going for nearly a decade. His daughter Harriet was played by young Gloria McMillan who became Eve's protégé and close friend for the rest of her life.
Gale Gordon and Eve in Our Miss Brooks
Eve's life-long friend Gloria McMillan
Towards the end of her career Eve landed the role of Principal McGee in both Grease (1978) and Grease 2 (1982), and became known to a whole new generation of movie-goers. Throughout her career she gained feature-billing in over 100 movies and was once nominated (unsuccessfully) for Best Supporting Actress when she played her usual sarcastic character in the 1945 drama Mildred Pierce. Incidentally, when told to ditch her birth name she sat at her dressing table sorting through bottles of perfume until, 'I stole my first name from 'Evening in Paris' and the second from Elizabeth Arden.' She passed away in 1990 at the age of 82, a unique talent in three entertainment mediums, and not many performers can lay claim to that.
as Principal McGee in Grease (1978)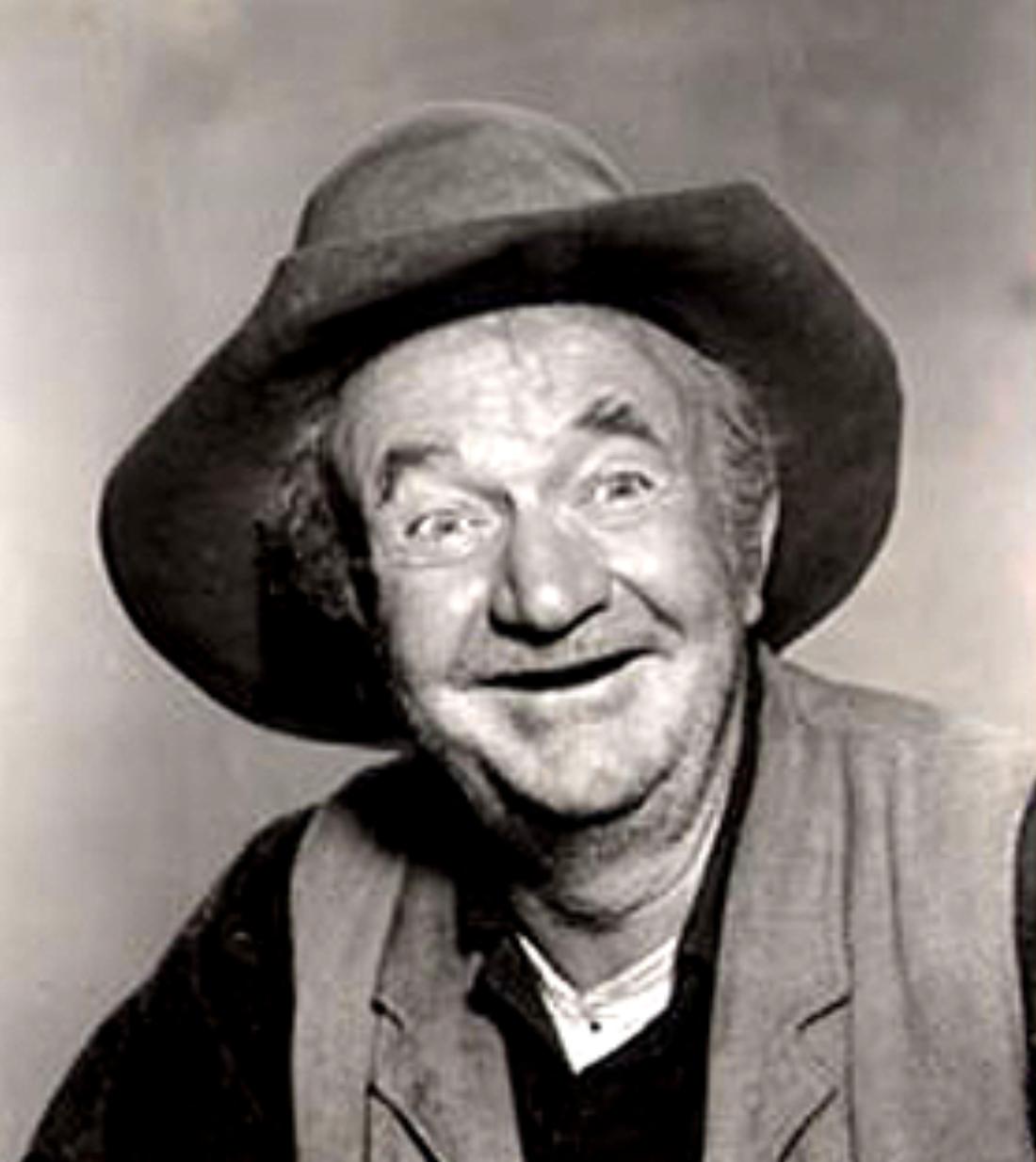 Walter Brennan as most fans remember him
a much younger looking Brennan
Fans familiar with grizzled, toothless Walter Brennan would probably have difficulty picturing him as a college student majoring in engineering in Cambridge, Massachusetts prior to World War One. While there he became interested in acting, worked in vaudeville, toured with a small musical comedy company, clerked in a bank, and even did some lumber jacking before entering the US Army in 1917. Enlisting in an artillery unit he saw action and was mustard gassed which ruined his vocal chords and gave his voice a high-pitched quality that leant itself to him playing elderly characters when still just in his thirties.
Oscar #1 for Come And Get It (1936)
#2 for Kentucky (1938), shown here with
Loretta Young
#3 for playing Judge Roy Bean in The Westerner (1940)
He raised pineapples in Guatemala after the war before moving to Hollywood where he got involved in real estate and made a fortune. But the market experienced a severe downturn and he lost everything, so he started doing stunt work for the movies in order to get by. This led to jobs as an extra until larger parts started to come his way. In 1936 his situation suddenly changed. He found himself winning his first Best Supporting Actor Oscar for Come and Get It. In fact, this was the very first Supporting Oscar ever awarded. When he won again for Kentucky in 1938, then picked up a third statuette for The Westerner in 1940, Brennan had emerged as the most successful supporting actor ever. Controversy plagued his wins, however, because Academy rules back then enabled extras to vote on the Oscars, and it is generally conceded that they voted in droves for Brennan because they considered him one of their own. After he won his third Oscar the Extras Union was disenfranchised. As a result, his nomination for Sergeant York was unsuccessful in 1941. Indeed, he never won again.
as Ike Clanton in My Darling Clementine (1946),
one of Brennan's very few 'bad guy' roles.
He could play just about any kind of role, but an accident in 1932 that cost him most of his teeth resulted in his most remembered characterizations, those of elderly, cantankerous sidekicks to various western stars, especially John Wayne. Brennan and director John Ford did not like each other. Consequently, apart from My Darling Clementine in 1946, they only worked together once. Director Howard Hawks worked on more than one occasion with Walter and recalls the day one of his actors came to see him after he had completed shooting Red River in 1948. Hawks failed to recognize the actor until he removed his teeth and said, 'Do you recognize me now?' It was, of course, Brennan. Even his accent was quite different to the one he used for his characters. In reality, he spoke in a rather polished New England accent, courtesy of his Massachusetts origins.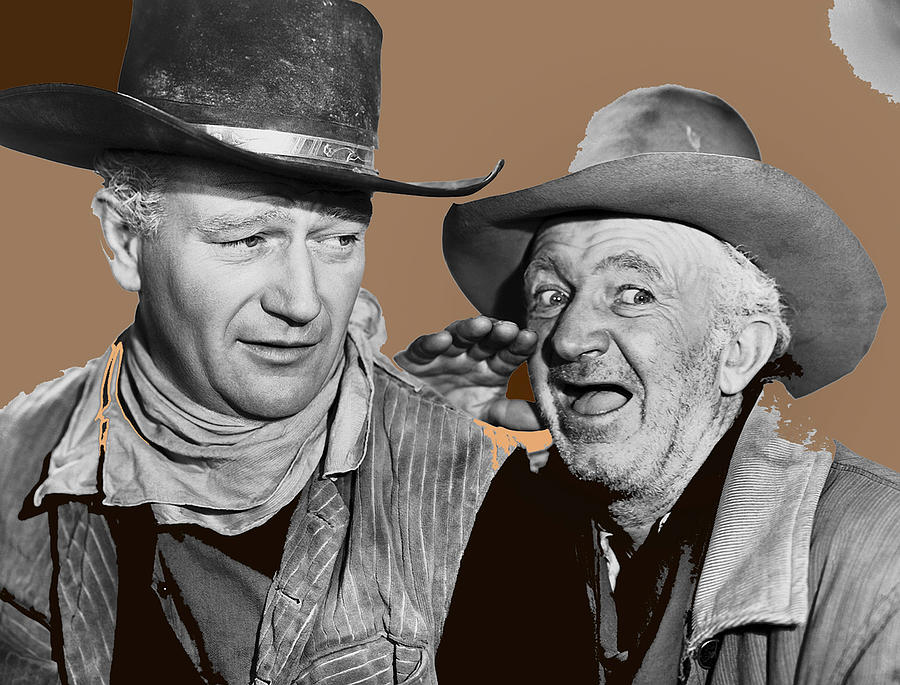 with 'the Duke' in Red River (1948)
During the 1960s Brennan became convinced that the anti-Vietnam War movement and civil rights activists were being controlled and master-minded by international Communists, and he willingly publicized his feelings to interviewers, stating it was his belief that the African-American riots in Watts, Newark and Birmingham, Alabama were nothing more than rabble-rousers stirring up perfectly content 'negroes' into hating the American way of life. On the set of his TV series, The Guns of Will Sonnett, members of the cast and crew were appalled to hear him cackling with delight on learning of the assassination of Martin Luther King! Brennan would pass away in 1974 at the age of 79 from emphysema.
with the ill-fated Dack Rambo in their short-
lived TV series The Guns of Will Sonnett (1967-9)