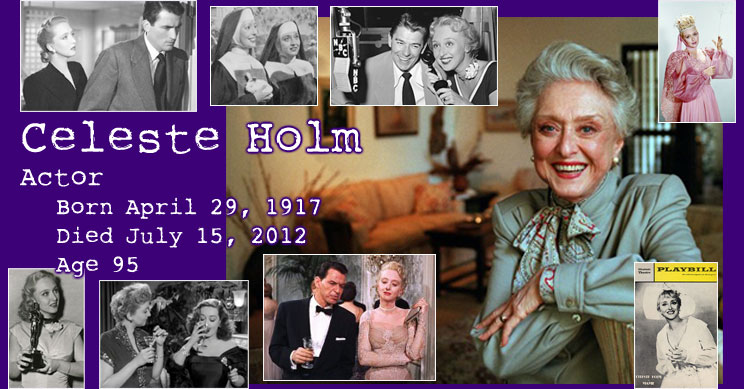 Celeste Holm was, in my opinion the most likeable of all the character actors down through the decades, although I am willing to admit that this may very well have had a lot to do with the kind of characters she invariably played. She was a kind of more sophisticated version of Eve Arden whom I shall get to later in this series, a wise-cracking, honest, self-deprecating woman of the world. Surprisingly, given her apparent ease before the cameras, she unreservedly preferred Broadway and stage productions to both movies and television. In the 1940s she originated the much-loved, boy-crazy role of Ado Annie ('I Cain't Say No) in the first Broadway presentation of 'Oklahoma!' Before that she made her theatrical debut in 'Hamlet' opposite Leslie Howard. She also performed in no fewer than five George M. Cohen plays.
as Ado Annie in Oklahoma! (Broadway 1943)
Celeste's first screen appearance was in 1946 in Three Little Girls in Blue. Amazingly, she won a Best Supporting Oscar (and a Golden Globe) in just her third outing, Gentleman's Agreement a year later. I think most people were not surprised when she was again nominated for All About Eve in 1950, but she and Thelma Ritter were dual nominees from the same film and forced to share votes. Neither lady won. Her other unsuccessful nomination was for Come to the Stable in 1949. Personally, whenever I think of Celeste Holm, I think of the wonderfully enjoyable duet, 'Who Wants to be a Millionaire?' she performed with Frank Sinatra in High Society in 1956.
with John Garfield in Gentleman's Agreement (1947)
'Who Wants to be a Millionaire?' Celeste and Sinatra in
High Society (1956)
Celeste was an actress right down to her socks, one of those members of the acting fraternity who places her career first and everything else a distant second. Perhaps, that partially explains her five marriages. It certainly explains why she gave her eldest son Ted, (by her first husband), to her parents as soon as her marriage collapsed because she was hell bent on pursuing her stage career. She would only see the boy between breaks from shooting or rehearsals, a situation that continued until he became an adult! Their relationship after that improved, but some might say it had only one direction to go after such a beginning. Her other son, Daniel, lived with her until he was fifteen, but then she sent him off to boarding school because she was about to start shooting Gentleman's Agreement in 1947.
Celeste and husband #5 Frank Basile.
In 2011, a year before her death, she confirmed that she no longer spoke to her sons, having been in litigation with them for the past five years at a cost to her of over $2,000,000 in lawyers' fees. No doubt she took a lot of people by surprise (including her sons) in 1999 when she took her fifth husband, for he was 37 and she 83! In 2012, she passed away from a heart attack (she was already suffering from Alzheimer's disease), at the ripe old age of 95. Her $13 million estate (I think) was still in dispute. Whatever she was off screen, Celeste Holm was a class act on it.
a young Jack Palance
as Curly in City Slickers (1991)
The old saying 'his face is his fortune' was possibly written for Jack Palance, for he had a face that comes along once in a generation or two. It is movie folklore how Jack rode into legend as the hired killer Jack Wilson in Shane in 1953, but this was not his screen debut. Prior to Shane he had appeared in three movies and seven TV shows. In fact, in one of those three films, Sudden Fear (1952), he received his first Oscar nomination. Shane would become his second. It was his unique portrayal of Wilson that brought him instant recognition, however, and it would be that role that identified him for several decades until he portrayed another iconic figure – Curly in City Slickers in 1991. And this time he would win his Oscar.
as the killer Jack Wilson in Shane (1953)
He was born in Pennsylvania in 1919 as Vladimir Palahniuk to parents of Ukranian descent. His father was an anthracite miner. Jack's early days were spent at the University of North Carolina thanks to a football scholarship that rescued him from a bleak future in the mines. He soon dropped out to fight professionally, winning his first 15 bouts, 12 by knockout, until WW2 intervened and he joined the USAAF. During his training it appears he was severely injured and burned in a wartime crash which required plastic surgery to his face. He was once asked by an interviewer if this was so, however, and his response (perhaps, tongue in cheek') was: 'I know I'm no beauty, but these are the Estonian features I was born with.' Estonian?
Jack certainly played villains in his own inimitable fashion, a kind of fifties version of the late Alan Rickman. Both men had a 'style' that was unique, a way of making whomever they portrayed interesting – very interesting. With Rickman it was the way he used his wonderfully malevolent voice and his turn of phrase. With Palance it was his facial expression; his ability to turn a smile into a thing of evil. Indeed, it was Jack's idea to have gunfighter Jack Wilson smile as he guns his victims down, and it worked brilliantly as he coldly kills a squatter in Shane. Instead of blustering and threatening death and destruction, he had Wilson speak quietly in an almost matter of fact manner as he went about his lethal profession. Wilson is truly one of filmdom's great villains, a joy to watch more than 60 years later.
in Sudden Fear (1952)
It might surprise you to learn that Palance was 6'4" (1.93m) tall. He also spoke six languages: English, French, Spanish, Italian, Russian and Ukranian. There is a story, and it appears to be true, that Jack was once Marlon Brando's understudy while the great man was performing as Stanley Kowalski in A Streetcar Named Desire on Broadway, and that the two were sparring in the gym when Jack accidentally broke Brando's nose and put him in hospital. Jack went on that night in his place and was so impressive that he was offered a 20th Century Fox contract a day later.
Jack and those one-handed push-ups at the Oscars
Despite all his terrific screen performances, Jack will more than likely be best remembered by young movie-goers as the 73 year-old recipient of the Best Supporting Oscar at the 64th Annual Academy Awards in 1992 who, during his acceptance speech for City Slickers, suddenly dropped to the floor and pumped off a series of one-handed push-ups before standing and finishing his speech without even appearing to be out of breath in the slightest.
Anthony Quinn in Viva Zapata! (1952), the role Kazan
promised to Jack, but reneged.
Like most actors he had roles that he really wanted that eluded him. He always said he desperately wanted to play Kid Shalleen in Cat Ballou (1965), but he was never offered it. Lee Marvin won an Oscar as Shalleen. Director Elia Kazan promised Jack the role of Brando's brother in Viva Zapata! (1952), but then gave it to Anthony Quinn who also won an Oscar. Palance never spoke to Kazan again. When required to hit Richard Widmark over the head with pistol in Panic in the Streets, Jack and he rehearsed several times with a rubber gun, but for the real 'take' he secretly switched to a real revolver and Richard was left unconscious for twenty minutes. 'Why did he switch? Who knows?' said Widmark. Jack Palance was an odd guy but a memorable actor. Perhaps, he sums himself and his career up as well as anyone. 'I go to see maybe seven films a year at the most, and since I only go to see the best, it follows that I very rarely see my own.'