Like any community, Hollywood has had its share of men and women who excelled as human beings, not just in their chosen profession, but in their private lives as well. In an industry where the slightest miss-step is plastered all over the media, to go through decades without drawing any adverse publicity is not an easy thing to do, especially given the temptation in evidence in every direction. The following individuals have never troubled the tabloids (as far as I know), and have always demonstrated integrity and class in their lives. That does not mean they found a cure for cancer or built homes for the homeless. It just means they lived decent, scandal-free lives and were regarded with admiration and respect by their peers and the movie-going world in general. From time to time I will add three or four names to the list, but here is the first offering – three people who, in my opinion, epitomized the best qualities of Hollywood.
Audrey Hepburn
She was born Audrey Ruston in Brussels, Belgium, the daughter of a Dutch baroness, ten years prior to the outbreak of World War Two. Her parents divorced, so she and her mother moved to London for a while where Audrey attended a private school for girls. Her mother moved again, this time to the Netherlands, and Audrey had the unfortunate timing to visit her in Arnhem just as Hitler's Nazis occupied the town in 1940. Between the ages of 11 and 16 she occasionally ran messages for the Dutch Resistance. She also served as a Dutch nurse at 16 during the Battle of Arnhem, tending wounded British soldiers. The five years of occupation left her suffering from depression and malnutrition.
13 year-old Audrey during WW2
After the war Audrey went to ballet school in London, modelled there as well, and did a little acting. But when she went to America she landed the lead in Roman Holiday in 1953, won an Oscar for her wonderfully refreshing performance, and was suddenly the toast of the movie world. Whereas there was no shortage of sexy, alluring women in movies at the time, she possessed a wholesome, open quality that appealed to just about everyone. In short, she had class with a capital 'C', and fans adored her for it.
with Gregory Peck in Roman Holiday
as Eliza Doolittle in My Fair Lady
Audrey had a string of hit movies after Roman Holiday, culminating in probably her next greatest success as Eliza Doolittle in 1964's My Fair Lady. She was married to actor Mel Ferrer from 1954 until 1968. When her marriage ended so, in effect, did her movie career. She chose to go out on top. In 1988 she was appointed a special ambassador to the United Nations UNICEF fund, spending the remaining five years of her life helping children in South America and Africa. Being fluent in English, Dutch, Spanish, French and Italian helped her enormously in her dealings with the international press, both as an actress and as a humanitarian.
with husband Mel Ferrer in War and Peace
in her final years with UNICEF
The war had impaired Audrey's health quite severely. She recalled having to eat tulip bulbs when times were really bad. She even attempted to bake grass into bread. Consequently, the war years had left her thinly framed and with health issues for most of her short life. In 1993, at the age of 64, she passed away from appendicular cancer. Audrey Hepburn was one of the most universally loved actresses in the history of the cinema and also a posthumous recipient of the prestigious Jean Hersholt Humanitarian Award.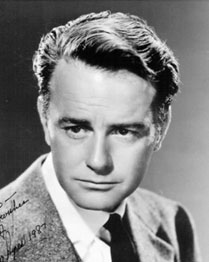 Lew Ayres
Born in Minneapolis, Minnesota, in 1908, Lew Ayres gravitated to Hollywood in the late 1920s. His starring role in All Quiet on the Western Front (1930) had a profound effect on his belief in the evils of warfare, so much so that he refused to bear arms in the Second World War. His stance as a conscientious objector turned him into a pariah in his own country and pretty much ruined his acting career.
as a German soldier in All Quiet on the Western Front
Lew, a real life Medical Corpsman in the South Pacific
Most Americans continued to revile him even after he volunteered for the Medical Corps, serving with heroism while under fire in the South Pacific, and as a Chaplain's aide in New Guinea and the Philippines. After the war it took until 1948 and Johnny Belinda before his prowess as an actor was recognized with an Oscar Nomination. He did not win, but he was working again in the industry he loved.
a fine biography of a fine man
A man of enormous integrity, Lew chose to turn down an opportunity to play Dr Kildare in a new television series when the network involved ignored his request to refuse cigarette sponsorship. In 1996, he drifted into a coma during his 88th year before dying in his sleep. He was once asked about his refusal to fight for his country. His answer was typical of the man. 'To me, war was the greatest sin. I couldn't bring myself to kill other men.' Instead, he spent the war risking his own life to save the lives of others.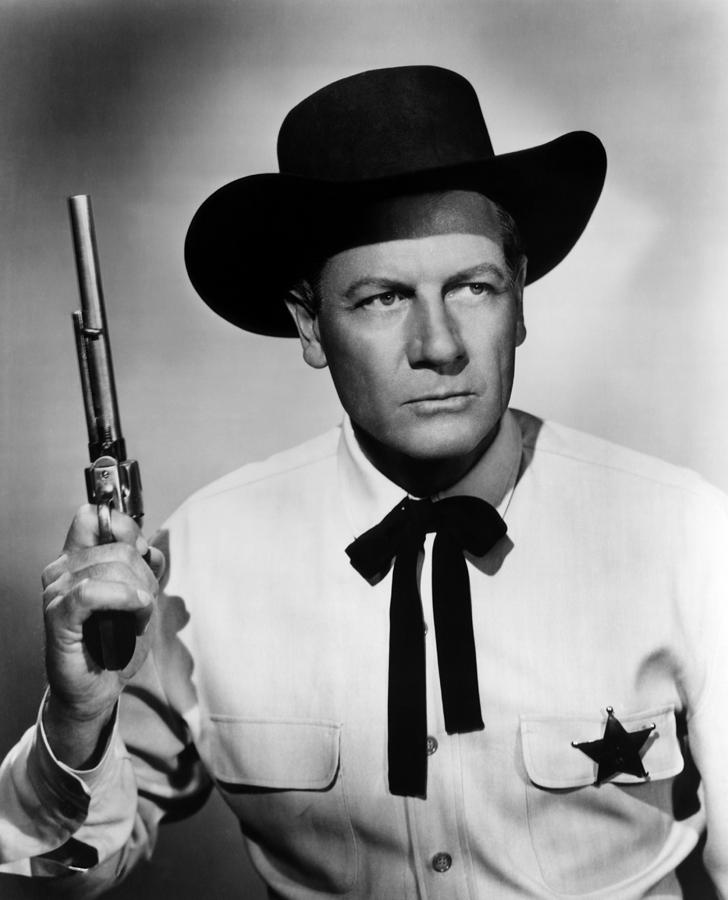 Joel McCrea
He was born Joel McCrea in South Pasadena, California in 1905. The first unusual thing about the very popular Joel was his extreme modesty, something that is not all that common in the movie industry where egos are the size of small planets. Katharine Hepburn had no illusions about his ability as an actor, convinced he should have been ranked alongside Spencer Tracy and Humphrey Bogart. As a horseman he was probably the second best in all of Hollywood, the undisputed benchmark being the former world champion rodeo rider Ben Johnson.
with his wife Frances Dee in Wells Fargo
In 1933 Joel married the delightful Frances Dee. They remained man and wife for the next 57 years until his death. In all that time neither partner ever had a word of scandal, real or imagined, written about them. The grandson of a western stagecoach driver who used to tangle with Apaches for a living, Joel was a stuntman and an extra in westerns before becoming a large-scale rancher who invested wisely in real estate and livestock until he became a millionaire. It was on the advice of Will Rogers that the very young Joel put his earnings into real estate every chance he got. And it paid off.
with his mentor Will Rogers
Before he met Frances on the set of a movie they made together called The Silver Cord in 1933, his name had only been romantically connected to five women – Marion Davies, Dolores del Rio, Jean Harlow, Constance Bennett and Katharine Hepburn. At 6'3" (189cms) he towered over many of his co-stars. One in particular, Veronica Lake (who was not quite five feet (1.51cms) tall), had to stand on a packing crate for their close-ups in the 1941 film Sullivan's Travels, just so the cameraman could get her head and Joel's in the same shot.
with the tiny Veronica Lake in Sullivan's Travels
Randolph Scott & Joel McCrea in their farewell western, the superb
Ride the High Country (1962)
Joel had his own set of values. He flatly refused to play anyone in uniform during World War Two. He had been overlooked for the services because of his age, so he told a reporter, 'If I'm too old to be called, I was too old for that kind of show'. Late in life he and Frances donated 1,200 acres to the newly formed Conejo Valley YMCA, which is now located in 'Joel McCrea Park'. This gentlest of gentlemen passed away at 84 in 1990, on the very day of his and Frances's 57th wedding anniversary. In 2004 she joined him in death at the age of 94.