It is more than likely that most young people have never even heard of Josephine Baker. Come to think of it, there are probably just as many elderly people to whom the name means nothing either. After all, she was a citizen of France, rarely set foot in the USA, and gained her reputation more as an exotic dancer and singer than she did as a movie star. In fact, she only made 12 movies in her life, none of which will ever make anyone's top 100. Yet she was a famous (and woman of influence) in her day. Josephine Baker was an African-American who started life as Freda McDonald in 1906 in St. Louis, Missouri, in an age where being African-American anywhere in the Deep South of the USA meant you started life well and truly behind the eight-ball. But Josephine was different from the (mostly) reticent, people of her class and colour. She was confident, even brazen, right from the outset. As a little girl she was already bitten by the entertaining bug, and would dance in the street for nickels and dimes. She ran away from home at 13, married a man named Willie Wells, but divorced him weeks later.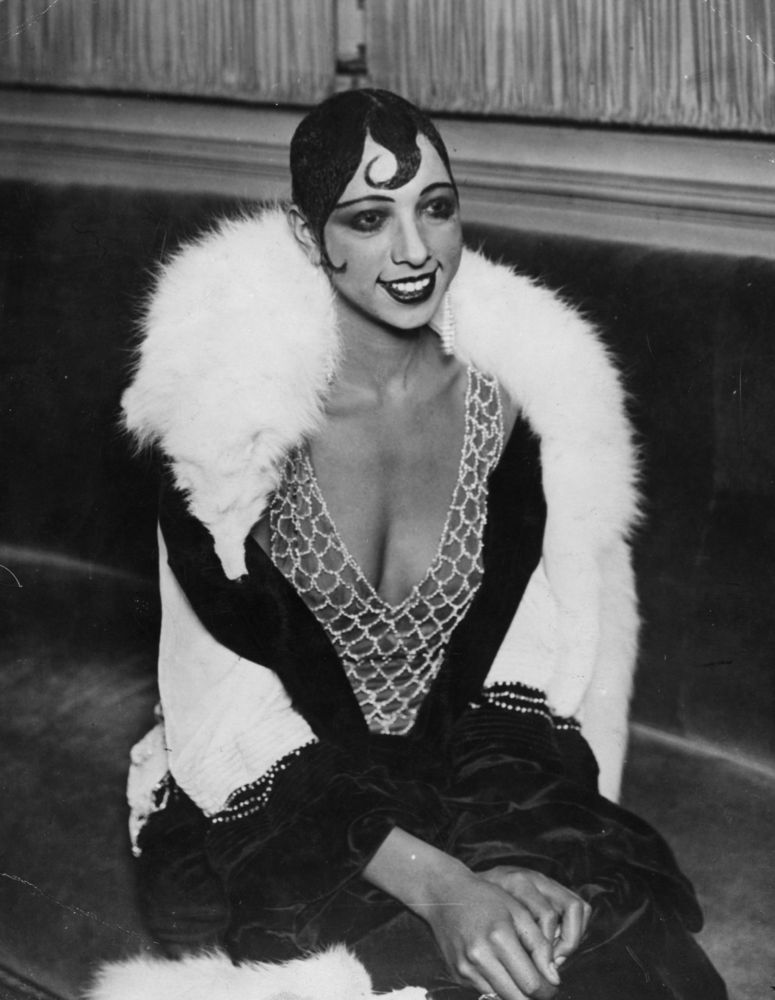 Josephine Baker in her prime
At 15 she married again, to a Pullman porter named Baker, but it only lasted a couple of years before Josephine left Missouri altogether. She explained later that she could no longer abide the chronic racial discrimination there. Racial equality would remain a major focus in her life. She joined a musical called Shuffle Along and found her way to New York City and into Chocolate Dandies, along with singer Ethel Waters. Soon, Josephine was a crowd favourite at the Plantation Club.
Ethel Waters of Stormy Weather fame
By 1925 she was in Paris dancing with 'La Revue Negre', (an all-black act that she had joined in New York City), feeding the French obsession with American jazz at the Theatre des Champs-Elysees. There she caused a sensation by performing the Danse Sauvage, clad in nothing but a feather skirt and her dazzling smile. But it was the following year, at the Folies Bergere that she began performing her famous 'banana dance' and became the toast of Paris. Frenchmen flocked to see her perform in a dress consisting of sixteen bananas and little else. Within months she had received over 1,000 proposals of marriage, was suddenly the highest-paid performer in Paris, in fact, in all of Europe.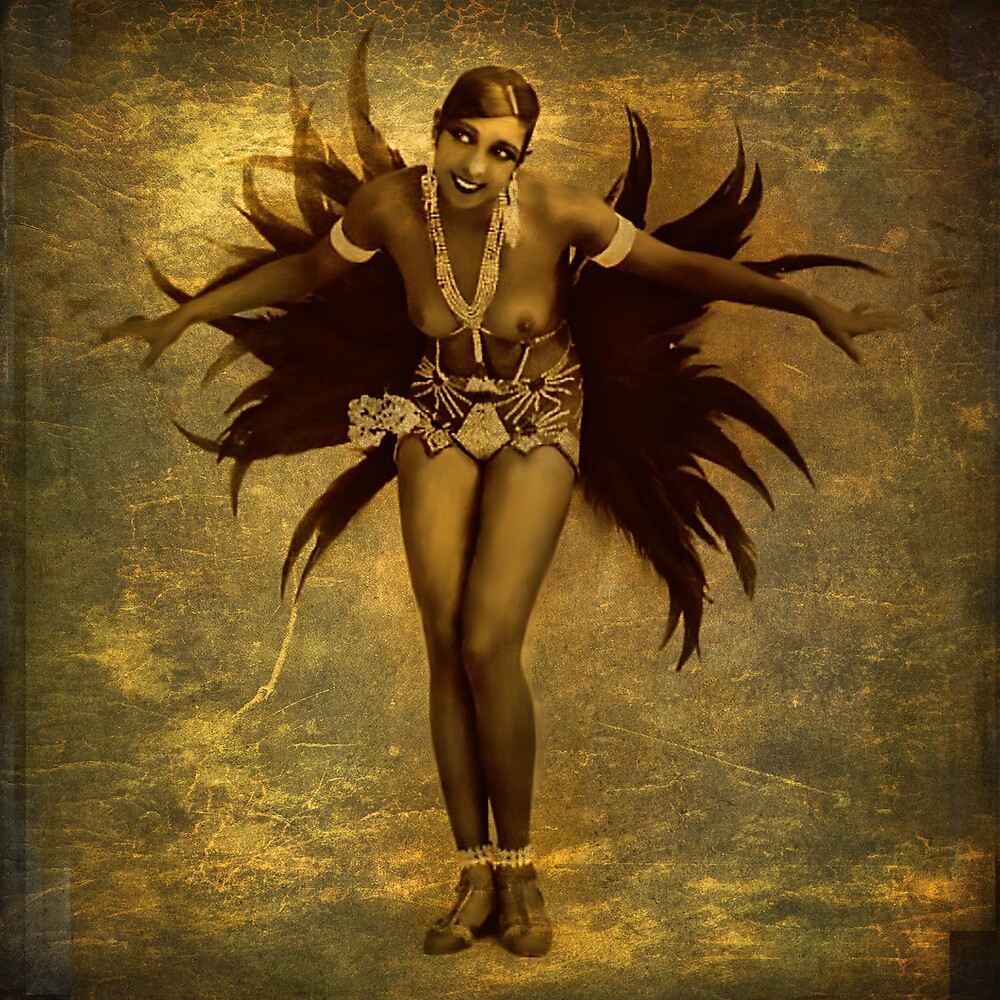 Josephine's notorious Danse Sauvage
Celebrities craved her friendship. And several made it into her bed as well. The likes of Pablo Picasso and Ernest Hemingway adored her as she basked in the nicknames 'Black Venus' and 'Black Pearl'. Picasso had this to say about the sensational Josephine: 'Tall, coffee skin, ebony eyes, legs of paradise, a smile to end all smiles.' Georges Simenon, the Belgian creator of Inspector Maigret, enjoyed a brief but intimate relationship with the delectable Miss Baker, but his monumental ego could not handle the fact that she was even more famous than he. When he began calling himself 'Mr. Josephine' he knew it was time to leave.
the even more notorious 'banana dance'
Even women were impressed by her astonishing beauty. A New Yorker correspondent named Janet Flanner reported that, 'her magnificent dark body, a new model to the French, proved for the first time that black was beautiful.' One of Josephine's adopted sons, Jean-Claude, admitted that his mother was bisexual and took many lovers of both genders. Perhaps, her most famous same-sex relationship was with French novelist, mime, actress and journalist Colette, the lady who wrote the novella Gigi in 1944, the inspiration for the Leslie Caron movie of the same name. There was reputed to have been a short liaison with American singer Ethel Waters also. Josephine knew how to flaunt her beauty and how to remain in the public eye. It was a sight to behold when those long 'legs of paradise' sashayed her down the Champs-Elysees accompanied by a brace of her pet leopards!
Colette, one of Josephine's lovers
In 1926 she may or may not have married Giuseppe Abatino (she had four, possibly five husbands). Together they opened a nightclub called Chez Josephine and remained a couple for around nine years, although both took other lovers during that time. Two years later, Giuseppe fought a duel over her with an equally stupid Hungarian cavalry officer in St. Stephen's Cemetery, Budapest. It lasted about 10 minutes until Abatino collected a small scratch from his opponent's blade. Once blood had been spilled and honour assuaged the two combatants called it quits and trotted off home. On another occasion, a decidedly more serious one, a rejected lover killed himself at Josephine's feet. All these incidents gave wonderful press to 'the Black Venus', and she revelled in it.
mugging with Maigret creator (and lover)
Georges Simenon
The lady truly had a genuine passion for racial equality, refusing to perform in any club that was segregated in any way. To emphasize her belief in the equality of the races she adopted no fewer than twelve children from around the world. They became known as her 'Rainbow Children'. She could not bear children herself, but she certainly made up for it by adopting one from each of the following countries: Korea, Colombia, Japan, Finland, Canada, Arabia, Venezuela, Ivory Coast and Morocco. And three more from her beloved France.
At the Stork Club, New York City
(L to R) Damon Runyon, Walter Winchell, Sherman Billingsly
By 1930, she was making movies such as Zou-Zou and Princesse Tam Tam, and raking in so much money she was able to purchase an estate, Les Milandes, in the south of France. She immediately brought her family out from St. Louis to live with her. Riding the crest of a wave with her European success, she returned to the USA to perform in the Ziegfeld Follies, only to be met with a hostile, racist reaction (some of it the courtesy of fellow performer Fanny Brice), that sent her scurrying back to France, bitterly disappointed. Disillusioned with her homeland's lack of any serious attempt at racial equality, she took out French citizenship in 1937 before marrying a French industrialist named Jean Lion. Soon afterwards World War Two erupted.
Fanny Brice
As soon as hostilities began Josephine was recruited by the Deuxieme Bureau. Her newly adopted country wanted her to collect as much information about German troop locations as she could from officials she met at embassy parties and other 'get togethers'. She rubbed shoulders with Italian and Japanese officials at the Italian Embassy and other functions. Being an entertainer, she could move in and out of neutral countries such as Portugal, Spain and Morocco, carrying notes penned in invisible ink and secreted inside her underwear! She also did a lot of work for the Resistance and for de Gaulle's Free French. After the war France rewarded her courage, ingenuity and patriotism by awarding her a Croix de Guerre and making her a Chevalier of the Legion d'honneur.
Josephine during WW2
On October 16, 1951, Josephine walked into the Stork Club in New York City shortly after completing her triumphant show at the nearby Roxy. She was accompanied by three friends, all of the party bent on having a steak for dinner. The Stork Club, like nearly all the city's nightspots, unofficially discouraged black patrons. Josephine knew it. The group ordered, but after an hour there was still no sign of their steaks, so she went to a pay phone, rang the secretary of the NAACP, and complained that she had been discriminated against. Columnist Walter Winchell was present that evening at the Stork Club, saw Josephine and her partner leave their chairs to telephone, but assumed they were going to dance. He then walked out to watch a pre-arranged screening of The Desert Fox, unaware of the brouhaha developing. By the time Josephine had returned to her table the steaks had arrived, but she walked out in a huff anyway. Up and coming beauty Grace Kelly was present that evening. Disgusted by the situation, she walked out arm in arm with Josephine in a show of support, the start of a close friendship that would last until Josephine's death.
Josephine and close friend Princess Grace of Monaco
The next morning Winchell faced a barrage from all sides. He prided himself on his record regarding racial issues, and he was deeply offended when accused of not giving Josephine any support. Why did he not use his close friendship with the Stork Club owner Sherman Billingsley and make sure the Baker party were looked after, was the general question being asked. And it was totally unfair to both Winchell and Billingsley. Worst of all, Josephine sued Winchell for $400,000, more than likely at the urging of her dining acquaintances who had strong political ambitions. The case dragged on until it was ultimately dismissed in 1955. In the meantime Josephine sailed back home to France where she felt more wanted. As for Winchell, he later stated, 'she broke my heart'.
Princess Grace at Josephine's funeral
The former Grace Kelly, now Princess Grace of Monaco, kindly offered Josephine the free use of an apartment in 1964 when Baker lost her castle to unpaid debts. On the 8th of April 1975, 68 year-old Josephine starred in a retrospective revue at the Bobino in Paris. It was a great success, but four days later she was dead. Josephine Baker was the first ever American-born woman to receive full French military honours at her funeral. She is interred in Monaco.