Caine in Korea (standing second from left)
Here are a few more stories about actors who participated in one or more of the conflicts of the 20th century. I will add a second segment in a couple of day's time. Sir Michael Caine was called up for national service in the Royal Fusiliers in the British Army when he was 18. For years he hated the smell of garlic because it reminded him of the hordes of Chinese troops attacking downwind during the Korean War (1950-53). 'They used to chew on it as a snack all the time', he said. 'Whenever I killed someone there was no guilt, no remorse – it didn't feel real', he recalled. 'It was always done at night and we never had any idea who we had killed. I never did anything close up or hand-to-hand.' He also remembered almost losing his life when he was part of a four-man patrol in some rice paddies. With the Chinese troops closing in on them, Caine's officer suggested they head towards the enemy lines rather than away from them. 'So we did that and we ended up going right around them', said Caine. 'They couldn't find us because they were looking in the wrong place and we got away.'
Art Carney as Ed Norton in The Honeymooners
Young Art pre WW2
Art Carney was a private in the US Army during the Second World War and was sent to Normandy in July 1944 as a replacement in a 30 caliber machine gun squad. On August 15 he was hit in the right leg by mortar shrapnel, received field treatment, and was then sent back to England before being shipped home to the USA. Of his extremely brief military career he said: 'Never fired a shot and maybe never wanted to.' His injury was severe enough to keep him hospitalized for nine months and cause him to limp for the remainder of his life. He masked his injury throughout his acting career except for when, at 55, he portrayed a 72 year-old man in his Oscar-winning role for Harry and Tonto. The limp, he said, made him look older.
Song and dance man Maurice Chevalier
Chevalier in uniform World War One
Maurice Chevalier was shot in the back in the first two weeks of hostilities in World War One, which resulted in his capture by German troops. He was a POW for two years before relatives of his lover, the actress known simply as Mistinguett, managed to secure his release. During the Second World War he agreed to a Nazi request to perform in front of Allied POWs in Germany. In return the Germans agreed to the release of ten French prisoners. After the war Chevalier was tried as a collaborator by his countrymen because of this, but was exonerated when details of the deal came to light. For a while, however, he seemed in grave danger of being executed.
Dale Dye the actor
Vietnam recruit         Retired Captain
The name Dale Dye is probably not that well-known to movie-goers, but his face underneath his prematurely grey hair would be, for he has appeared in over a dozen movies including, Platoon, Casualties of War, Born on the Fourth of July, JFK, Under Siege, Guarding Tess and Outbreak. Most (but not all) of his screen appearances are in war pictures, possibly because his value as a technical advisor could also be called upon if need be. Dye did two tours of Vietnam during the war, winning a Bronze Star and collecting three Purple Hearts for wounds received in action, ending the second tour as a Chief Warrant Officer. In 1982-3 he served as a captain in Beirut as well. The writer of five military books, his expertise has been called upon by directors Oliver Stone, Brian DePalma, Steven Spielberg and others on a number of movie sets.
Peter Finch winning an Oscar in Network
Finch in Australian Army uniform
During the Second World War Peter Finch joined the Australian Army in June 1941, and served briefly in Palestine as a gunner. On his return home he found himself manning a Bofors gun in Darwin during several Japanese air raids on the port. The Department of Information eventually grabbed him to make propaganda films for the remainder of hostilities. He was, after all, one of the best known movie actors in the country, even before war broke out, so the Army used him for radio propaganda as well. Discharged on 31 August 1945 with the rank of sergeant, he moved to England in pursuit of his acting career.
John Goodman
When John Goodman took his physical for the Vietnam War draft, the doctors made a mistake with his height, measuring him as six feet tall instead of his correct height of six feet two inches. At six feet they deemed him to be eleven pounds overweight for that height and told him to go away, lose some poundage, and then come back for another physical. The draft was abolished by the time he was due to reappear before the board, so he luckily missed the war.
Tough guy actor Sterling Hayden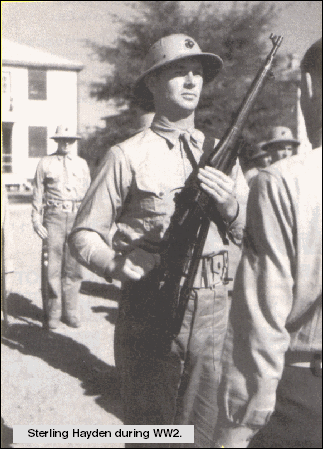 Mrs Hayden – Madeleine Carroll
In 1942 Sterling Hayden married the exquisite Madeleine Carroll, but chose to seek action in the Second World War instead of remaining at home with his new bride and to continue his acting career. Hayden was a real adventurer, the captain of his own schooner at 22, and a graduate of the British Commando Training School. A badly injured leg in a parachuting exercise brought about his discharge from the Commandos, however, so he changed his name to John Hamilton and enlisted in the US Marine Corps. Soon afterwards, he volunteered to join the OSS and fought behind the lines in Yugoslavia with Tito's guerrillas, commanding 450 partisans. His exploits earned him a citation from Tito, as well as a Silver Star from the OSS. In the early fifties his Marxist views were scrutinized by the House Un-American Activities Committee until, under pressure, he 'named names' of suspected communists, a fall from grace that he rued until the day he died.
Lee Marvin in the under-rated Seven Men From Now
as a raw 18 year-old recruit USMC 1942
Lee Marvin looked tough and he was tough. A few months after his 18th birthday he joined the Marines. It was August 1942. He served in the Marshall Islands on beach heads at Eniwetok and Kwajalein, two bloody battles in the Pacific campaign. In June 1944, on Saipan, his company was ambushed by the Japanese and all but six of its 241 men survived the fighting. He modestly stated later that he was 'shot in the ass'; a nine inch wound that severed his sciatic nerve and kept him hospitalized for 13 months prior to his discharge. He died in 1987 at the age of 63, and is buried alongside champion boxer Joe Louis in Arlington National Cemetery, Virginia.