William Boyd made Hopalong Cassidy famous by depicting him in 66 movies throughout the 30s and 40s, and then for five years on television between 1949 and 1954. A smart businessman, Boyd purchased the rights to the movies, then pruned them into half-hour and full-hour television episodes. When these proved enormously popular, with children especially, he created 52 more episodes that saw the show extend to about five years. Whereas bad guys invariably wore black in westerns, Boyd chose to do the reverse and wear all-black clothing and ride a white horse. When his horse, Topper, died, he refused to ride another horse again.
'Hoppy', the hero to every American kid, meets his fans
When Boyd first became Hop-along Cassidy in 1935, he inherited a character who limped because of an earlier bullet wound. Before long he had turned that character into a role model for young matinee idol fans. Boyd's Cassidy always spoke perfect English because he felt young children should learn to speak correctly. He did not smoke, drink, chew tobacco or swear. He rarely kissed a girl and he always let the bad guy draw first. In one of the early Cassidy movies 'Hoppy' kissed the dying Evelyn Brent on the forehead. Irate fans wrote in, complaining that the act was 'unmanly', so he never kissed another woman on screen.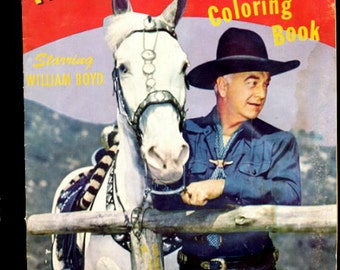 Charlton Heston as Moses
William Boyd as Moses?
The series was wildly popular and Boyd made a fortune from merchandising Cassidy toys, lunch-boxes, coloring books etc. Amazingly, he was Cecil B. DeMille's first choice to play Moses in his 1956 blockbuster The Ten Commandments! Boyd turned him down, convinced his identification with Hopalong would harm the movie. Charlton Heston eventually got the nod. Boyd was so protective of his image that he refused an offer from Johnny Carson to guest on his show during the mid-sixties, concerned that fans who had grown up seeing Hopalong Cassidy as a tall, strong young cowboy hero, even though they were now adults, might be adversely affected if they saw him as a frail old man.
Father Knows Best ran from 1954 until 1960 and was one of a handful of family shows that achieved widespread success in the fifties. It focused on the Anderson family, depicting them as the ideal American family who, when faced with everyday problems, could always rely on their calm, logical, decent Dad to solve them. Jim Anderson was played by Robert Young, an actor beset with his own demons in private life. For 45 years he battled chronic shyness and depression, turning to alcohol for solace. 'All those years at MGM I hid a black terror behind a cheerful face', he said. 'I was an introvert in an extrovert's profession'. After Father Knows Best folded he starred in another top-rating show , Marcus Welby M.D. from 1969-76. In between those two successes he suffered a nervous breakdown in 1966. Late in life he attempted suicide in 1991, brought about by a chemical imbalance while battling Alzheimer's disease and heart issues. Despite his many problems Young lived to the ripe old age of 93, dying in 1998.
Jane as Amanda in Star Trek,
Spock's mother
Highly respected, both as an actress and as a person, Jane Wyatt played Margaret Anderson, Jim's wife. A devout Catholic, she stayed married to the same man for 65 years, enjoying a very long life. Sweet-faced and gentle, Jane showed her true mettle when she joined Bogart, Bacall and others in 1947 and marched to protest the House Un-American Activities Committee hearings. Star Trek fans (that's the old, real Star Trek) will recall that Jane was cast as Mr. Spock's Mum. James Cameron wanted her to play the aged Rose in Titanic (1997), but Jane would not come out of retirement, so the part went to Gloria Stuart who was Oscar-nominated for her performance. Jane Wyatt died in 2006 at the age of 96.
Billy Gray as Bud Anderson
Billy the speedway rider
The very likeable Billy Gray played young Bud in the series. He was 16 years old at the commencement and 22 when the series terminated. I thought he was terrific as Wesley Winfield in the 1953 Doris Day musical By the Light of the Silvery Moon. Throughout the 70s, 80s and 90s he raced Speedway motorcycles. In a 1983 interview he blasted Father Knows Best as 'deceitful' and 'a hoax', adding that 'the dialogue, the situations, the characters – they were all totally false.' And he was right. For 27 years Billy was falsely described by Leonard Maltin as a real-life drug addict and pusher, a serious error that Maltin apologised for at a press conference in July 1998.

Elinor as 'Princess' Anderson
Elinor and Andy Griffith 1960-1
with Julia Roberts in Pretty Woman
Wholesome and pretty, Elinor Donahue portrayed Betty 'Princess' Anderson, the kind of role she played for almost her entire career that has extended over 60 years. She played Ellie Walker for a single season in The Andy Griffith Show (1960-61), but chose not to return. Elinor was supposed to become his character's true love, but there was no chemistry between the two actors and she was well aware of it. Andy, to his credit, blamed himself for that, stating he found it difficult to show emotion on the screen. For nearly 30 years she was married to Harry Ackerman, a TV producer 25 years her senior, whose credits included Leave it to Beaver, Bewitched and Gidget. Today she is approaching 80 and still going strong. Fans of Pretty Woman (1990) may have recognized her as Bridget, the nice girl who helps Julia Roberts select her wardrobe.
Lauren Chapin as 'Kitten' Anderson
Lauren today
Without doubt the saddest story concerning the players in Father Knows Best belongs to Lauren Chapin, the little girl who became known to viewers as 'Kitten' Anderson. Now 70 years of age, she has courageously turned her life around and found peace after what can only be described as a horrendous early life. Even while making the series, she was constantly abused sexually by her father while her alcoholic mother did nothing to help the situation. After the show folded Lauren married at 16, divorced at 18, became addicted to drugs and turned to prostitution to support her habit. After attempting suicide she was placed in a psychiatric institution. Then, in 1979, she became an evangelical Christian, a decision she claims changed her life. Her book Father Does Know Best: The Lauren Chapin Story was published in 1989.
Fran Drescher's first break came playing a dancer named Connie in Saturday Night Fever (1977) who delivers the memorable line to John Travolta's character: 'So, are you as good in bed as you are on the dance floor?' A year later she wed Peter Jacobson, at the age of 21. Together, they created their own TV series, The Nanny, in 1993. Eight years prior to that, however, the couple underwent an ordeal of terror in their Los Angeles apartment.
Fran in Saturday Night Fever with Travolta
Peter Jacobson and Fran
In January 1985 two armed robbers broke in. While one man ransacked the apartment, Fran and a visiting female friend were raped at gunpoint by his accomplice. Jacobson was physically beaten, tied up, and forced to witness the attacks. It took Fran many years to get over her ordeal. Her rapist, who was on parole at the time of the crime, was caught and sentenced to two life terms in prison. Fran and her husband later divorced and he has since 'came out' as a gay man. They both support gay causes whenever they can.