Lord Richard Attenborough starred as the creator of Jurassic Park. Three of his family members lost their lives in Phuket, Thailand when the devastating Boxing Day tsunami hit the Pacific Rim in 2004. His daughter Jane, her mother-in-law and grand-daughter, 14 year-old Lucy, were swept away and killed. His eldest grand-daughter, 17 year-old Alice, was seriously injured. Her father and brother escaped unscathed. Attenborough rendered a reading at the British national memorial service in November 2005. Earlier in the year, in January, actress Sandra Bullock generously donated one million dollars to the South Asian Tsunami Appeal.
Olive Thomas
A bride at 14, a Ziegfeld girl at 17 after she won 'The Prettiest Girl in New York' beauty contest, violet-eyed Olive Thomas was drop dead gorgeous, one of the most beautiful movie stars ever to grace the silver screen. Her stunning looks brought about a nude painting of her by famed Peruvian artist Alberto Vargas and she became a star of Ziegfeld's 'Midnight Frolic', an after-hours show put on mostly for affluent men, in which she wore nothing but balloons that patrons enjoyed popping with their cigars. Before long she was Ziegfeld's mistress as well.
Jack Pickford
In 1918, however, she made a decision that probably cost her life.  She married the abominable Jack Pickford, Mary's brother, a man notoriously known around the studios as 'Mr. Syphilis', no less. His famous parents had little time for Olive, so the union was rocky from the beginning. Indeed it foundered quicker than the Titanic, but in a last ditch effort to save it, Jack and Olive embarked upon a second honeymoon to Paris in late 1920. They had only just arrived when Olive was immediately diagnosed with her husband's dreaded disease. She took steps to do something about her condition, steps that had tragic results.
Details of her sudden death in their honeymoon suite are confused, but it is believed she purchased a bottle of dichloride of mercury in an attempt to cure her diseased body. Other opinions suggest she drank the deadly contents of the bottle by accident because the label was in French, a language she could not read. She downed nearly half the contents and was immediately stricken. Poor little Olive died a slow, agonizing death five days later. According to several reports, her husband was out buying drugs when she collapsed. He claimed he was in the hotel room and actually rang the hospital, but few believed him. The coroner ruled the girl's death an accident. Pickford survived several bouts of syphilis, but his alcoholism ruined his health even more and he was dead at 36. The coroner ruled death to be due to 'progressive multiple neuritis', but it was most likely booze that killed him in the end.
Edie Adams and Ernie Kovacs
Ernie Kovacs is very funny as the cigar-chomping conman in the 1960 hit North to Alaska. After he was killed in a car accident in January 1962 his wife Edie Adams discovered that he also had a sense of humour when it came to paying his taxes. He always considered the tax system to be totally unfair, so he ignored it! Suddenly faced with an IRS debt of hundreds of thousands of dollars, Edie spent years doing TV commercials and other projects until she paid off every penny. In 1982 she suffered the terrible extra tragedy of losing her daughter in another traffic accident. Ernie's marker in Forest Lawn Memorial Park reads: 'Ernie Kovacs 1919-1962 – nothing in moderation. We all loved him'. His 22 year-old daughter, Mia, joined him after her fatal auto crash in 1982. Her marker reads: 'Daddy's girl. We all loved her too'.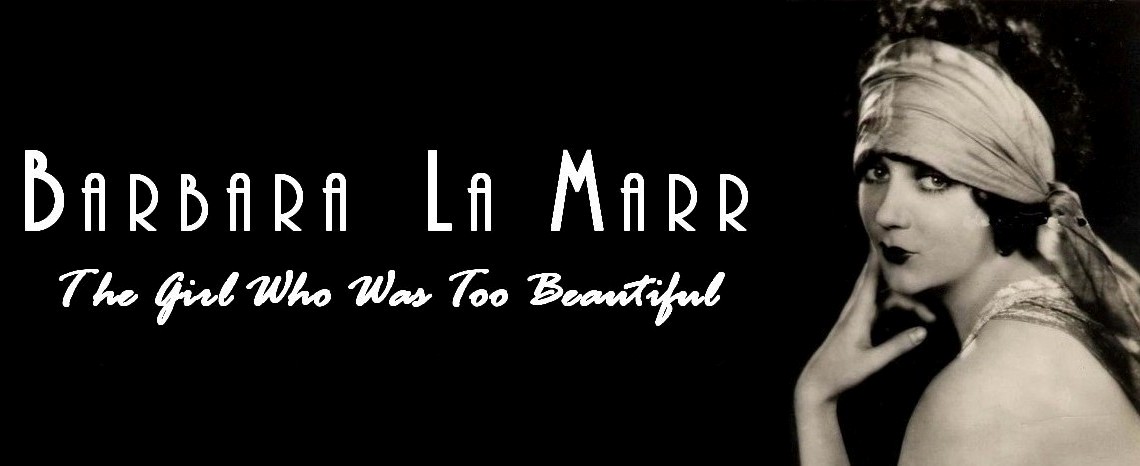 Barbara LaMarr was born Reatha Watson in Washington. At the age of 13 she began working in burlesque. Before long she was dabbling in prostitution as well. Throughout her brief life she was always crazy about two things – drugs and men. She had five husbands and secretly had a tunnel built between her garage and her bedroom to accommodate her many lovers. Between 1921 and 1924 she made 30 films, but as the drugs began to dominate her life she worked less and less, completing just 3 more in the final two years of her existence. Studio fixers publicly attributed her drugs death at 26 to a combination of 'vigorous dieting and tuberculosis'. The public were none the wiser, unaware the coroner had been bribed to falsify her death certificate. Studio head LB Mayer paid homage to her memory by re-naming Hedwig Kiesler, his new Czech star, Hedy Lamarr in her honour. Very considerate of him.
the gorgeous Constance Smith
marriage to Bryan Forbes
Irish actress Constance Smith seemed to have the world at her feet in 1952. That year she was a presenter at the Academy Awards and had been signed by 20th Century Fox. She was both strikingly beautiful (wonderful eyes) and talented. Pundits described her as a dead ringer for Hedy Lamarr. She starred opposite Jack Palance in The Man in the Attic (1953), was wed to Bryan Forbes and seemingly set to become an actress of substance. But then it all went pear-shaped. First, she refused to change her surname from Smith to something more memorable. Then she clashed with producers and executives and underwent a studio-ordered abortion. Finally, she personally torpedoed her shot at stardom when she publicly accused Darryl F. Zanuck of using 'casting couch' tactics to further her career. Zanuck was a man you simply did not cross. As opportunities were continually denied her, Constance descended into alcoholism and drugs as she struggled to deal with being overlooked for roles she felt she deserved. After her divorce from Forbes in 1955 she went to Italy and made trashy films there for the next four years. She also made her first suicide attempt with barbiturates. There would be several more. In 1962 and 1968 the fiery actress was imprisoned briefly for attempting to stab her partner, well known historian Paul Rotha. More suicide attempts followed as her alcoholism took her in and out of hospitals. Occasionally, she managed to find work as a cleaner, but most of her final decades were spent in dissipation. Completely forgotten by the film world she died a hopeless alcoholic on a street in Islington, London in 2003 at the age of 75, a sad end for a once stunning young actress.
Mackenzie in American Graffiti
Mackenzie's Papa & Mama
Mackenzie Phillips today
One of the more interesting characters in American Graffiti (1973) is the 13 year-old played by Mackenzie Phillips, the girl who annoys hell out of Paul Le Mat's character. Mackenzie is the daughter of 60s pop musician John Phillips of the Mamas and Papas. She also appeared for nine years on the popular TV series One Day at a Time from 1975-84, playing Julie Cooper, before being axed because of her chronic drug problem. Miss Phillips' problems went far beyond her drug addiction, however. In her tell-all book High on Arrival she reveals details about her long-time incestuous relationship with her appalling father. John Phillips began assaulting his daughter thirty years ago, on the night before her wedding to one of the Rolling Stones' entourage when she was 19. 'On the eve of my wedding, my father showed up, determined to stop it', she said. 'I had tons of pills, and dad had tons of everything too'. She awoke to find her father having sex with her, the beginning of ten years of abuse from him. 'I was a fragment of a person', she said. 'And my secret isolated me'. Her father even suggested they move away to a country 'where no one would look down on us. There are countries where this is an accepted practice. Maybe Fiji', he added. Mackenzie admitted that the sex later became 'consensual', although whether or not that word suitably describes a situation in which the parent is in complete control is surely debatable. As if ten years of incest was not bad enough, her father often injected Mackenzie with drugs as well. He was convicted of drug-trafficking in 1981. He also 'gave' her to rocker Mick Jagger when she was a teenager. The deplorable John Phillips did the world a favour by dying in 2001. Mackenzie pulled herself up by the bootstraps and made something of herself. Good for her.