Joan Collins was born in London in 1933. Her father was a Jewish man from South African, a moderately successful agent whose later clients would briefly include The Beatles, Tom Jones and Shirley Bassey. Joan signed a contract in England with J. Arthur Rank at the age of 17, and in 1952 she married Rank actor Maxwell Reed (after he had raped her, she wrote in her autobiography), one day after her 19th birthday. Her parents, not surprisingly, hated the man.
Maxwell Reed – husband # 1
The Girl in the Red Velvet Swing (1955)
By the time the marriage to Reed officially ended in 1956 she was already deeply involved with Charlie Chaplin's son Sydney and had been since late 1954. Soon after her divorce came through, however, she shacked up with Arthur Loew Jr, the 29 year-old son of the president of MGM. That relationship also ended suddenly. On a New Year's Eve dance floor in 1957 he whispered in her ear, 'You're such a fucking bore!' 'And you are such a boring fuck!' was her sharp retort, or so she says.
Sydney Chaplin
Arthur Loew Jr & Joan
On her arrival in California in 1954 Joan was quickly signed to a seven-year contract at 20th Century Fox by the diminutive and over-sexed Darryl F. Zanuck. Soon after she completed Land of the Pharaohs he cornered her in a corridor, pinning her to a wall. 'You haven't had anyone till you've had me', he said. 'I've got the biggest and best and I can go all night'. It was his standard line for whichever young actress took his fancy. It usually worked, especially with girls willing to do anything for a contract, but Joan liked to make her own choices. She eluded him on that occasion and continued to do so.
Darryl F Zanuck
Zanuck, (believe it or not), kept a life-size mould (in gold) of his rampant penis in his office draw. He liked to show it to young, impressionable starlets when he interviewed them, usually following it up with the real thing once they were made aware of just what was required to gain a contract. His success rate was scarcely 100%, but it was substantial nevertheless. When he made the mistake of showing it to sex-pot Joan Crawford, her response was a caustic, 'I've seen bigger things crawl out of cabbages.' Joan had been around.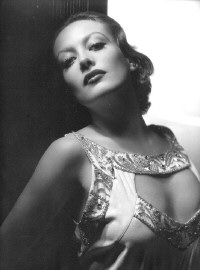 Joan Crawford
Towards the middle of 1957 Joan moved on to playboy Nicky Hilton. His nine-month marriage to young Elizabeth Taylor was well and truly over, and little wonder. He was a drunk, a drug addict and a racist. He was also a crude sexual athlete who constantly bragged about the size of his member, his conquests and his 'staying power'. He even kept an 'orgasm scoresheet' by his bedside, right alongside his revolver which he often fired in the middle of the night just to annoy guests in the other rooms of his family's hotel. Joan and he lasted a few months. Twelve years later he was dead from a drug overdose at 42. Few mourned the man.
Liz Taylor & Nicky Hilton
Joan managed to nail several other high profile men that year. Following a brief tryst with Stephen Boyd, the Irish actor who would brilliantly play Messala in the 1959 version of Ben-Hur, she had interludes with Ryan O'Neal, Robert Wagner, Charles Chaplin Jr, 18 year-old Dennis Hopper and Harry Belafonte. Belafonte had only recently wed his girlfriend Julie Robinson who was four months pregnant with his child. Joan deliberately lured him to her apartment and they commenced a torrid affair. Indeed, there were flings with so many men that year that she, not too flatteringly, became known around town as 'the British Open', a tag fuelled by rumours she had 'dated' fourteen men in fourteen days! Actor Rick Jason, probably best remembered today as Lt. Hanley in the sixties TV series Combat!, wrote of Joan propositioning him during a break in shooting when they made The Wayward Bus in 1957. 'Let's go to my dressing room and fuck', she suggested. In fact, according to Jason, she asked him twice, but he declined because he was married. She never spoke to him again unless the script demanded it. Joan denies the incident happened at all. Most people tend to believe Jason, contending that Joan may simply have forgotten every guy she propositioned in that period of her life.
Bob Wagner & Joan
Harry Belafonte (L), Joan & James Mason
With Stephen Boyd
Dennis Hopper
By 1958 Joan had become a frequent 'guest' aboard the Angelita, the yacht of Dominican playboy Ramfis Trujillo. He generously squeezed her in between equally frequent visits from Kim Novak and Zsa Zsa Gabor. Millionaire playboys with yachts seemingly have no trouble at all enticing beautiful actresses into their company. Several sources claim Joan had a relationship with Paul Newman in 1958 as well. He married Joanne Woodward in January that same year, so did he cheat on his new wife or was the thing with Joan something that happened in the few weeks prior to the wedding? Joan would know, but she's not telling. Jeffrey Hunter, on the other hand, was a confirmed entrant in 'the British Open' that year.
Jeffrey Hunter
The new TV star of a series called Adventures in Paradise, handsome Gardner McKay, joined Joan's growing list of conquests in 1959. So did Marlon Brando. But towards the end of the year the 26 year-old maneater spotted unknown hunk Warren Beatty at a restaurant and a two-year passionate relationship began. According to Joan the 22 year-old Beatty 'needed to have sex several times a day.' After a few months she complained to girlfriends that he made love to her relentlessly. 'In a few years I'll be worn out', she confided. When asked if they really had sex seven times a day, she replied, 'Maybe he did, but I just lay there.' When she fell pregnant to him and wanted to have their baby, Beatty talked her into aborting it. A baby would get in the way of his career, he said. Before long he was involved with 47 year-old Vivien Leigh anyway, followed by an even more passionate stint with Natalie Wood. His star was on the rise and Joan's was falling. It was time to move on.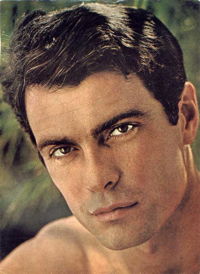 Gardner McKay
Joan and a young Warren Beatty
By May 1963 Joan had been with singer/composer Anthony Newley for about a year when they chose to tie the knot. They had a daughter and a son before divorcing in 1970. Joan blamed the break-up on her husband's 'serial philandering'. Not that Joan herself was above cheating when it suited her. When comedienne Ruby Wax asked her if she was ever unfaithful, Joan replied, 'Yes, but only on location. I used to say it doesn't count on location. Everybody was having a little fling. I don't suffer very much from guilt.' Newley retaliated to her accusations about his infidelities by telling the press: 'To the unwashed public Joan Collins is a star. But to those who know her, she's a commodity who would sell her own bowel movement.' Newley played hard-ball. English actor Terence Stamp is said to have registered for the 'British Open' that year. A few years later so did Star Trek's Captain Kirk, the one and only William Shatner.
Mr and Mrs Anthony Newley
With Bill Shatner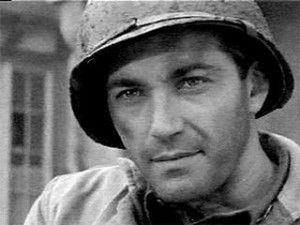 Rick Jason
The 1970s were financially tough on Joan as her career faltered badly, but that all turned around when she made the TV series Dynasty. Before that happened, however, she had pressing bills to pay, opting to do so by disrobing for Playboy and a number of rubbishy films, among them the woeful soft porn flick The Stud. 'I was paid eighteen thousand pounds for that film', she recalled. She was 45 years old at the time. Money aside, she declared this to be the lowpoint of her long career.
As Alexis Carrington Colby in Dynasty
Husband number three was film producer Ronald S. Kass. They wed in March 1972 and their daughter was born three months later. The man was a cocaine addict. Joan is very publicly anti-drugs, so goodbye Mr. Kass. She soon found love again with husband number four, Swedish pop singer Peter Holm. They married in 1985 but divorced two years later. Like Newley, he couldn't keep his hands off other women. In 2002 she married number five, theatre producer Percy Gibson. She was 68, he just 36. As of 2015 the union is a most happy one. Joan openly brags about never having slept with a man over 42 years of age (her current husband excluded). No casting couches for her, she said. Not ever.
Mr and Mrs Ronald Kass
Mr and Mrs Peter Holm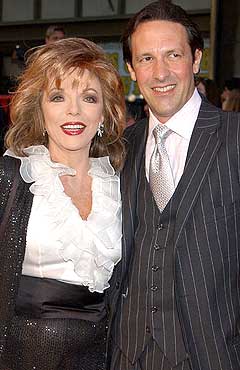 Mr and Mrs Percy Gibson
In the 1990s she was involved in a legal battle with publisher Random House over payments made to her for a manuscript they say was not fit to be published. Joan's lawyers argued that the contract required her to submit a complete manuscript, not necessarily an acceptable one. A judge ruled in her favour, and she got to keep keep the $1.2 million advance the company had paid her. Her contract was originally for two manuscripts and payments totalling $4 million. The ruling gave her an extra million for the first manuscript. Manuscript two and the remaining $3.8 million were declared null and void.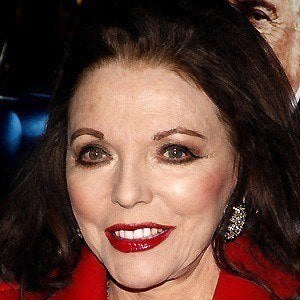 Still looking pretty good
Now in her eighties, Joan has managed to chalk up 118 movies and TV appearances in her 60 years before the cameras. In 2013, actor Toby Stephens, whom she had never met, wrote a scathing article about her performance in Noel Coward's Private Lives in the West End. Her response was blunt and not all that expected from an octogenarian lady. 'Toby Stephens', she exclaimed. 'What a cunt! It was terribly unnecessary. One of the rules about being an actor or an actress is that you never 'diss' other actors or actresses; particularly when you don't know them.' At 82, she is openly proud of never having gone under the knife to improve her still marvellous looks. 'I've never had plastic surgery', she said. 'Come to think of it, I've never had hip surgery, knee surgery or a boob-job. I have a needle phobia. I mean, I had Botox once. I'll admit to that. But it was agony. And it also happens to make you look awful. It's why a lot of actresses today look ridiculous.' Interviewers still say she looks decades younger than her 82 years. Joan Collins knows enough about beauty to realize that 'natural is best'. Good for her. Joan has been many things but never dull. And she has always been breathtakingly beautiful.