I fell in love for the first time when I was nine. It was 1957 and the object of my infatuation was a brunette with a cute smile and Mouseketeer ears on TV's Mickey Mouse Club. Her name was Annette Funicello and to me she was perfection with a capital 'P'. But then someone told me she was born in 1942 and was now fifteen years of age! She was too old for me. I cried for a whole day. There were 24 Mouseketeers and Annette was the last one picked. The last! I still find that difficult to believe, particularly in light of the fact that she quickly became everybody's favourite. A zillion little boys around the world adored her. A zillion and one counting me. When the series folded she was the only Mouseketeer given a contract by Disney. All the rest were let go. When asked years later how she got the role, she replied: 'I was the ethnic one. Everybody else looked like I wanted to look my entire life: blue-eyed and freckle-faced.' Such was her popularity that the world knew her simply as 'Annette'. No surname was necessary. In her autobiography she revealed that one of her brothers was even selling her phone number for a while!
The Mickey Mouse Club
She made movies and recorded pop songs, one of which, 'Tall Paul' charted quite well, peaking at # 7 in 1959. 'Pineapple Princess' charted also. While touring with the Dick Clark pop caravan she and Paul Anka became an 'item'. In fact, he wrote the diabolical 'Puppy Love' for her, and then 'Put Your Head On My Shoulder' as well. Business commitments ultimately ended the relationship. She also had brief romances with Fabian and Frankie Avalon.
'Puppy Love' – Annette & Paul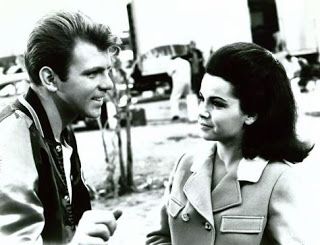 Fabian & Annette
Teenage heart throb
In the sixties Walt Disney agreed to let her make a bunch of teenage 'beach' movies to cash in on the popularity of the surfing music craze of the Beachboys and Jan and Dean. Annette was 20 and her on-screen boyfriend, actor/singer Frankie Avalon, was 23. They played love-struck teenagers in a half dozen pretty pitiful films that surprisingly appealed to adolescents. Disney initially forbade Annette to show her navel on screen, so her bathing costumes were made with that contingency in mind. Bikinis were not permissible. Not for Annette anyway in the early films. She recalled being approached once about appearing naked in a movie. Well, almost naked. The guy wanted her to wear just her Mouseketeer ears! The surfing craze abated around 1965, Annette married Paul Anka's agent, and she chose to forego her career and devote all her time to their three children. The couple divorced in 1983, she married a racehorse owner/trainer in 1986, and a year later was diagnosed with multiple sclerosis. She was 45.
With Frankie Avalon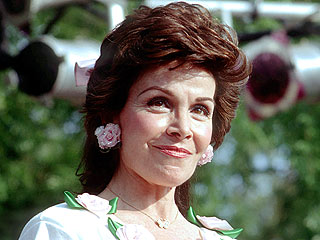 Mother of three
In her final years
Annette made her final movie appearance in Troop Beverly Hills (1989) in a cameo playing herself. She and Frankie Avalon are the two joggers you see pass by as Velda and Annie enter the Beverly Hills Hotel. In 1992, in response to stories circulating that she had an alcohol problem, the very private Annette reluctantly announced that she was, in fact, suffering from MS and had been for some years. In 1993 she established the Annette Funicello Research Fund for Neurological Diseases which still operates today. Confined to a wheelchair for her final years, the lovely Annette succumbed to her terrible affliction in 2013. She was 70 and had endured it for 25 long years. Disney CEO Bob Inger spoke for everyone when he said: 'She was well-known for being as beautiful inside as she was on the outside, and she faced her physical challenges with dignity, bravery and grace.'
00000
Frances at the peak of her beauty                                                                     
The very pretty Frances Gifford played the schoolteacher in Our Vines Have Tender Grapes (1945). Although quite lovely she never really made it to the top in Hollywood, appearing in only a handful of movies over about 20 years. Her only marriage was to actor James Dunn in 1938 and it ended in divorce four years later, probably because of his chronic drinking problem. Virtually unemployable, he had been thrown a life line in 1945 and even won an Oscar for his performance in A Tree Grows in Brooklyn, but within six years he was again unemployed and broke.
With husband James Dunn
In 1948 Frances suffered severe head injuries in an automobile accident and never fully recovered, mentally or physically. By 1953 her career was over at the age of 34. Her mental condition continued to deteriorate until she was eventually admitted to the Camarillo State Hospital in 1958 where she remained a patient for another 20 years. Released in 1978, she worked in a public library for a while, her days as a movie star long forgotten. She passed away in 1994 from emphysema at the age of 84.
00000
Director F W Murnau
Murnau with painter Henri Matisse  
Garbo                                                        
The 1931 feature Tabu: A Story of the South Seas was the final film directed by the 6'9" German director Friedrich Murnau. He was better known as F W Murnau during his Hollywood days which were mostly in the silent era. The picture was released just 5 months after his tragic (though quite avoidable) death in a motor accident. It seems the driver of the vehicle in which he was a passenger, (his African-American houseboy in fact), became fatally distracted when F W chose to fellate him while he was at the wheel! The car crashed, Friedrich joined that great silent fraternity in the sky, and his houseboy was suddenly unemployed. Although the details of FW's demise were soon known to many people, the various publicity machines in Hollywood went to work to keep the sordid details out of the press. Only eleven people attended his funeral. Everyone else, especially celebrities, stayed away in droves, not wishing to be connected in any way by the media to anything of a homosexual nature. Greta Garbo held no such fears. She turned up to pay her respects because she had always liked the man.
00000
Alexa Kenin
The part of Jena in the Molly Ringwold film Pretty in Pink (1986) was played by 23 year-old Alexa Kenin. She was found dead in New York City shortly after completing her final film Animal Behaviour, also in 1985. There has been a lot of conjecture since that she was murdered, either by her boyfriend or a fan, but that appears to be totally incorrect. Family friends have since stated that she died from an asthma attack possibly brought on by a drug overdose. Possibly.
00000
    Barbara in a typical role
In Sweet Smell of Success                                                       
Barbara Nichols played the cigarette girl who was used and abused by Tony Curtis's character in the superb 1957 drama Sweet Smell of Success. And she was good too. A stripper before she got into acting, she probably felt a connection with portraying floozies in her films, girls with names like Dolly, Mimi, even Poopsie (in The Pajama Game (1957)). Her first screen appearance was as a dancehall girl in the Marilyn Monroe western River of no Return in 1950. She had a voluptuous figure, but was not quite pretty enough to land starring roles. In 1957 a serious car accident on Long Island brought about the removal of her spleen. Another bad accident in Southern California in the sixties caused serious liver damage and her health suffered from that time onwards. Although dogged by illness she continued to work (mostly in television), but her condition deteriorated. Barbara Nichols passed away in 1976, at the age of 47, following a long coma induced by liver complications.
00000
Victor Kilian
Three years before his death Victor Kilian became well known on television for his portrayal of Raymond Larkin, the libidinous grandfather in the Mary Hartman, Mary Hartman series. Back in 1942 he lost the sight in one eye during a scene in John Wayne's Reap the Wild Wind. During the Communist witch hunts of the fifties he was blacklisted for his political beliefs, causing him to return to his acting roots on the New York Stage. In 1979 the 88 year-old actor was beaten to death by burglars ransacking his Hollywood apartment.
Debralee Scott
The role of Cathy Shumway in the same series was played by Debralee Scott. Her family said she drank herself to death after her fiancée, a New York policeman named Dennis Levi, was trapped in the World Trade Center and died on 9/11. His mother stated that Debralee began drinking to handle her grief and ultimately passed away in 2005 from cirrhosis of the liver at the age of 52. Fans of Police Academy may recall her playing Cadet Fackler.
00000
Lauren as 'Kitten' in Father Knows Best
Lauren today
Jennifer Love Hewitt
Lauren Chapin is best known to baby-boomers as the child actress who played 'Kitten' in 67 episodes of the 60s TV series Father Knows Best. After the series folded in 1960 her life slid downhill at an alarming rate. Her mother descended into alcoholism and her father regularly molested the girl. At the age of 16 she quickly married an auto mechanic, but by her seventeenth birthday she had suffered the first of eight miscarriages and the couple divorced after five years. Lauren's new boyfriend hooked her on heroin and pushed her into prostitution where she turned tricks at $1,000 a time to feed her habit. She attempted suicide, even tried to chop off her hand with a meat cleaver at one time, and was institutionalized for a while. It was not until 1973, when she gave birth to the first of her two children, that she began to turn her life around. Then, in 1979, she found religion and is now an ordained Evangelist as well as a much sought after keynote speaker. Today she manages actors and singers. Jennifer Love Hewitt got her show business start through Lauren.