There have been many, many Hollywood musicals made since talkies began, but those composed by the brilliant combination of Richard Rodgers and Oscar Hammerstein II hold a special place in the hearts of millions of movie-goers. Although both men created several musicals with other partners during their careers, together they collaborated to bring seven to the screen – Oklahoma! Carousel, State Fair, South Pacific, The King And I, Flower Drum Song and The Sound Of Music.
I should say at the outset that I consider South Pacific (1958) to be the best of the seven for one reason only. The songs. Unfortunately, director Joshua Logan chose to experiment with a recent invention, the color-filter, and the results were extremely disappointing. In fact, he was as disillusioned with the result as everyone else, but South Pacific was a 'roadshow' picture, so there was no time left to re-shoot as tickets had been booked months in advance. Unlike the other six Rodgers and Hammerstein theatrical productions, this remains the only one to reach the screen with all its songs intact. It even had one extra. 'My Girl Back Home' was added for the movie and it was a good decision to do so. The starring role of Nellie Forbush was much sought after. Logan's first choice was Elizabeth Taylor who was at the peak of her considerable beauty, but she was completely devoid of a singing voice. Judy Garland, Audrey Hepburn, Ginger Rogers and Doris Day were all auditioned but without success. It was quite a surprise when Mitzi Gaynor got the role. Many people assumed that Mitzi's singing was dubbed and everyone else sang their own songs. In fact, it was the other way round. Rossano Brazzi who played Emile, John Kerr who played Lieutenant Cable, Ken Clark who played Stewpot, and even Juanita Hall who played Bloody Mary, were all dubbed by others. Mitzi was trained as an opera singer and had sang in several musicals. She was also a concert singer and often performed at Academy Awards ceremonies.
use of the new color filter partially ruined the picture
This is Juanita Hall miming 'Bali Hai'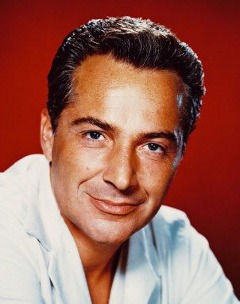 Rossano Brazzi
Mitzi Gaynor belting out 'A Cock-eyed Optimist'
Ken Clark (Stewpot) mouthing the
words to 'There is Nuthin' Like a Dame'
Gorgeous France Nuyen played Liat and had still not learned to speak English when production commenced. She spoke French, so the only member of the cast she could converse with was the Italian actor Rossano Brazzi who was tri-lingual. France came to Hollywood's attention when she appeared on the cover of Life magazine in October 1956 after being discovered lying on a beach. Marlon Brando and she were briefly involved in the early fifties, the 'mumbling one' living up to his reputation for chasing (and catching) Asian beauties. In 1967 she wed Robert Culp whom she met when she appeared in four episodes of his TV series I Spy, the union ending in divorce three years later. A victim of child abuse herself, Miss Nuyen earned a master's degree in clinical psychology in 1986, becoming a psychological counsellor for abused women and children, her work in that area culminating in a Woman of the Year award in 1989.
the stunning France Nuyen as Liat
The love scenes between France Nuyen and John Kerr were greatly resented by many cinema-goers in the fifties, especially those in America's Deep South who also pressured Rodgers and Hammerstein to remove the anti-racism song 'You've Got To Be Carefully Taught'. To their credit the duo steadfastly stuck to their guns and left it in. Today, the racial issues concerning the relationships between Nellie and Emile and Cable and Liat seem pretty silly and trivial, but in the fifties they were a big deal.
Inter-racial love – Lt. Cable & Liat
Racists just about had kittens over this scene
My mother took me to see South Pacific at the theatre when it first came out and we experienced 'Smellorama' for the first and last time. Frangipani scent was wafted through the cinema when the scene shifted to Bali Hai. Nice. I think the experiment proved too costly, however, and was short-lived. Besides, how many movies have tropical island settings? For what it is worth, even at age eleven, I could not for the life of me understand why Lt. Cable could not bring himself to marry Liat. I thought he was an idiot. Still do.
John Kerr bore a striking resemblance to aviator Charles Lindbergh yet he turned down an offer to play the legendary airman in the 1957 biopic The Spirit of St Louis. Kerr had become totally disillusioned with Lindbergh because of the man's sympathetic support of the Nazi regime in Germany prior to World War Two. From 1970 until his retirement in 2000 Kerr practiced law in Encino, California. He passed away in 2013 at 82.
John Kerr
Charles Lindbergh
The 1956 movie version of the musical The King And I  has its basis in the employment of a widowed governess named Anna Leonowens by the former King Mongkut of Siam. He wished to have his 39 wives and concubines, as well as his 82 children, given a modern western education along scientific secular lines. Anna was suggested for the job by the Siamese Consul in Singapore and accepted the position. She and her husband, Thomas, had been living at Lynton in Western Australia (near the Hutt River) where he worked for the Commissariat at the Lynton Convict Depot from 1855 until 1857. The family then moved to Penang where Thomas suddenly died from apoplexy in 1859.
Anna Leonowens circa 1860
King Mongkut
In 1862, the 31 year-old Anna took up her position, first as governess and later as language secretary to the 58 year-old king, serving in those capacities for nearly six years. The conditions of her employment were seldom to her satisfaction and she voiced her dissatisfaction regularly. The king found her to be 'difficult'. In 1868 she took leave for her health and went to England. The king passed away while she was there. Both Anna and her son were mentioned in his will, but were left no legacy of any kind. And that was the extent of their relationship. Whatever else we read into it can be attributed to the movies, particularly The King And I, and the inferences implied by over-imaginative screenwriters.
The Thai people hold their royalty in very high esteem, far higher than do Hollywood movie-makers of course. The Thais considered any hint of romance between Anna and the king to be highly disrespectful. Consequently, this musical was initially banned from being screened in Thailand (modern day Siam). In 1951 Rodgers and Hammerstein's The King And I opened on Broadway, starring Yul Brynner and Gertrude Lawrence, and ran for 1,246 performances. The equally popular movie followed in 1956, minus Miss Lawrence who had fallen mortally ill. Deborah Kerr replaced her on the screen. Surprisingly, the Thai people had given the go ahead to the 1946 dramatization of Anna And The King Of Siam starring Irene Dunne and Rex Harrison, but Yul Brynner's polka-dancing, comedic King Mongkut who has the hots for an English commoner was altogether too much and the picture was unceremoniously banned. In 1960 King Bhumibol, Mongkut's great-grandson, described reviews of the musical's depiction of his predecessor as 'about 90% exaggerated'. His wife, Queen Sirikit, actually went to see it for herself, after being invited to do so by Brynner in 1985 shortly before his death from lung cancer. The Thai Ambassador to the USA must have seen it with her, for he blasted the thing as a 'barely hidden insult on the whole Siamese nation as childish and inferior to Westerners.'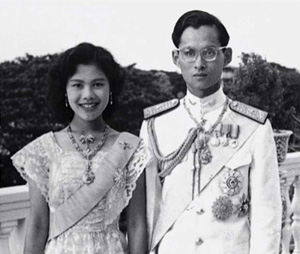 Sirkit & Bhumibol – their wedding
in later years
The 1999 film Anna And The King, starring Jodie Foster and Chow-Yun-fat, was also banned by Thai censors, one Thai critic accusing the film-makers of making King Mongkut 'appear like a cowboy'. This interpretation of the story is a straight out romance between the king and Anna, both of them much younger (and better looking) than their real life counterparts. It seems to be only a question of time before some Hollywood dude with more money than taste will have Anna and the king rolling in the hay – 'a buffo'! I can hardly wait. The powers that be in the movie industry of America continually try to convince the Thai people that Hollywood's version of history will one day be palatable to them, if only they can bring themselves to turn their backs on tradition and their own history.
1999's Anna and the King
All that is missing is a sex scene.