If the executives at Warner Bros. had their way it is very likely that Blazing Saddles might never have seen the light of day. They watched a private screening and none of them laughed at any part of it. Director and creator Mel Brooks then showed it to Warners employees and they laughed uproariously throughout the screening, convincing head office to take a chance with it. The picture was budgeted at around $2.5 million and raked in a colossal $120 million in the USA alone!
When shooting was about to commence Madeline Kahn was actually playing Agnes Gooch in the diabolical Lucille Ball movie Mame. Lucy always said that Kahn deliberately acted poorly enough to get herself fired from Mame just so she could play Lili von Shtupp in Blazing Saddles. Her contract would not allow her to quit and still be paid so she contrived to get herself fired, thus enabling her to be paid a salary for both pictures. In 1999 Madeline died from ovarian cancer. She was 57.
Madeline Kahn as Lili von Shtupp
Gig Young was signed to play the Waco Kid, but he suffered a physical collapse on day one of shooting. When he acknowledged that his chronic drinking problem was responsible Mel Brooks had him replaced by Gene Wilder. Young later sued Warner Bros. for breach of contract. I suppose it is a matter of personal taste, but I thought Wilder was simply not funny, (not in this picture or any other for that matter), but he enjoyed a strong career, so maybe it is just me. Four years after Blazing Saddles made it to the screen Gig Young shot his young wife and then turned the gun on himself. She was just 31, he 65. No-one knows why he did this. The couple had been wed just 22 days.
Gig Young
Gene Wilder as The Waco Kid
A lesser known actor in Blazing Saddles was Alex Karras, a man who is immortalized for doing something on camera that had never been done before. His character, Mongo, punched out a horse! Fans of the 1981 teenager cult comedy Porky's will also remember him as Sheriff Wallace, Porky's corrupt brother. For 32 years, until his death from kidney failure in 2012, he was married to popular actress Susan Clark. She, too, was in Porky's playing the hooker Cherry Forever. She also starred opposite Clint Eastwood in Coogan's Bluff in 1968.
Alex Karras as Mongo
punching out a horse in Blazing Saddles
Susan Clark
Originally, James Earl Jones (later to become the voice of Darth Vader in Star Wars) was the choice to play Sheriff Bart, but Brooks switched his preference to Richard Pryor. The problem was, however, that Pryor's stand-up comedy routines were so controversial at the time that it became impossible to gain financial backing for the picture with him in the role. Reluctantly, Brooks hired Cleavon Little instead and he was most effective in the role. Sadly, Little would pass away at 53 from colon cancer in 1992.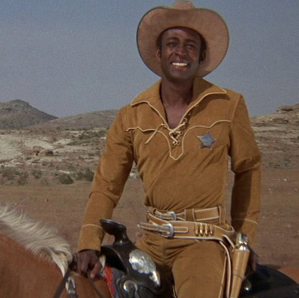 Cleavon Little as Sheriff Bart
Brooks would have loved to have been able to talk John Wayne into participating in the movie. He even claims he put it to the Duke. According to Mel, Wayne turned him down, saying, 'Naw, I can't do a movie like that, but I'll be first in line to see it!' Well, maybe. The Duke treated the western with a certain degree of 'reverence'. I doubt very much if a cowboy flick full of off-color jokes, gay characters, racism, farting and Yiddish-speaking Indians would have appealed to him at all. But I could be wrong.
Blazing Saddles certainly had some hilarious moments. It also had a lot of downright amateurish dull spots. It was what critics would probably describe as 'uneven'. Personally, I doubt the credentials of a movie whose greatest claim to immortality is a 'farting scene'. I can't help thinking that the bean-counters took note of the general public's wild appreciation of that scene, the result of which has been a plethora of movies since then that contain someone (or something) passing wind. Thanks Mel. Even Disney movies do it! Who needs witty dialogue any more? If the story is getting bogged down, just toss in a fart. The audience will love it. I must be getting old.
Movie stars who dodged death.
When poor Sharon Tate and her guests were slaughtered by the Manson Gang on 9 August 1969 all Hollywood shuddered. Steve McQueen, actresses Joanna Pettet and Barbara Lewis, and Sharon's own sisters Debra and Patti had reason to shudder more than most, for they could easily have been present that evening but for the element of chance. McQueen was a friend of Sharon's hairdresser Jay Sebring who invited him for dinner that evening at Sharon's soon to be notorious 10050 Cielo Drive home. Sebring had once been engaged to her and they were still close friends. That friendship would ultimately cost him his life. McQueen was actually on his way to the house when he picked up a mystery woman in his car and opted to skip dinner at Sharon's and spend the night at a hotel with the woman instead. Weeks later it emerged that his name was at the top of Charles Manson's celebrity death list! From that time onwards he took to carrying a concealed weapon.
Sharon & Jay Sebring
Steve McQueen in Bullitt
Actresses Joanna Pettet and Barbara Lewis also just avoided becoming a statistics of the same crime. They were at the Benedict Canyon home on the afternoon of August 8, but chose not to stay on for dinner that evening. Debra Tate, Sharon's youngest sister, rang that afternoon and asked if she and Patti (another sister) could come for dinner and sleep over. Sharon asked them to choose another day in the near future.
Joanna Pettet
Singer Barbara Lewis
Another actress who narrowly avoided becoming a victim of a different crime was Sex and the City star Kim Cattrall. In 1988 she purchased an airline ticket for Pan Am Flight 103, but cancelled it at the last minute to dash back to Harrad's in London to buy her mother a particular teapot for Christmas. She took a later flight and was told of the fate of Pan Am 103 on her arrival in New York City. It had exploded over the Scottish town of Lockerbie, killing everyone on board and eleven people on the ground.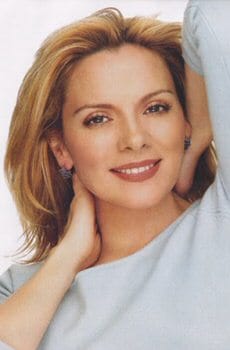 Kim Cattrall
There were some narrow escapes on September 11, 2001 as well. Seth MacFarlane (A Million Ways to Die in the West) actually booked a seat on Flight 11 on that fateful day. However, his agent got the take-off time wrong and Seth missed his flight. Soon afterwards it crashed into the North Tower of the WTC. Mark Wahlberg planned to take that same flight, but changed his mind and attended a film festival in Toronto. Rob Lowe claimed he was aboard a flight eleven days before 9/11, unaware that he was flying with the hijackers who were doing a 'dummy run' prior to the real thing. Lowe, however, seems to be confused about which doomed flight that was, saying it was Flight 93 which he said flew into the Pentagon on 9/11. Flight 93 was the one that crashed in Pennsylvania.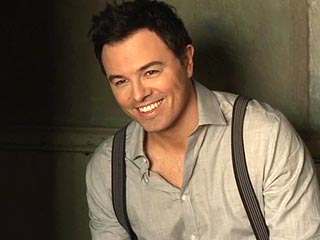 Seth MacFarlane
Mark Wahlberg
Rob Lowe
Hollywood has always had stories of stars dying through tragic slices of bad luck or ill-fated timing. Could Jimmy Dean still be alive today had the driver of the car that hit him noticed his Porsche Spyder in time? If a coin toss had come down the other way Carole Lombard would have taken the train instead of the doomed flight she boarded. Had Leslie Howard chosen any other flight out of Lisbon that day in 1943 he might not have been shot down over the Bay of Biscay in a chance encounter with German fighters. A small mechanical issue cost John Denver his life when his homebuilt plane crashed into Monterey Bay in 1997. If an on-board heater hadn't short-circuited Ricky Nelson's plane would not have crashed in 1985 and he might still be alive today. Some, it seems, have luck on their side, others do not.