2010    Natalie Portman played a schizophrenic ballet dancer in Black Swan. This would become the first of five consecutive Best Actress Oscars going to portrayals of characters with mental illnesses. Natalie trained for an entire year (at her own expense) as a dancer for this role. She also lost 20 pounds in weight in her quest to look more like a dancer. In spite of claims to the contrary by her dance double, Natalie performed around 80% of her character's dancing in the picture.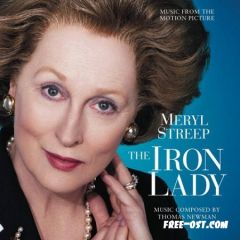 2011    Meryl Streep played former British Prime Minister Margaret Thatcher in The Iron Lady in her dotage when she was suffering from dementia. Streep spent many months watching broadcasts of Thatcher, in order to capture her mannerisms and speech patterns. She also spoke with dozens of people who had worked with her, as well as with former Labor Party leader Neil Kinnock who faced the 'Iron Lady' in the House of Commons for seven years.
2012    Jennifer Lawrence played a girl with neurosis in Silver Linings Playbook. Jennifer recalled being star struck on the set when she first encountered a group that included Robert De Niro, Bradley Cooper and Jacki Weaver. 'Robert De Niro is standing right next to Jacki Weaver', she remembered. 'And I go straight to Jacki and am like: 'Oh my God, I love Animal Kingdom (2010)! I love you.' Probably a 'first' for De Niro.
2013    Cate Blanchett played a socialite who suffers a mental breakdown in Blue Jasmine. Up to now (Sept 2015), this is the only Woody Allen movie in which two principal American characters are not played by Americans. Australian star Cate Blanchett and Britain's Sally Hawkins were chosen instead. Disturbingly, there are essential similarities between Woody Allen's screenplay and Tennessee Williams' A Streetcar Named Desire. Woody's 2005 film Match Point appears to have taken plot similarities from Theodore Dreiser's An American Tragedy as well, yet he does not acknowledge either author. Allen's screenplays were Oscar nominated also. Curious.
2014    Eddie Redmayne played Stephen Hawking in The Theory of Everything, the man deemed by his peers today to be the successor to Albert Einstein. He suffers from motor neurone disease. Redmayne's astonishing performance, suffering as Hawking's muscles continue to deteriorate is even more incredible when we consider that the picture was not shot in sequence. He had to adjust to whichever stage of decline his character was experiencing on any given day of shooting.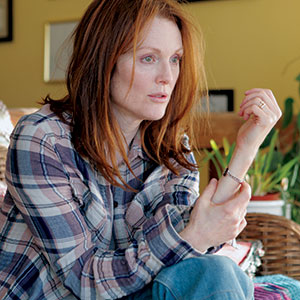 2014    Julianne Moore played a woman with Alzheimer's disease in Still Alice (2014). This cruel disease is terrible to behold in anyone, yet it seems even crueller when it strikes down a woman like Alice Howland who is also a linguistics professor by profession. Moore's outstanding performance won the acting Quintuple Crown – the Golden Globe Award, the Screen Actors Guild Award, Critic's Choice Award, BAFTA Award and the Academy Award.
SUPPORTING ACTORS
There have also been a handful of Supporting Oscars that have gone to actors in these types of roles as well. Not a lot, however, as it appears that most pictures involving handicapped, afflicted or ill individuals usually draw the leading roles.
1939    Thomas Mitchell played an alcoholic in Stagecoach. Mitchell was a close friend of notorious rake John Barrymore, part of his circle of Hollywood entourage of drinkers and raconteurs. Others included Errol Flynn, Anthony Quinn and W.C. Fields. He gave up alcohol two years prior to taking this role in Stagecoach.
1945    James Dunn played an alcoholic in A Tree Grows in Brooklyn. Dunn was one of those tragic Hollywood tales we hear about every now and then. Throughout the thirties he was in demand as the wholesome 'boy next door' type, but his descent into alcoholism wrecked his career. He was more or less down and out when Elia Kazan tossed him a lifeline, asking him to play a character he knew well, an alcoholic, in this acclaimed movie. He took the opportunity in both hands, even winning an Oscar for his portrayal, but he never much got above a few TV spots for the remainder of his career. He died in 1967.
1946    Harold Russell (a real life double amputee) played an amputee in The Best Years of Our Lives. At the Academy Awards this year it was decided to award a special Oscar to Harold in recognition of the sacrifice he made for his country. To the surprise of the Academy, however, he also won in the Supporting Actor category, making him the only actor in AA history to receive two statuettes for the one performance.
1948    Claire Trevor played an alcoholic in Key Largo. Director John Huston was an artist at his trade, but he was also quite willing to emotionally manipulate his actors if he thought it would aid their performances. He knew Claire had not yet rehearsed the song she was required to sing, so (out of the blue) he ordered her to sing it one morning in front of the entire crew and her peers. The result was a terribly nervous rendition, precisely what Huston was looking for. Incidentally, her character, Gaye Dawn, was based on Lucky Luciano's real life girlfriend Gay Orlova.
1956    Dorothy Malone played an alcoholic in Written on the Wind. Like so many young actresses, Dorothy arrived in Hollywood after winning a beauty contest. She certainly was a stunner, although her thespian ability was extremely limited as evidenced by the fact that she is best remembered today for playing Constance Mackenzie on TV's Peyton Place in the sixties. Playing an alcoholic surely helped her pick up an Oscar for Written On The Wind.
1962    Patty Duke (r) played blind and deaf Helen Keller in The Miracle Worker. She had been playing Keller on stage for more than a year when the picture came up, but there was a problem. She was now 15 years old, far too long in the tooth to convincingly portray a seven year old Helen on screen. Only after Anne Bancroft was selected to reprise her Tony Award winning role as Anne Sullivan was it decided to stick with the proven formula of Bancroft and Duke.
1970    John Mills played a mentally impaired man in Ryan's Daughter. The movie is slow and dull. In fact, it has very little going for it at all, and that includes the ordinary performance by John Mills that (somehow) won him an Oscar. I doubt very much if even he thought this was one of his best portrayals.
2013    Jared Leto played a drug addict suffering from HIV/AIDS in Dallas Buyers Club. Matthew McConaughey lost 47 pounds for his role here. Leto lost 30 pounds for his. These days we regularly see actors starving themselves for their art. What happened to good old acting?