1991    Anthony Hopkins played a cannibal in The Silence of the Lambs. I suppose you could class cannibalism as some kind of affliction or disease. It certainly isn't normal behaviour. Hopkins only appeared on screen for 24 minutes 52 seconds, the second shortest time ever for an actor to win an Oscar in the Best Actor in a Leading Role category. David Niven's Separate Tables (1958) performance was a minute shorter in duration.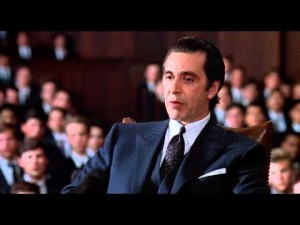 1992    Al Pacino played a blind man in Scent of a Woman. He made himself appear blind by not allowing his eyes to focus on anything. Given Pacino's obvious talent, it is sobering to note that he missed out on an Oscar seven times before his eighth nomination (for this picture) finally paid dividends. It still remains a tragedy that he was not even nominated in the Best Actor category for The Godfather (1972)
1993    Tom Hanks played a sufferer from HIV/AIDS in Philadelphia. In order to appear appropriately gaunt for the courtroom scenes, Hanks was required to lose nearly 30 pounds. To aid this haggard (by comparison) look, his lawyer, Denzel Washington, was told to gain several pounds, which he did, often consuming chocolate bars in front of a 'starving' Hanks. An urban legend began that of the 53 gay men suffering from HIV positive appearing in the movie, 43 of them died within 12 months. Most of them did indeed eventually die over the next few years, however.
1993    Holly Hunter played a mute woman in The Piano. If an actress (or actor for that matter) appears in a musical but mimes to someone else's voice, his or her performance is considered to be only half a performance and not worthy of an Oscar. However, if he or she plays a mute and is, consequently, not required to utter a word, that rule no longer applies. It is still considered a complete performance. If someone contributing the singing to a performance is enough to veto an Oscar chance for the star being aided, then why does that rule not apply to action stars who have stuntmen standing in for them all the time? Holly Hunter's performance here was 'nice', and she is a fine actress anyway, but was it worthy of a Best Actress award?
1994    Tom Hanks played a retarded young man in Forrest Gump. This picture had Oscar written all over it, mainly because it was highly unusual and tried a couple of ground-breaking ideas. Add Hanks to the mix and bingo! Tom is not only a smart actor. He is a smart businessman as well, opting to forego any salary for the film, preferring instead to take percentage points of its gross earnings. Result: he picked up a cool $40 million for it. As a point of interest, an uncredited Kurt Russell supplies the voice for Elvis.
1994    Jessica Lange played a woman with mental illness in Blue Sky. Completed in 1991, the picture was shelved for three years because its distribution company Orion Pictures went bankrupt. At 42 Jessica appears topless in this movie, if that kind of thing interests you. Blue Sky gave Jessica her second Oscar, the first being for Tootsie (1982). I am still trying to figure out why she won for that picture.
1996    Geoffrey Rush played a manic depressive in Shine. Pianist David Helfgott was pressured into a breakdown by his father and teachers. This picture is about how he came back from this to acquire considerable public acclaim (not critical acclaim I might add). Even so, Helfgott's extraordinary courage to overcome seemingly insurmountable setbacks provides us with an inspirational, delightful film. It also provided the brilliant Geoffrey Rush with his breakout role, and not before time either. Since then he has gone from strength to strength to become one of the premier actors in movies today.
1997    Jack Nicholson played an obsessive compulsive in As Good As It Gets. When Jack appeared on stage at the Oscars to receive his statuette he tip-toed over the cracks between the tiles, just as his character Melvin Udall would have done. The dog that played Verdell (actually six dogs played him), was made to step over cracks in the pavement by placing obstacles in the cracks, obstacles that were later removed digitally in post-production. The part of Jackie Simpson, Simon's assistant, is played by a lady named Yeardley Smith. Fans of The Simpsons would know she supplies the voice for Lisa Simpson.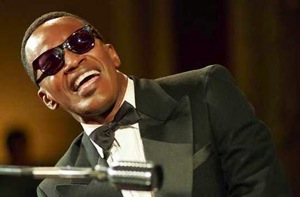 2004    Jamie Foxx played blind singer Ray Charles in Ray. Director Taylor Hackford deliberately ended his film when its subject (Charles), was just 49 years old, because from that time onwards he had no more major problems – just success. Foxx did all his own piano-playing in the movie. Charles died from liver failure in June 2004, just after filming had completed. He did, however, get to see one edited version of the movie before his death.
2009    Jeff Bridges played an alcoholic in Crazy Heart. Bridges is Otis 'Bad' Blake, a four (or five) times married country and western singer who is 57 years old and still drinking too much. He meets a young woman who starts to turn his life around. Is it my imagination, or do 90% of country and western singers have a drinking problem? Or is it that movie studios only make pictures about the ones that do? Frankly, I cannot be bothered with films about talented individuals with substance abuse issues. Most of us are not blessed with genuine talent, hence it is hard for some of us to have any sympathy for those who are blessed with it, yet choose to wallow in the bottom of a bottle or on the end of a needle instead of making the most of their assets
2010    Colin Firth played a British king with a speech impediment in The King's Speech. This film is an Australian co-production, which makes it the first Australian film to win the Best Picture Academy Award. Geoffrey Rush played speech therapist Lionel Logue. The exchange between Logue and the King following the King's speech, went like this: 'You still stammered on the 'W'', said Logue. 'Well, I had to throw in a few so they knew it was me', replied the King. This exchange was discovered among letters between Logue and the King, and Colin Firth insisted it be included in the script.
2013    Matthew McConaughey played a man suffering from HIV/AIDS in Dallas Buyers Club. McConaughey actually lost forty-seven pounds as an AIDS patient making this movie. Ron Woodroof is a heavy smoking, hard drinking, cocaine-snorting, homophobic, racist rodeo rider. And he is kind of the hero here. It is that sort of movie. Not everyone's cup of tea, but Matt is good as usual.