Since Academy Awards have been introduced there have been, by my count, 32 Best Actor or Best Actress Oscars won by players portraying someone with a medical condition or an affliction. No wonder actors go after these roles with a vengeance. They know that a strong performance will almost certainly earn them a nomination and, most likely, a statuette. Below are listed the first 16 of the 32 winners thus far:
1945    Ray Milland played an alcoholic in The Lost Weekend. The director Billy Wilder said that the liquor industry offered Paramount $5 million not to release it, convinced that such a theme could turn millions off drinking. Milland's Best Actor acceptance speech has to be the shortest on record, for he simply acknowledged the applause before walking off without saying a word.
1948    Jane Wyman played a deaf mute girl in Johnny Belinda. Miss Wyman was a woman of few words it seems. Her acceptance speech for the Best Actress Oscar amounted to just 16 words: 'I won this award by keeping my mouth shut and I think I'll do it again.'
1950    Jose Ferrer played a facially deformed man in Cyrano de Bergerac. As tends to happen more often than one would expect, the original holder of the copyright failed to renew in time, so the novie fell into public domain. This meant that anyone could churn out copies of it, regardless of their quality, and sell them to the general public. Today, there are probably more lousy copies than original prints in circulation, which is a pity because Ferrer is quite memorable in his Oscar-winning role. His false nose was said to have cost United Artists $1,500.
1956    Ingrid Bergman played an amnesiac named Anna Anderson in Anastasia, a woman who claimed all her life to be the Russian Grand Duchess Anastasia. At the time this movie was shot 'experts' had deemed Anna's handwriting to be identical with Anastasia's. Even medical experts found 17 points of similarity between the two women's ears, but once DNA testing arrived the issue was quickly put to rest. Anna Anderson was not Anastasia.
1957    Joanne Woodward played a woman suffering from multiple personality disorder in The Three Faces of Eve. Christine Sizemore was the name of the real Eve. She signed a contract with the studio to enable the picture to be made, but then someone at the studio insisted that she re-enter each of her three personalities and sign one copy with the signature of each, just to cover any backlash from her in future if any one of her personalities had a change of heart.
1965    Lee Marvin played alcoholic gunfighter Kid Shaleen in Cat Ballou, one of the funniest characterizations in cinema history. Indeed, for a man who started his screen career playing heavies in dark dramas, Marvin developed a real flair for comedy. His Ben Rumson in Paint Your Wagon (1969), another alcoholic, was equally humorous if not more so, but the movie flopped in America, so he returned to drama for the remaining 17 years of his career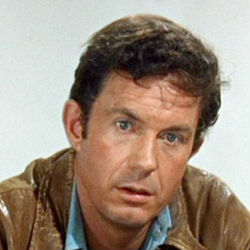 1968    Cliff Robertson played an intellectually disabled man in Charly. Seven years earlier Robertson purchased the rights to the story by Daniel Keyes, so he was always going to play the lead if it ever became a movie. On Oscars night he was unable to attend, stuck in the Philippines making Too Late The Hero. Budget restraints forbade him taking time off from the set to return home for the awards.
21 y.o Kim Darby
1969    John Wayne played Rooster Cogburn, a one-eyed alcoholic lawman in True Grit. This was not a happy shoot. Director Henry Hathaway did not get along with Glen Campbell or the leading lady Kim Darby. Wayne hated Darby's performance and her lack of professionalism. He also became infuriated with method actor Robert Duvall who constantly argued with Hathaway. In fact the two actors almost came to blows. Darby, on the other hand, said that the Duke was 'wonderful to work with', but that she would never work with Hathaway again, no matter what. Incidentally, she plays 14 year-old Mattie Ross, even though she was 21 years old at the time and already given birth to her first child.
1975    Jack Nicholson played a recidivist in One Flew Over The Cuckoo's Nest. It Happened One Night won the Grand Slam of Oscars in 1934, and this movie became the second to do so. The Grand Slam is considered to be Best Picture, Best Director, Best Adapted Screenplay, Best Actor and Best Actress. Brad Dourif also picked up a Best Supporting Actor Academy Award for playing – you guessed it – a mental patient.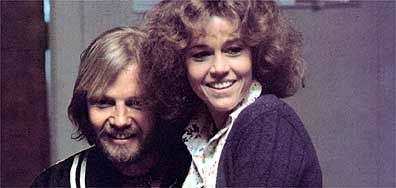 1978    Jon Voight played a paralyzed war veteran in Coming Home. This film was made the same year as another Vietnam War protest movie The Deer Hunter, and both were nominated for Best Picture. The latter inexcusably won. Voight's co-star Jane Fonda, a staunch opponent of the war, described The Deer Hunter as a racist film that gave the American people the 'official version' of the Vietnam War. And she was right. Voight won his Oscar after Sylvester Stallone, Jack Nicholson and Al Pacino had all turned down the role.
1981    Henry Fonda played an elderly man with early signs of dementia in On Golden Pond. At 76 years and 317 days Fonda became the oldest actor ever to win the Best Actor Academy Award, indeed the only actor in his seventies to do so (as of June 2015). George Burns won a Supporting Actor Oscar at 80 years and 69 days for The Sunshine Boys (1975). Surprisingly, despite being icons of the movie scene for decades, Henry and his co-star Katharine Hepburn had never even met until they made On Golden Pond together.
1983    Robert Duvall played an alcoholic in Tender Mercies. Before any of them became famous, Duvall, Dustin Hoffman and Gene Hackman shared an apartment in New York City. Both Duvall and Hackman are short-tempered individuals, so altercations were frequent. It would be fair to say that Duvall has so much ability that he did not need to play an alcoholic to win an Oscar. But life can be unfair, especially in Hollywood. His acclaimed portrayal of Gus in the TV mini-series Lonesome Dove makes every other western character depicted on the screen look second-rate, yet he was not even awarded an Emmy for it, something that still disappoints him to this day – as well it should.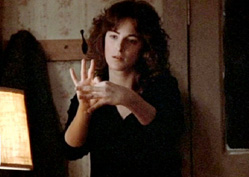 1986    Marlee Matlin played a deaf woman in Children of a Lesser God. Unlike Johnny Belinda, The Miracle Worker and The Heart Is A Lonely Hunter, this picture used genuinely deaf and hearing impaired actors and actresses in the roles, including Miss Matlin. At 21 years and 218 days she became the youngest ever recipient of a Best Actress Oscar. She and co-star William Hurt fell in love while making the picture, Matlin moving in with him at its completion, but it did not last. In her autobiography she accused Hurt of physically abusing her. All bar a single sentence in Matlin's performance is conducted in American Sign Language, something the actress was totally familiar with.
1988    Dustin Hoffman played an autistic in Rain Man. Originally, Tom Cruise had the part, but once he had read the script Hoffman managed to get their roles reversed. When he won the Best Actor Oscar for it Hoffman embraced his former room-mate Gene Hackman on his way to the podium (he had just beaten Hackman who was nominated for Mississippi Burning), and mentioned him with affection in his acceptance speech. It may have been an oversight, but he did not mention Cruise at all. Looking at the still above, I just noticed the remarkable resemblance between Hoffman back then in '88 and Cruise today. They could easily pass for brothers in my opinion.
1989    Daniel Day-Lewis played Christy Brown, a man suffering from cerebral palsy in My Left Foot. The title stems from Brown's left foot being his only limb that was still usable. Hence, he both wrote and painted with it. Day-Lewis frustrated cast and crew throughout the shoot by refusing to come out of character, not even at meal breaks, insisting that others help him with his food.
1990    Kathy Bates played a psychotic in Misery. Director Rob Reiner could not bring himself to ape the book and have Kathy Bates' character kill a cop by running him over repeatedly with a lawn-mower. He was afraid the audience would laugh. It does sound a bit silly when you think about it. Reiner also altered the scene where Bates cripples James Caan's character by breaking his ankles with a sledge hammer. In the book she hacks off his foot with an axe! The director thought that might be a bit much for audience consumption. I agree.
Next posting will feature the second sixteen.