The second part of 'Stolen Oscars?' commences with 1981. In part one I looked at 10 Oscar-winning movies that, in my opinion, were unworthy. Here are eight more:
1981    Chariots of Fire
Chariots of Fire was not a bad movie, but it was a long way from a great one. Every now and then a little, nondescript picture cleans up. This one looks at a couple of British runners at the 1924 Paris Olympics. Historically, it gets a lot of things wrong, as I discuss in my book Movies Based on True Stories (2015), but it is reasonably good entertainment.
My choice?      Raiders of the Lost Ark
'Raiders' also has its fair share of errors, but what a ride it is! When I first saw it back in '81 in England, I was astonished by the non-stop action. Thrill stacked upon thrill. No other movie to that time had done this. It was entertainment plus and it is still worth watching.
1982    Gandhi
I suppose it had to happen, (what with the Indian Government refusing to endorse the picture unless the script met with their approval), that this biography would present Gandhi as 'squeaky-clean'. The result, however, is a sanitized, lop-sided version of history. Kingsley is brilliant but the picture isn't.
My choice?      ET –The Extra –terrestrial
When  director Richard Attenborough headed for the podium to collect his Best Picture Oscar for Gandhi he paused to whisper to Spielberg that he should have won for ET, and he was right. This movie was ahead of its time and deserving of more recognition than it received.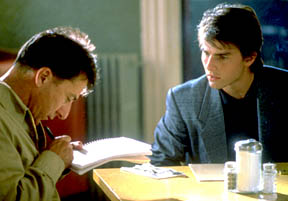 1988    Rain Man
The Best Picture Oscar for this picture was more about Dustin Hoffman's performance than it was for the picture itself, because the picture itself is pretty ordinary. Tom Cruise is good (he usually is), but no-one noticed. It was all about Hoffman.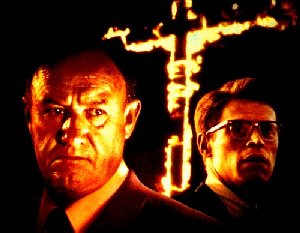 My choice?      Mississippi Burning
What a movie! Everybody, and I do mean everybody, in it is terrific. One of the all-time great Hollywood movies so, of course, the Academy members failed to acknowledge it. As usual, they were mesmerized by one of their peers tackling an affliction, so Rain Man kicked a goal.
1992    Unforgiven
Hollywood's love affair with director Clint Eastwood had to be rewarded, so this OK (but not great) film got the nod. How this western could be named Best Picture while, 36 years earlier, The Searchers could not even scramble a nomination, is something of a mystery.
My choice?      A Few Good Men
I cannot think of a single dull moment in this tremendous murder/courtroom drama. It has Jack Nicholson, Kevin Bacon, Kiefer Sutherland and Kevin Pollak, all in great form. Even Demi Moore is good. It also has a top notch performance from Tom Cruise, one totally ignored by the Academy and the critics. Wacky religion/politics aside, the guy is a seriously accomplished actor. About time they cut him some slack.
1994    Forrest Gump
Once again the Academy voters confused movie and performance. Hanks was extraordinary so the picture had to be extraordinary as well. It isn't.
My choice?      Pulp Fiction
For sheer surprises this film is unique. When I first saw it I kept making predictions about what was going to happen next, yet it was as if the writers anticipated this and went in a different direction every time. Nothing is formulaeic in this fabulous picture.
1995    Braveheart
An action flick, nothing more. Historically, it is as far from the truth as it is possible to get (see Movies Based on True Stories), and after a while the historian in me gives up the ghost. Added to this is the presence of one of Hollywood's least interesting actors in the lead.
My choice?      Apollo 13
Ronnie Howard achieves the impossible here. He makes a genuine thriller about an incident in history that we know has a happy ending, and that takes a very special talent to pull off. Needless to say all the performances are terrific. Movie-making at its finest.
1996    The English Patient
Throughout this tedious affair I found myself asking, 'why did they make it in slow motion?' I am still at a loss to understand how this boring, snail-paced story could possibly snag the Best Picture Oscar, especially when there was an all-time classic screaming out for recognition in the nominations.
My choice?      Fargo
Selecting The English Patient over Fargo is tantamount to selecting an Andy Warhol monstrosity over a Da Vinci. The Coen brothers are never dull or predictable. When they make a movie you remember it. Fargo is one of those pieces that gets better every time you see it.
1997    Titanic
The special effects are astounding. We get to see the Titanic sailing along in the middle of the day with people walking about its decks. We see it go down the plughole in breathtaking detail, just as if we were in a lifeboat watching the tragedy unfold in all its awesome horror. Unfortunately, we are also compelled to watch a ditzy romantic melodrama unfold. And as for having a young first class 'lady' of 1912 indulging in a hawking and spitting competition off the first-class deck in broad daylight, well…give me break please. Then, of course, we have the ludicrous situation whereby the lovebirds wallow about in ice-cold water for 45 minutes by my watch before the ship even sinks! Evidently, ice-cold water is only ice-cold outside the ship but not when it is inside.
My choice?      L.A. Confidential
Everything gels in this excellent murder/mystery based on factual incidents. Whereas Jack's and Rose's relationship was utterly unbelievable in Titanic, the characters in L.A. Confidential all seem very real indeed. One of the best tests of the quality of a movie lies in how much we care about the protagonists. In Titanic, by comparison, when faced with the iceberg and Jack and Rose, I found myself unconsciously barracking for the iceberg.
2008    Slumdog Millionaire
Why did this nothing movie win Best Picture? Did someone owe someone money? Mind you, 2008 was a pretty lousy year for movies, but I found two films that were more than passable. One was The Duchess, starring Keira Knightley and Ralph Fiennes. The other was my choice for Best Picture, although I doubt if anyone other than western aficionados or Viggo Mortensen fans will agree with me.
My choice?      Appaloosa
I admit I am partial to westerns, good westerns anyway, graced by fine actors. Viggo Mortensen and Ed Harris beautifully underplay here. The movie also has Jeremy Irons as an interesting villain and Lance Henriksen in a kind of cameo. The picture is worth watching just to see the interaction between the two stars. Both Mortensen and Harris are perfect as professional lawmen whose loyalty to one another is unshakeable yet unspoken. Superb characterizations.
In part three of 'Stolen Oscars' I shall look at individual Oscar-winners I think should not have won.