In 2010 Daniel Craig did something unique. He agreed to appear as James Bond before an estimated billion and a half television viewers in a sequence, opposite Queen Elizabeth II, as part of the Opening Ceremony for the London Olympics that year. 'She was great', he said. 'A really good sport. When they brought it to me, they'd already told her that I'd be doing it. I didn't have much of a choice.' A great many die-hard Bond fans are still opposed to him portraying their hero, presumably because they consider him too 'ugly' to play 007. Ugly or not, the man has had no trouble attracting beautiful women in his private life. For three years he lived with German-born beauty Heike Makatsch. Fans of Love Actually (2003) would recall her playing Mia, the office girl bent on seducing Alan Rickman's character. Since June 2011, he has been wed to the gorgeous Rachel Weisz, star of the 1999 comedy/thriller The Mummy, and Supporting Oscar winner for The Constant Gardener (2005).
Heike Makatsch in Love Actually
Rachel Weisz in The Mummy
(L to R) Roger Smith, Ed 'Kookie'Byrnes
and Efrem Zimbalist Jr.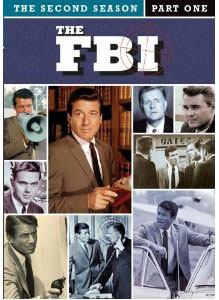 Today, it would probably be fair to say that only elderly fans of two TV series from the fifties and sixties would remember the name Efrem Zimbalist Junior. I refer to 77 Sunset Strip and The F.B.I. He played private eye Stu Bailey in the first of these popular series, and Inspector Lewis Erskine in the second. And he was very good in both of them. His father, Efrem Zimbalist Senior, was a world-renowned, Russian-born concert violinist, his mother Romanian opera singer Alma Gluck. Dad would live to the age of 94, Efrem Junior would make it to 95, passing away peacefully in his sleep in 2014. He served as an American soldier during World War Two and was severely wounded at Huertgen Forest. Surprisingly, he was a good friend of FBI Director J Edgar Hoover, a man who had very few friends indeed. Equally surprising, he was one of the earliest Hollywood practitioners and proponents of Transcendental Meditation under the Maharishi Mahesh Yogi, well before the Beatles made the man famous. Later Zimbalist converted to Christianity.
young Ollie Reed
Oliver Reed in his final film, Gladiator
Oliver Reed died in a bar in Valletta, Malta in 1999, at the age of 61, after suffering a massive heart attack brought on by binge-drinking. Drinking was scarcely a novelty for Hell-raiser Ollie, but this time he went too far. He consumed three bottles of Captain Morgan's Jamaica rum, 8 bottles of German beer, numerous doubles of Famous Grouse whiskey and Hennessy cognac, whilst taking on (and beating) five much younger Royal Navy sailors at arm-wrestling. The combination of excessive drinking and equally excessive exertion proved fatal. He was nearing completion of the film Gladiator at the time. His death caused director Ridley Scott to adjust the picture's script to cover the scenes Reed would never appear in.
Ann Sheridan
Ann Sheridan got into the movies at 19, because her sister entered her photograph in the 'Search for Beauty' quest at Paramount Studios in 1933. Before achieving stardom she was used as a body double in a lot of films (hands, shoulders and legs). 'I used to go to Grauman's Chinese or Pantages', she recalled, 'and sit there waiting to see my faceless body on the screen.' She was quite flat-chested, however, to the extent that she had to don a 'fake chest' for certain scenes. She hated it, almost as much as she hated her studio nickname, 'The Oomph Girl'. She also had a large gap between her front teeth. A porcelain cap was utilized to cover it for photographs and filming. Her career faded with her looks and she was just starting a comeback in 1966, in a new TV series called Pistols 'n' Petticoats when cancer claimed her at 51 in January 1967. She is best remembered for King's Row (1942) and I Was a Male War Bride (1949).
Dern & Goldblum in Jurassic Park
Geena & Jeff
Jeff Goldblum and Laura Dern met on the set of Jurassic Park and began a relationship that lasted for two years before going their separate ways. Jeff's first wife was actress Patricia Gaul (1980-86). You can see her in Three Men & a Little Lady, playing Mrs. Walker. His second wife was statuesque actress Geena Davis. They were the tallest married couple in Hollywood history, Geena being 183cm (6') and Jeff at 193cm (6'4"). Interestingly, Geena was formerly married to Swedish director Renny Harlin who had a lengthy relationship with Laura Dern as well. Harlin directed the hits Cliffhanger and Die Hard 2, and also the monumental dud Cutthroat Island. Geena, of course, will always be remembered for playing opposite Susan Sarandon in the iconic Thelma & Louise. For the record, Goldblum takes every opportunity to correct interviewers who pronounce his surname 'Gold-blumb'. It should be pronounced 'Gold-bloom', he says.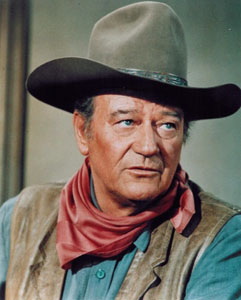 When John Wayne was at his peak and churning out westerns left, right and center, he must have hit upon a casting policy that no-one else seemed to imitate. You may not have noticed it, but the Duke clearly decided to invite a currently popular pop singer to play a role in his movies. Here are a few that I have discovered:
Ricky Nelson in Rio Bravo (1959)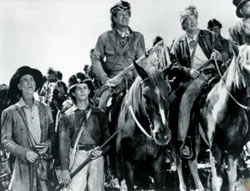 Frankie Avalon (second from left) 
in The Alamo (1960)
Wayne & Fabian in North to Alaska (1960) 
Glen Campbell & Wayne in True Grit (1969)
Bobby Vinton in The Train Robbers (1973)
Patrick MacNee & Honor Blackman
in The Avengers
 in Goldfinger
James Bond & Pussy Galore
To baby-boomers the name Honor Blackman conjures up two distinct and memorable images – Cathy Gale in all of the first 43 episodes of the hit TV series The Avengers, and Pussy Galore in the 1964 James Bond classic Goldfinger. In August 2015, the wonderful Honor Blackman turned ninety years of age. Born in England in 1925, she was taught boxing by her brother and became proficient for her age, actually knocking out a boy at school and another in his family garden! During the Second World War she risked her life during the blitz as a dispatch rider carrying blood between hospitals. After the war she signed with the Rank Organisation in 1947. Her first husband was 12 years her senior and domineering. He also cleaned out her bank account before divorcing her, resulting in Honor suffering a nervous breakdown that institutionalised her for three weeks for psychiatric assessment. It was her second husband, actor Maurice Kaufmann, who encouraged her to audition for The Avengers, and the series would make her a household name worldwide. Her opinion of her Goldfinger co-star Sean Connery is somewhat mixed. 'He is, I think, the sexiest creature I have ever met. And he was fun, too.' Not that they indulged in any off-screen hanky-panky. That was simply not Miss Blackman's style. Not then, not ever. Even today, however, she remains scathing of Connery who, 'accepts a knighthood but never comes here, never pays tax here…' She was offered a CBE several years ago but declined it. 'Since I'm a republican', she said, 'I thought it would be somewhat hypocritical to pop up to the Palace.'