It is generally believed that Stephen Sondheim only agreed to the musically limited Madonna singing his songs in Dick Tracy (1990) because he owed a favour to Warren Beatty who directed and starred in it whilst becoming intimately involved with Madonna during the shoot. Sean Young was to have played Tess Trueheart but was dropped by Beatty after a few days of filming, some say because she was too demanding. Beatty says he simply made a mistake casting her. She, on the other hand, publicly stated that she was axed because she would not sleep with him. Who is telling the truth? Take your pick. It is surprising to learn that Dick Tracy is the biggest-grossing movie of Beatty's career. It is equally surprising that Madonna received just $35,000 for her role as Breathless Mahoney!
Sean Young
Beatty as Dick Tracy
Madonna as Breathless Mahoney
We often hear of stars complaining that their talent is always being overlooked because nobody can get past their mind-boggling appearance. Jacqueline Bisset clearly fits into that category. 'After the film, The Deep, all they talked about was my tits for the next four years,' she angrily recalled. 'God, if I was going to do a picture like that, I'd have done it a lot sexier. They looked like two fried eggs on a platter.' Six years after The Deep, the grossly misnamed Class reared its ugly head with Jacqui again in the lead. 'The picture is called Class', she reluctantly commented, 'but the ad campaign is anything but. They've put my head onto another body and given me enormous bosoms. All the guys are going to be disappointed.' Well, not all of them. Jacqui and Maximilian Schell are Angelina Jolie's god-parents, by the way. Now 71 years old, Jacqui has remained single her whole life. 'Marriage has just never interested me', she says.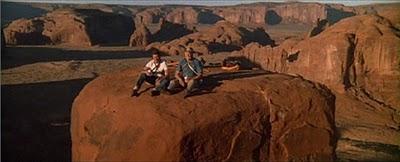 Eastwood & Kennedy atop The Totem Pole
in The Eiger Sanction (1975)
This rather silly and disappointing 1975 thriller has one thing going for it that makes it unique. Clint Eastwood, the star of the show (and its director), did all his own climbing, and some of it is quite spectacular and breathtaking. I have often wondered about the sequence that showed Eastwood and George Kennedy scaling The Totem Pole in Monument Valley, Arizona. This hair-raising vertical rock stands 1,000 feet (about 300 meters) above the valley floor, yet Clint personally climbed it. The shot of him and Kennedy sitting atop the thing was accomplished by having a helicopter deposit George on it alongside Eastwood. The Totem Pole is sacred to the Navajo tribe. A contract was drawn up that gave permission for the climbers to scale it, on the condition that they remove all the pitons that had accumulated on the edifice over the decades. Once this was done nobody has since been permitted to climb it, which means Clint Eastwood is the last person to do so. For all his personal bravery, Eastwood was accused by some of his crew as being reckless and impatient during the Swiss climbing sequences and, therefore, responsible for the death of one of his climbers, David Knowles, and for his Director of Photography, Frank Stanley, suffering a fall that put him in a wheelchair for some time. There were other mishaps as well that the producers kept from the public.
Wallace Beery
Gloria Swanson
Wallace Beery won the Oscar in 1931-2 for The Champ, even though he actually scored one less vote than Fredric March that year. The rules of the previous year awarded Oscars to performers who finished within three votes of the winner. Presenter Conrad Nagel, unaware that the regulations had been changed, incorrectly called for another Oscar for Beery without conferring with Academy officials. Nobody was game to suggest to the irascible Beery that he should return the statuette, so both actors are still credited with Academy Awards to this day. Little Jackie Cooper, who played the boy in this classic tearjerker, later abjectly dismissed any thoughts movie-goers had of a special bond existing between Beery and himself. Good old Wally, he said, was a violent, foul-mouthed drunkard. Few who knew Beery disagreed. Jackie could not stand working with the man whom he described as one of the most sadistic and cruellest people he had ever known. MGM trouble-shooter Howard Strickling went to considerable lengths to create a 'big, loveable slob' image for Beery. His former wife, Gloria Swanson, commented drily that he had been invited into every fashionable home in Beverly Hills – but only once. (His abominable treatment of her on their wedding night is covered in Hollywood Warts 'n' All.) At one stage in his career Beery insisted on being paid one dollar a week more than every other MGM star, just so he could claim the title of the highest paid actor in the world. At the time of his death in 1949 he was involved in fighting a paternity suit lodged by an actress named Gloria Schumm who claimed he fathered her 13-month old son.
George Lazenby in
ON HER MAJESTY'S SECRET SERVICE (1969)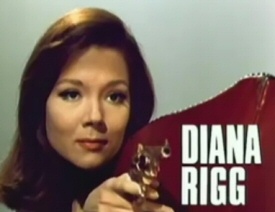 To date (August 2015), 30 year-old George Lazenby is the youngest actor to portray James Bond on the screen. The others made their debuts at the following ages:
Sean Connery              31                                                                                                          
Daniel Craig                38
Pierce Brosnan           41
Timothy Dalton          42
Roger Moore               45
The original ending for On Her Majesty's Secret Service was to have Bond and Tracy (played by Diana Rigg) driving off happily into the sunset from their wedding. But then, in an interview, Lazenby let it be known that he thought the Bond craze was finished. Films such as Easy Rider and Woodstock would take over the industry, he said, so he was no longer interested in playing a passé secret agent in a white tuxedo. It just so happened that the producers were not too keen on George anyway, so they decided to kill Tracy off and give him the heave-ho. The German actress Ilse Steppat, who plays Irma Bunt here, died from a heart attack at 52, a week after the picture's release.
Ilse Steppat as Irma Blunt
Robert Newton in his most famous role
as Long John Silver in Treasure Island
Robert Newton plays Mr Fix in Around the World in 80 Days (1956), the detective on the trail of Phileas Fogg. Newton was a hopeless alcoholic who, to get the role, had to promise director Michael Anderson that he would not touch a drop until the shoot was completed. This he somehow managed to do, but then went on a huge bender that seemingly expedited his death seven months before the movie premiered in October 1956. His drinking and drunkenness were legendary. A stage production at the St James Theatre in London was once held up for some time because he was laying in centre stage behind the curtain hopelessly inebriated. When the curtain finally moved to reveal him in all his glory, Newton addressed the audience: 'The reason the curtain has so far not risen is because the stage manager has the impertinence to suggest that I'm pissed!'