Mimi Rogers
Until 1990 Tom Cruise was a Catholic. In fact, at 18 years of age he studied to become a priest, but changed his mind after one year. His first wife, actress Mimi Rogers, convinced him to renounce Catholicism and embrace the Church of Scientology. In 2003, he antagonized the National Dyslexic Foundation when he claimed Scientology had cured his dyslexia. 'Dyslexia is a condition, and conditions don't get 'cured', said an executive. 'They get dealt with.'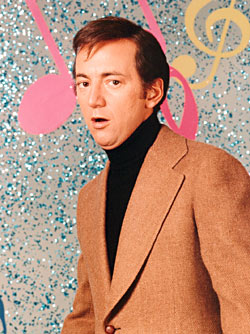 The late Bobby Darin
Singer/actor Bobby Darin shared a similar secret with Jack Nicholson. Both men were led to believe that their mothers were their sisters. Bobby did not learn the truth until he was 32. Jack found out when he was 37. Until then he thought his grandparents were his parents. Bobby was told that his deceased grandmother was his mother.
Dean & Jerry at their peak
Jerry Lewis in recent years
Dean Martin summed up what most people who knew him thought of Jerry Lewis in the years after he and Dean split up. 'At some point, he said to himself, 'I'm extraordinary, like Charles Chaplin'. From then on, nobody could tell him anything. He knew it all.' Lewis is said to deliberately leave audio-tapes running in briefcases after he leaves meetings, so that he can find out what his associates are saying about him behind his back. On a positive note, he was actually nominated for a Nobel Prize as recognition for his 50 years raising money for muscular dystrophy.
Sandra Dee
With her husband Bobby Darin
In the musical Grease, when Rizzo sings 'Look at me, I'm Sandra Dee, lousy with virginity', she could scarcely have been farther from the truth; not that the truth was any fault of Miss Dee, for the girl had been sexually abused by her step-father, Gene Douvan, from the age of four until she was 12. It only stopped because the man died. In her autobiography, Sandra wrote that her mother must surely have known of the abuse all those years, but did nothing. Every morning, she would send the girl into the couple's bedroom to say goodbye to her step-father. When Sandra emerged, she would ask her mother to button up her open blouse. It was a silent plea for help that was always ignored. 'Gene didn't only molest me in the mornings', Sandra wrote, 'but during the day, the night, whenever he wanted to and there was an opportunity.' No wonder she suffered from psychological issues that led to anorexia, bulimia and alcoholism. Sandra passed away from kidney disease in 2005 at the age of 62.
Joanna Pettet
Joanna was born in London in 1942. She is now (2015), 73 years old, yet only good luck prevented her life from ending in 1969. On the afternoon of August 8 of that year she had afternoon tea at 10050 Cielo Drive with her good friend Sharon Tate. Had she stayed for dinner, she would have met the same fate as Sharon and her guests that evening when the Manson Gang slaughtered everyone on the premises. Even so, there was still tragedy in her life. Like far too many Hollywood identities, she suffered the horror of having a child die from drugs. In 1995 her 26 year-old son, Damien, fatally overdosed on heroin.
Ty & his wife Annabella
In 1939, while making Jesse James, Tyrone Power impregnated a local girl who later gave birth to a little boy. Power arranged for the boy to be secretly put up for adoption, but then had a change of heart and spent a small fortune trying to trace him throughout the forties, but without success. In 1943 Ty conducted an illicit affair with 17 year-old Judy Garland soon after she ended her three year affair with Spencer Tracy. Then, in 1946, Lana Turner aborted his child as well. All three affairs took place while he was married to French actress Annabella.
Basil Rathbone
South African born Basil Rathbone was the British Army Fencing Champion during World War One. He was also a bona fide hero of the conflict; a winner of the Military Cross on the Western Front. A modest man, when asked how this happened, he replied: 'All I did, old man, was disguise myself as a tree – that's correct, a tree – and cross no man's land to gather a bit of information from the German lines. I have not since been called upon to play a tree.'
George Sanders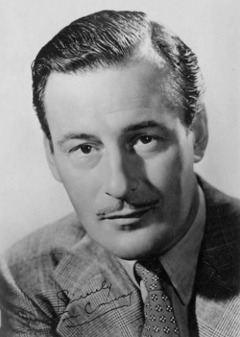 George's brother Tom Conway
George was born in St. Petersburg, Russia, two years after his brother Tom. The family fled from the Bolsheviks, leaving all their wealth behind, and settled in Britain in 1917. When George and Tom both decided to become actors they tossed a coin to see who would change his name from Sanders. Tom lost and became Tom Conway from that day forward. George had been talked into pursuing an acting career by a fellow employee at an advertising firm. Her name was Greer Garson.
Omar Sharif in Lawrence of Arabia
On 10 July 2015, Omar Sharif died in Cairo, Egypt from a heart attack. He was 83. After undergoing a bypass operation in 1994, the 100 cigarettes a day smoker quit the habit on the spot. It may surprise you to learn that this seemingly gentlest and sophisticated of men had an 'anger management' problem. In August 2003 he received a one-month suspended sentence for head-butting a police officer in a French casino. 'It made me the hero of the whole of France', he quipped. 'To head-butt a cop is the dream of every Frenchman.' Then, in 2005, a US court ordered him to take an 'anger management' course after he punched out a parking attendant who refused to accept Sharif's European currency. Three years before his death he was diagnosed with Alzheimer's disease.
Rosalind Russell
Frank Sinatra truly was an enigma. People either loved him or hated him. He could be the staunchest of friends (as Sammy Davis Junior could have testified), or the bitterest of enemies, (as Peter Lawford found out after Frank came to the conclusion that Peter had betrayed him with Ava Gardner). Actress friend Rosalind Russell was just one of many who had nothing but praise for 'Ole Blue Eyes': 'He is a man with concern for people', she once said. 'Not only his friends, but people he doesn't know. I guess there is just reams that could be written about the things he has done for people which no one knows other than the recipients. He likes it that way.'
Sultry Lauren Bacall. 
Frank Sinatra and Lauren Bacall were involved for some time prior to the death of her husband Humphrey Bogart in 1957. Few admirers of Bacall were willing to accept that but, soon after Humphrey passed away, she made the mistake of announcing her engagement to Frank to the press. She may have done so without first telling him, or he may just have got cold feet at the last minute. Either way, he ended their relationship at once. She dated Kirk Douglas when they were both attending the American Academy of Dramatic Arts, and met and became firm friends with Gregory Peck when she was 17 and working as a theatre usherette. In her autobiography she stated she lost her virginity at 19 to Bogart when they started their romance.