From time to time I shall post a dozen or so short items, snippets of information about movie and television actors that I have found interesting. Hopefully, you will, too.
Somehow it is hard to imagine that Don Adams, the little guy who played Agent Maxwell Smart in the very funny hit TV series Get Smart, could ever be involved in anything as serious as a World War – yet he was. During the Second World War he served as a US Marine on Guadalcanal. Some sources say he was the only survivor of his platoon. He also contracted malaria during the fighting. After he was released from hospital he went on to be a drill instructor before leaving the services.
John Agar was a 24 year-old physical training instructor in the US Army when a friend asked him to escort 16 year-old Shirley Temple to a party given by her boss David O. Selznick in 1945. The couple married that same year as soon as Shirley turned 17, but Agar's drinking and womanizing combined to wreck the marriage by 1949. When acting jobs dried up overnight he tended to blame other things. 'Who wants to shake the hand of the first man to put it to America's sweetheart?' he complained.
Agar & Temple in Fort Apache
Anna Maria Alberghetti was a wonderfully talented singer, so good in fact that she made her Carnegie Hall debut at fourteen, after which she performed with symphony orchestras around the country. Her pure operatic tones and good looks soon resulted in Paramount signing her to a contract. Ed Sullivan recognized her extraordinary vocal talents, for he booked her no fewer than fifty-three times on his show, yet for some reason Paramount saw fit not to utilize them. Typically, she was cast in Jerry Lewis's lousy Cinderfella in 1960, and never sang a song! Why? Because Jerry sang the lot himself! No wonder she became disillusioned with the movies.
Julie in The Princess Diaries
Julie Andrews underwent throat surgery in 1997 at New York City's Mount Sinai Hospital, which resulted in her singing voice being ruined. In 2000 she sued two surgeons for malpractice. The London press reported she received the staggering sum of 21 million British pounds, the equivalent of 30 million US dollars. In 2004 she recorded Your Crowning Glory from The Princess Diaries 2: Royal Engagement and got it 'spot on' at the first take. Does that mean she has to return the 21 million pounds?
Young Lucille Ball
Lucy & Desi in I Love Lucy
Lucille Ball attended John Murray Anderson's Dramatic School in New York City at the same time Bette Davis was enrolled there. Bette was the star pupil. Lucille, on the other hand, who would one day become the most loved comedienne in America, courtesy of her record-smashing TV hit show I Love Lucy, was sent home because she was 'too shy'. The general belief at the school was that she would never become an actress.
Alan Bates the 60s heart-throb
In later years
Alan Bates was one of Britain's truly great actors. He was also Patron of the Actors Centre, Covent Garden, London, from 1994 until his death in 2003. Previous patrons were Sir Laurence Olivier and Sir Alec Guinness, so it was no small honor. But he had his demons; a man living in dread of being 'outed' as a homosexual, even more so than other actors similarly placed. One of his lovers, actor Nicholas Grace, said Alan was forever hiding their affair from family, friends and the public in general. And this had been going on for decades, ever since Bates and Peter Wyngarde resided together as lovers for over ten years back in the sixties. Even Grace did not know Bates was completely gay, because Alan never admitted it to his face. In fairness, since homosexuality was illegal in Britain for much of his life, there was considerably more riding on exposure than just his career. He had female lovers as well, of course, especially during the swinging sixties when he was a rugged pin-up. For the final eight years of his life he lived with his friend and lover Joanna Pettet, herself a successful actress, probably best remembered as Tom Courtenay's girlfriend in The Night of the Generals (1967).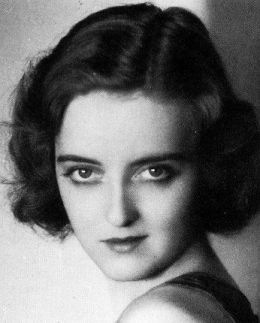 A very young Bette Davis
Somewhere in Massachusetts there exists a collector who owns a sculpture of four naked dancing nymphs, one of whom was modeled by a very young Bette Davis before she became an actress. In a 1982 Playboy interview, she spoke of posing naked for the piece which occupied a public spot in Boston prior to its purchase by the collector.
Brandon de Wilde will always be remembered as the blue-eyed, blonde-headed boy who idolized Alan Ladd in the 1953 western classic Shane. On 6 July 1972, the 30 year-old actor was driving his camper van to the Denver Hospital to visit his wife when he crashed into a parked construction truck at 3.25pm. Trapped in the wreckage for a while with a broken back, neck and leg, he held onto life for four hours before succumbing in hospital that evening.
Brandon deWilde in Shane (1953)
In his twenties
Martha at 40 – Wow!
Beautiful Martha Hyer was forty years old when she made The Carpetbaggers in 1964, but she certainly didn't look it. She played a character loosely based on Joan Crawford. In fact it is fun to work out who the characters in the picture are based upon. George Peppard is supposed to be Howard Hughes; Carroll Baker is Jean Harlow, and Alan Ladd is thought to be Tom Mix.
Superstar Alan Ladd in the 1940s
In his final years
It is difficult to believe today, but back in 1961 the 48 year-old Alan Ladd wanted to play the title role in Lawrence of Arabia so desperately that he personally went to see director David Lean to beg for the role. Lean, of course, cast Peter O'Toole in the film and Ladd was bitterly disappointed. In November 1962 he was found in a pool of blood, unconscious from a bullet wound near his heart. Friends were sure he had tried to shoot himself. His career had been going nowhere for some time. Fourteen months later he died from an 'accidental' combination of alcohol and sedatives.
Stills from The Fall of the Roman Empire
Stephen Boyd was the greatly under-rated actor who played Messala in the 1959 version of Ben-Hur. He also starred opposite Sophia Loren in the monumental 1964 flop The Fall of the Roman Empire, and had this to say about his ravishing co-star. 'She is not the most attractive lady in the world at first glance but, my God, two seconds later you felt like you were in a dream world. Just for her to say 'Hello' was enough. You just capitulated. For me she is the most beautiful person I've ever met.' And so say all of us…