It is hard to imagine it, but on April 3, 2016, Doris Day will be 94 years old. Ninety-four! I still watch her best movies, the ones made in the fifties, and still marvel at her exuberance, her vitality, and her unmistakable singing (and acting) talent. Movies back then had a kind of innocence, especially regarding sex, a legacy, no doubt, of the rules and restrictions imposed upon the industry by the Hays Office. But they were fun to watch. We went to the movies for a dose of escapism, not to be drenched in blood or smothered in expletives and naked, writhing bodies. Movies had stories, not just special effects, explosions and car crashes.
So what if Rock Hudson was gay? So what if Doris was too 'good' to be true? So what if our heroes and heroines were nowhere near as squeaky clean as the studios would have us believe? On the screen they gave us an escape from our hum-drum lives for a couple of hours. They gave us a taste of glamour and beauty that we could not experience anywhere else. Movies were the ultimate entertainment and we loved them. Some of us still do.
She was born Doris Kappelhoff in Cincinnati, Ohio in 1922. All four of her grandparents were German immigrants. Doris's first trip to Hollywood was as a 14 year-old, having won a dance contest at home with a partner. The couple planned to come back to Tinsel Town and take a crack at a dancing career later, but it was not to be. Doris was in a car that was struck by a train, sustaining leg injuries that put paid to her dancing dreams. So she took singing lessons instead.
In the early years with Les Brown's Band
'The happiest times in my life were the days when I was traveling with Les Brown and his band', she says. She got the lead vocalist's job with Les Brown when she was just 15 (but pretending to be 18). The only downside was her falling for trombonist Al Jorden, a violent alcoholic whom she unwisely wed in 1941. Within two years she had given birth to her only child, Terry, and divorced Jorden who later committed suicide, A second union, to George Weidler in 1946, only lasted a year. He was the brother of MGM child star Virginia Weidler, best remembered for playing Katharine Hepburn's little sister, Dinah Lord, in 1940's The Philadelphia Story.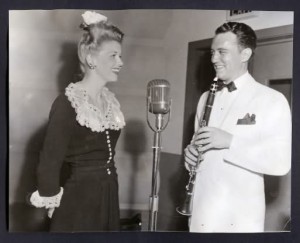 Doris and Al Jorden
Virginia Weidler
In 1951, Doris married Martin Melcher after he divorced Patty Andrews (one of the singing Andrews Sisters). He soon adopted Terry, changing the 10 year-old's name to Terry Melcher. Years later, in 1969, Terry and his girlfriend, actress Candice Bergen, would rent the property situated at 10050 Cielo Drive, Beverly Hills, before vacating it for Roman Polanski and Sharon Tate, shortly before the Manson family killed Sharon and her guests there on August 9 of that year.
With Martin Melcher
The Andrews Sisters
(Patty in the middle)
Terry had been a member of The Rip Chords when they recorded their one and only hit single, 'Hey Little Cobra' in 1964, before he decided to go into producing at Columbia Records. A year later he produced the Byrds hits 'Mr. Tambourine Man' and 'Turn, Turn, Turn'. In 1988 he would co-write the Beachboys hit 'Kokomo', featured in the movie Cocktail. After the Tate murders it was learned that Charles Manson had visited Melcher at the Cielo Drive address, and had been turned down for a recording contract. Even though he knew Terry had moved out, Manson ordered his followers to invade the home and to kill everyone in it, 'to send Melcher a message'.
Candice & Terry
Doris's name has not been linked with very many Hollywood stars. The only verified relationships have been with Jack Carson, Tyrone Power, Ronald Reagan and (surprisingly) Burt Reynolds. There have been rumours of affairs with singer Sly Stone, basketballer Elgin Baylor, and baseball player Maury Wills, but these have not been substantiated. Interestingly, in her book Doris says she met Sly at Terry's home, but they did not have an affair. Dodgers ball player Maury Wills, on the other hand, devoted considerable space in his book to Doris and their lengthy sixties affair. She has never sued him, so maybe it is true.
Maury Wills
For me the fifties belonged to Doris Day. She had hit records everywhere. She made the wonderful Calamity Jane in 1953. Then she teamed up with Rock Hudson to make a string of romantic comedies that typified the fifties attitude to love and sex. According to Hollywood's interpretation anyway. They were light; they were fun; and they were harmless. Doris was the girl next door, innocent and virginal. Rock was 'the big bad wolf', bent on seducing her.
Her hit songs were numerous. Among the best were 1945's 'Sentimental Journey', 'A Guy is a Guy' (1952), 'Secret Love' (1954), 'If I Give My Heart to You' (1954), 'Que Sera, Sera' (1956), and 'Teacher's Pet' (1958). Her best movies: Tea For Two (1950), On Moonlight Bay (1951), By the Light of the Silvery Moon (1953), Calamity Jane (1953), and The Man Who Knew Too Much (1956). My personal favourite, for both her singing and acting, is Love Me or Leave Me (1955), a biopic in which she superbly played torch singer Ruth Etting.
Her opinions of a few of her co-stars and friends in the movie business are of interest:
In 1950 she made Young Man with a Horn opposite Kirk Douglas. 'The picture I made with Kirk was one of the few utterly joyless experiences I had in films. Kirk was civil to me and that's about all. But then Kirk never makes much of an effort toward anyone else. He's pretty much wrapped up in himself.'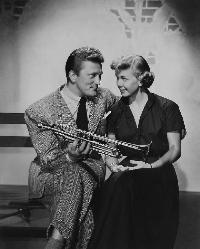 Young Man With A Horn
She genuinely liked Rock Hudson, her co-star several times during the fifties. 'If there is a Heaven I'm sure Rock Hudson is there because he was such a kind person.' She may or may not have been hinting that she knew of his homosexuality, when she told an interviewer: 'I call him Ernie, because he's certainly no Rock'.
By the time husband number three, Martin Melcher, died in 1968, he had managed to go through Doris's considerable fortune. She found herself millions of dollars in debt. In time, the courts would award her $22 million from the man that Melcher had used to invest her money. In 1987, she founded the national non-profit citizen's lobbying organization, The Doris Day Animal League, aimed at protecting animals through 'policy initiatives, education, and corporate engagement.'
Doris Day has been a star for decades. She was a truly great popular singer, a much-underrated actress, and a kind and generous human being. Few people in Hollywood are sincerely loved and respected by almost everyone. Doris is one of the few.