He was born Frank Cooper in Helena, Montana, but his agent was born in Gary, Indiana, so his hometown was chosen for Coops' Christian name. After all, the name Gary Cooper had a certain masculinity that Helena Cooper seemed to lack. A car accident in his youth broke Coop's hip and left him with a permanent limp. This, plus his deafness in one ear, kept the gangling star out of WW2.
Clara Bow
Women simply adored him. Whenever he was working on a sound stage, local office girls from the studios would steal away from their desks – just to look at him! Many of his peers knew he had secrets, however. Clara Bow was embroiled in a lengthy affair with him in the 1920s, full aware that he was also sleeping with his boyfriend, actor Anderson Lawler. 'The whole thing makes me sick', she confided to friends in the industry.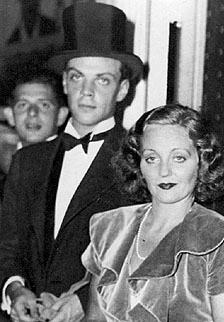 Anderson Lawler (in hat)
Years later, Lawler's brother confirmed that Coops and Anderson lived together several times and were certainly intimate. Royal photographer and Academy Award-winning costume designer Sir Cecil Beaton, incidentally, laid claim in his autobiography to having had an affair with Coops also. Like author Truman Capote, he often made outlandish statements simply to gain attention, so there was probably no truth to his claims.
After moving on from Clara to the highly volatile 'Mexican Spitfire', Lupe Velez, Cooper soon found himself in dangerous waters, especially when he continued his romance with Lawler. One evening, at a party and in front of the entire gathering, she undone Coop's flies and sniffed for the young man's cologne! By the time his affair with Lupe ended, in 1931, Coops' weight had dropped from 175 pounds to 135, he had suffered a nervous breakdown, and was unable to function as an actor. The studio ordered him to take a 6-month break in Europe. Lupe was a little bit crazy, but no-one could ever accuse her of being dull. As his train left the station on its way to New York City she turned up, pistol in hand, and took a shot at him! Fortunately, she missed. It was just a Latin-American thing, she said. Later, she happily told all and sundry about his enormous member and prodigious sexual skills. Most of them knew already, for it was common knowledge, as was his bisexuality. Silly little Clara had already spilled the beans, anyway, when she told girlfriends he was 'hung like a horse and can go all night'. Clara was a class act – but it was all 'low'.
Lupe Velez
Lupe went on to another tempestuous affair (then marriage) to Johnny Weissmuller, the movies' first Tarzan. When she first met him he was just six months into his marriage to actress and socialite Bobbe Arnst, and already he wanted out. MGM fixer Howard Strickling paid Bobbe $10,000 to 'go away', and she was happy to oblige.
Lupe and Johnny wed in 1933. Before long they were fighting. One of her habits really bugged her husband. At parties she delighted in dancing on table-tops, swirling her dress above her head and revealing the well-known fact that she never wore underwear. MGM paid out thousands of dollars to hundreds of photographers for the pictures they took of Lupe's naked crotch – and then destroyed them. 'Marriage – eet stinks!' was Lupe's analysis of their five-year union. In 1944, hooked on drugs and pregnant to a young actor, she took a stack of Seconals and ended her life at 36.
When Russian Premier Nikita Kruschev visited Hollywood in 1959, he had never even heard of such stars as Marilyn Monroe or Frank Sinatra. He spoke no English either, but when introduced to Coops he astonished everyone by uttering the solitary word, 'yup', before walking on.
Coops liked to pay all his bills by check, especially the small ones for meals, gas, cigarettes etc. He figured that most people, rather than cash it, would prefer to keep a small check bearing his signature as a memento. He saved many thousands of dollars this way over the years. His mother's Christian name was Alice, would you believe? The great man's mum was Alice Cooper! Who'd have thought it?
Patricia Neal
Patricia Neal played opposite Cooper in The Fountainhead in 1949, and by the time of the picture's release she was already deeply involved with him. When his wife 'Rocky' learned of the affair in 1950 she sent Neal a telegram. It read: 'I have had just about enough of you. You had better stop now or you will be sorry – Mrs Gary Cooper'. Divorce was never going to be an option, and both he and Neal knew it.
'Rocky' & Gary Cooper
Nevertheless, by the time the affair ended Miss Neal was pregnant. Cooper convinced her to abort their child. His daughter, Maria, made her feelings on the union clear years later when she spat on Neal in full view of the public. Unpredictably, the two women would later become firm friends. In 1953 Neal wed writer Roald Dahl, the marriage lasting 30 years until she divorced him over his affair with her best friend Felicity Crosland. What goes 'round, comes 'round, they say.
For all that, Patricia Neal had a tragic life. Her infant son suffered brain damage when he was run over by a car and her thirteen year-old daughter died from the measles. A series of near fatal strokes in 1965 left Patricia partially paralysed, confined to a wheelchair, and incapable of articulate speech. Her romance with Cooper was a long and serious one, and they were keen to marry, but 'Rocky' would never grant him a divorce. Not in a million years.
Gary Cooper and Anthony Quinn were working on Blowing Wild (1953) in Mexico when they won their respective Oscars for High Noon and Viva Zapata! Quinn's girlfriend, Suzan Ball, was visiting the location at the time and Tony recalled how they lay on the grass that evening watching the stars and chatting with Cooper and his co-star Barbara Stanwyck. Coops was doing all the talking, reminiscing about all the women he had romanced over the years. Quinn thought Stanwyck was asleep until he rolled over and noticed Cooper's hand beneath her skirt and between her legs caressing her. According to Quinn, their fling was nothing more than the usual 'on location' dalliance. Barbara liked men, but preferred women. So did Coops.
Even at the age of 51, Cooper could still appear attractive to young women. Grace Kelly certainly thought so when they made High Noon together in 1952. This movie saw the start of her sleeping with her much older leading men. She and the aging star had an affair that lasted for the duration of the shoot. He was suffering from a bleeding ulcer throughout, and was in pain much of the time. Incidentally, in a 1971 interview with Playboy magazine, John Wayne was still rabbiting on about how disgracefully Un-American High Noon was. He was particularly incensed, he said, by the scene where Cooper throws his marshal's badge on the ground and steps on it. The only problem – and a pretty big one at that – was that no such scene is, or ever was, in the movie!
Cooper & Grace Kelly
The movie features character actor Sheb Wooley who plays an outlaw named Ben Miller. Six years later he would make a fortune from his Number 1 Billboard hit record Purple People Eater.
Sheb Wooley
Cooper was basically a down to earth, naïve man. He rarely recognized duplicity in others. Never was this more aptly demonstrated than when he made the following statement after making For Whom the Bell Tolls. 'In my whole life I've never had a woman so much in love with me as Ingrid Bergman was. The day after the picture ended I couldn't get her on the phone.' Ah, Hollywood. You can't beat it with a stick.
Bergman & Coops