Below is a list of the top-rated programs since the 1950-51 season, according to Nielsen Media Research. Having inhabited this planet since 1947, I can recall most of these shows, although I must admit that I lost interest in TV when that horrible reality rubbish began to dominate everything. For the life of me I still cannot see why anyone would want to watch fellow beings having 'domestics', putting each other down, sniping and bitching, and displaying their blatant greed and selfishness to the entire nation week after week. These programs, in my opinion, aim at the same target audience that thinks the best Disney movies are the ones that involve breaking wind. Let's face it, there's not a lot of wit attached to a fart. Any writer who says, 'Let's toss in a fart here to get a laugh' has run out of ideas.  His wit tank is running on empty.
I watched the much raved about Frozen recently. It is very 'pretty' and has a few reasonably good tunes – reasonably good, but scarcely memorable. The characters are OK, although I must say that ever since I saw Sebastian (the lobster) in The Little Mermaid (1989) I have searched in vain for another animated figure with anything even approaching his fabulous personality. Anyway, I was quietly watching Frozen, beginning to understand how it might appeal to young people when, out of the blue, the hero said something along the lines of: 'I'll bet he picks his nose – and eats it! All guys do it.' Which genius at Disney thought that vile comment was worthy of insertion into a kid's animated feature? Maybe it was the same idiot who convinced James Cameron that a disgusting hawking and spitting contest between Leo and Kate, in broad daylight aboard the Titanic, was the kind of thing a first class lady in 1912 would do, and something we would all enjoy watching. Actually, it was a lady, Jennifer Lee, who wrote the Frozen screenplay. I really hope someone else threw in those lines. No wonder I prefer 'old' movies. They had style. They also had writers who were  actually clever, men and women who knew how to use the wonderful English language in all its glory.
The one and only Sebastian from The Little Mermaid (1989)
That aside, you might find this list interesting. I did. Times and tastes surely do change. Back in the 50s and 60s there were westerns all over TV. These days you rarely see one. Shows such as Gunsmoke and Bonanza were enormously successful. Sit coms such as I Love Lucy and All in the Family dominated for season after season, but none of these shows could top the incredible popularity of American Idol, which headed the ratings for seven consecutive seasons. Interestingly, there was a gap of about 45 years between the only two quiz shows to make the list – The $64,000 Question (1955-56) and Who Wants to be a Millionaire? (1999-2000).
SEASON                    NUMBER ONE RATED PROGRAMMES ON US TV
1950-1951       Texaco Star Theatre
1951-1952       Arthur Godfrey's Talent Scouts
1952-1953       I Love Lucy
1953-1954       I Love Lucy
1954-1955       I Love Lucy
Desi Arnaz & Lucille Ball in I Love Lucy
1955-1956       The $64,000 Question
1956-1957       I Love Lucy
1957-1958       Gunsmoke
1958-1959       Gunsmoke
1959-1960       Gunsmoke
1960-1961       Gunsmoke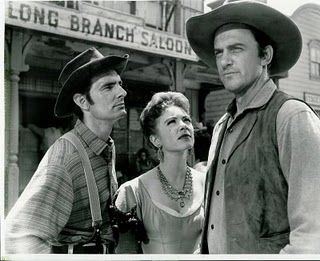 Chester, Kitty & Matt in Gunsmoke
1961-1962       Wagon Train
1962-1963       The Beverly Hillbillies
1963-1964       The Beverly Hillbillies
1964-1965       Bonanza
1965-1966       Bonanza
1966-1967       Bonanza
The Cartwrights in Bonanza
1967-1968       The Andy Griffith Show
1968-1969       Rowen & Martin's Laugh-In
1969-1970       Rowen & Martin's Laugh-In
1970-1971       Marcus Welby, M.D.
1971-1972       All in the Family
1972-1973       All in the Family
1973-1974       All in the Family
1974-1975       All in the Family
1975-1976       All in the Family
1976-1977       Happy Days
1977-1978       Laverne and Shirley
1978-1979       Three's Company
1979-1980       60 Minutes
1980-1981       Dallas
1981-1982       Dallas
1982-1983       60 Minutes
1983-1984       Dallas
1984-1985       Dynasty
1985-1986       The Cosby Show
1986-1987       The Cosby Show
1987-1988       The Cosby Show
1988-1989       The Cosby Show
1989-1990       Roseanne
1990-1991       Cheers
1991-1992       60 Minutes
1992-1993       60 Minutes
1993-1994       Home Improvement
1994-1995       Seinfeld
1995-1996       ER
1996-1997       ER
1997-1998       Seinfeld
1998-1999       ER
1999-2000       Who wants to be a Millionaire?
2000-2001       Survivor
2001-2002       Friends
2002-2003       CBS
2003-2004       CBS
2004-2005       American Idol
2005-2006       American Idol
2006-2007       American Idol
2007-2008       American Idol
2008-2009       American Idol
2009-2010       American Idol
2010-2011       American Idol
2011-2012       Sunday Night Football
2012-2013       NCIS
2013-2014       Sunday Night Football