Brief Note: At last, the day has arrived! After years of research, and months of hard work from my son Peter setting up this site and connecting with Amazon and Kindle, today we launch book two, 'Movies Based on True Stories'. It is 626 pages in length (on Kindle), covers 400 movies, most of which are 'based on true stories', and has been priced at just $5.99 US and $7.66 in Australia. In it I discuss the differences between Hollywood's version of actual events and what really happened. I hope you find it interesting enough to purchase a copy. We are currently working on a paperback version as well, but that is a little way off at present, maybe a month or so. My original book 'Hollywood Warts 'n' All' is currently only available in paperback.
MUSIC & THE MOVIES
An integral part of any good film is the soundtrack. It sets a tone for the movie, a 'feel' to it, and is quite often the bit most remembered by us decades later. I have been looking through my favourite film collection, endeavouring to determine which songs and themes I feel have had the most impact on me and my movie watching. Here are some of the best, not necessarily in order of importance, but more or less remembered for giving a particular film an 'atmosphere' that placed it apart and above other movies from the same era or genre.
I have separated the selections into two groups: Group one consists of the most impactful themes and soundtracks. And Group two contains those movies that contain one or two songs that perfectly fit the pictures they adorn (once again, in my opinion). I wonder how your list would compare.
GROUP ONE: The best theme tunes and soundtracks.
Doctor Zhivago (1965)
Whenever I hear Maurice Jarre's 'Lara's Theme' I visualize two things – a snow-covered Russian landscape and the stunning Julie Christie (Lara) with her blonde hair and black choker. For some reason the tune sounds Russian and cold, and hauntingly beautiful, just like Miss Christie. The movie itself is too long (197 minutes in some versions), but the score (and Julie) make up for it.
Julie Christie as Lara in Doctor Zhivago 
The Magnificent Seven (1960)
This movie was made over fifty years ago. All bar one of its stars are dead now, including the man who wrote the incredibly popular theme tune, Elmer Bernstein. Only Robert Vaughn remains alive. I still watch The Magnificent Seven every so often, and the music is one of the reasons I do so. Maybe it stirs up childhood memories for me, but the moment it kicks in I sit back and relax, ready to enjoy my favourite western of all time. What a great pity Phillip Morris Tobacco Company got hold of the theme and thrashed it to death promoting Marlboro cigarettes for a few decades.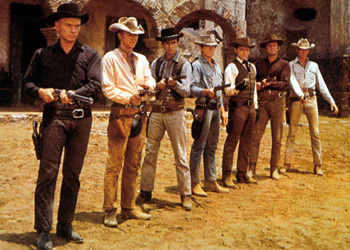 The Magnificent 7
Jaws (1975)
The theme from Jaws is scarcely the most melodic tune ever created, but it is instantly recognizable world-wide whenever it is played, and it fits the mood of the movie brilliantly. I once read that the very best tunes are the ones we can whistle (assuming, of course, that we can whistle). Quite honestly, I cannot recall ever hearing anyone whistle the theme from Jaws, yet it remains a most effective piece of music. Incidentally, John Williams, its composer, was part of Elmer Bernstein's orchestra, as a piano-player, when it recorded the theme for The Magnificent Seven.
A scene from Jaws
Pirates of the Caribbean: The Curse of the Black Pearl (2003)
Every now and then a theme comes along that virtually tells you, 'you are going to have fun here'. Klaus Badelt's main 'Pirates' theme, although it gets played to death in all of the movies in the series, fairly bounces. It kind of makes you want to conduct the orchestra! Personally, I loved the first film in the series, but its successors got darker and darker. Not much fun at all in the end. Pity.
Johnny Depp as Captain Jack Sparrow
Dr No (1962)
I refer here to the original 'James Bond Theme'. If ever someone created an entertainment phenomenon off his own bat it was John Barry, when he arranged this immediately recognizable piece. The moment Sean Connery lit his cigarette at the gaming table and laconically said, 'Bond, James Bond', and the theme started up, it struck a nerve with audiences around the world. According to the appeals court, however, Barry did not write the theme. Monty Norman has been receiving royalties for doing so since 1962. The film's producers disliked his arrangement and brought in Barry to 'fix' it, which he duly did.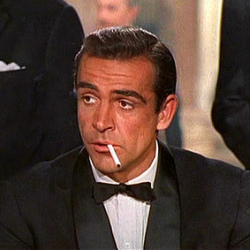 'Bond, James Bond.'
Star Wars (1977)
Composer John Williams has a happy knack for producing movie themes that stick in people's minds, as evidenced by his themes for Jaws and Star Wars. This one runs throughout all seven films in the series. I do not particularly like it, but that is probably because my wife loves the 'Star Wars' films, so I hear the thing on a regular basis. I am just thankful her taste doesn't run to rap.
Harrison Ford as Han Solo in Star Wars
The Good, the Bad & the Ugly (1966)
If The Magnificent Seven is the most recognizable western theme, then this one by Italian composer Ennio Morricone runs it a close second. Both Morricone's version and Hugo Montenegro's climbed near the top of the charts back in the sixties, while another piece from the same film, 'Ecstasy of Gold' has been regularly used by Metallica as prelude music to their concerts since 1985.
The Good                The Bad              The Ugly
The Great Escape (1963)
Once again, an Elmer Bernstein theme reaches iconic status. Released just three years after his award-winning theme for The Magnificent Seven, this one is of similar quality and attained almost as much popularity. Both films featured the highly popular Steve McQueen in pivotal roles so they were seen by an enormous number of fans.
Steve McQueen as Hiltz in The Great Escape
Zulu (1964)
In my opinion, the greatest movies composer of all time, the late John Barry, contributed more to my enjoyment of the cinema than anyone, actors included. As a teenager I was, like most boys my age, knocked over by the stirring theme running through this, the ultimate 'Boy's Own' war film. I was so impressed I even wished I was English for a while! And for an Australian that is just about the most unheard of thing one ever heard of. Fortunately, I have since come to my senses. Australians simply must not think like that. We have cricket and rugby teams locked in mortal combat with England to consider.
Michael Caine as Lt. Bromhead in Zulu
Dances with Wolves (1990)
John Barry is featured yet again here for his brilliant 'John Dunbar Theme' in this Academy-Award winning film. I think it is his superb use of strings that gives his music a richness that separates it from the run-of-the-mill composers. Most (but not all) of the score in this picture is nothing like his James Bond music, which is an accomplishment in itself. Far too many composers these days tend to repeat themselves or close to it.
Kevin Costner as John Dunbar in Dances with Wolves
The Sting (1973)
The Sting, in my opinion, is very close to the perfect movie. It has an intricate, extremely clever plot, wonderful characterizations, a superb screenplay and great actors. It is beautifully photographed and, equally important, it has a soundtrack that fits it like a glove, the unique sound of several Scott Joplin ragtime compositions brilliantly adapted by Marvin Hamlisch. No wonder it won seven Oscars including one for Hamlisch.
Paul Newman as Gondorf in The Sting
The Warriors (1979)
This picture about a Coney Island gang 'bopping' their way back home from a big gang conclave in the city has dated quite a bit, but the music still knocks me out. I cringe at the lame dialogue and the macho rubbish, but then Barry De Vorzon's soundtrack enables me to put such trivialities aside and just go along for the ride. It also has Joe Walsh's 'In the City' and Arnold McCuller's 'Nowhere to Run' as added bonuses.
The 'Warriors' heading home
Lawrence of Arabia (1962)
Just as Maurice Jarre's theme for Doctor Zhivago inspires thoughts of a freezing Russian winter, his other sensational score for Lawrence of Arabia conjures up visions of an unbearably hot, dry desert. Jarre was the third choice to write this score, a virtual unknown at the time, but both first and second choices became suddenly unavailable. I am glad they were, as I am sure all fans of this superb film are.
Peter O'Toole as Lawrence
The Last Valley (1971)
John Barry's name just keeps reappearing in this list, and so it should. His score for this grossly under-rated film set in Europe during the devastating Thirty Years War, is both poignant and powerful. Barry was capable of composing the sweetest of melodies, then follow them with extraordinarily powerful, dramatic pieces. Both movie and music are fabulous. One word of warning though. If you are religious you will hate the thing, which probably explains its demise at the box-office.
Michael Caine & Omar Sharif in The Last Valley
Sweet Smell of Success (1957)
I must say that I have never been a jazz fan, but occasionally something jazzy comes along that really impresses me. Elmer Bernstein's jazz scores for two movies are two such exceptions. I refer to his score for 1955's The Man with the Golden Arm, which brought him to notice, and his follow-up here with Sweet Smell of Success. Bernstein is just one reason of many why this movie is one of my all-time favourites.
Tony Curtis & Burt Lancaster in
Sweet Smell of Success
The Last of the Mohicans (1992)
This most impressive soundtrack was supposed to have been entirely composed by Trevor Jones, but due to script adjustments and last minute changes he ran out of time, so Randy Edelman was hired to help him meet the deadline. There are fifteen tracks on the album, numbers 1-9 composed by Jones, and numbers 10-15 by Edelman. Because they collaborated neither gentleman was eligible for Oscar nomination, a shame really because the music is wonderful throughout.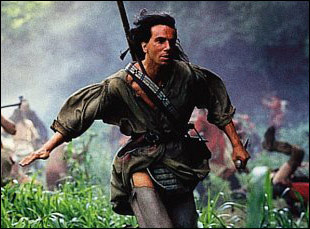 Daniel Day-Lewis in The Last of the Mohicans
Group Two: Individual outstanding use of songs
Titanic (1997)
James Cameron had decided he did not want a 'theme' song for his blockbuster movie, but on hearing Celine Dion's rendition of 'My Heart Will Go On' he changed his mind. In my mind it is the best thing in the whole schmaltzy thing. Evidently, this exceptionally talented songstress recorded this most difficult of songs in one take. What we hear in the movie and on CD is (apparently) her first shot at laying it down. Amazing.
Stand By Me (1986)
Ben E King's 1961 classic 'Stand By Me' topped the charts twice in his lifetime, in 1961 and again in 1986 following the popularity of this terrific film that has since developed quite a cult following. Because of its inclusion in this picture, the Chordettes hit 'Lollipop' gained a brief new lease of life as well. Both tunes suit the juvenile mood of the movie. Great choices. The stars, four juveniles, Corey Feldman, Will Wheaton, River Phoenix and Jerry O'Connell are terrific.
Feldman, Wheaton, Phoenix & O'Connell
Ghost (1990)
The song most identified with this movie is 'Unchained Melody', a tune written in 1936 and recorded by a few people with limited success, until the Righteous Brothers turned it into a hit in 1965. Then, in 1990, along came this soapy, sooky film and it galloped up the charts again, although how anyone could possibly hear it above the grinding of my teeth I shall never know! I dislike the movie, I dislike the song, but the Righteous Brothers have made a mint from it. Good luck to them.
The 'Unchained Melody' sequence
O Brother, Where Art Thou? (2000)
This is one of those sneaky films that creeps up on you until, finally, you find yourself falling in love with it. Part of its appeal lies in the terrific cast headed by a very funny George Clooney, but also in the 'old-timey' music that permeates the production. The main tune, 'Man of Constant Sorrow', mimed by Clooney, is quite possibly 2-300 years old and emanating from Ireland, or it may have been written by Dick Burnett in Kentucky in 1913. Nobody really knows, but it is terrific, and so is this movie classic.
Recording 'Man of Constant Sorrow'
Hatari! (1962)
The title, by the way, is Swahili for 'Danger!' Henry Mancini composed a nifty little number for this movie entitled 'Baby Elephant Walk' and it struck a chord with just about everyone. He did the entire soundtrack, of course, but nothing else came near the popularity of this one tune, and it is still popular today.
Elsa Martinelli in Hatari!
Ghostbusters (1984)
Ray Parker Junior was asked to write a theme song for this comedy, one that included the picture's title. He decided the only way to do that was to write a kind of advertising jingle, which he duly did, and it raced to number 1 on the Top 40 Billboard Hot 100 in America. Stevie Wonder's dirge, 'I just Called To Say I love You', knocked him off at Oscars time. No justice.
Goldfinger (1964) and Thunderball (1965)
Shirley Bassey recorded the theme song 'Goldfinger' and Tom Jones did 'Thunderball. For Shirley, hers was the only one of all her recordings to hit the US Top 40 Billboard Hot 100, peaking at No 8 in 1965. Jones actually fainted in the recording booth after hitting and sustaining the final note in 'Thunderball'. Both are John Barry songs, of course.
Shirley Bassey
Notting Hill (1999)
The movie itself contains more plot holes than a colander, but whoever chose the songs did a pretty good job. Probably the two most remembered tunes will one day be Ronan Keating's cover of 'When You Say Nothing At All' and the original Bill Withers standard, 'Ain't No Sunshine'. Elvis Costello's cover of 'She' also identifies strongly with this most successful soapie.
Julia Roberts & Hugh Grant in Notting Hill
Casablanca (1942)
Max Steiner did the music for Casablanca, except for, 'As Time Goes By', which was a Herman Hupfeld tune that was part of the original play. When Steiner wanted to replace it with something of his own, he was unable to do so because Ingrid Bergman had cut her hair for her next movie, For Whom the Bell Tolls', so her scenes involving 'As Time Goes By' could not be reshot. Dooley Wilson's rendition of this haunting melody is now cinema history, and rightly so. Although Casablanca is my all-time favourite film, my all-time favourite musical moment belongs to another film altogether.
Dooley Wilson singing 'As Time Goes By'
Kiss Me Kate (1953)
To me it only seems fair that the greatest songwriter of all time should share my favourite movie musical sequence. Cole Porter, in my opinion, was light years ahead of other songwriters when he lived, and still is today. All the songs in Kiss Me Kate are brilliant, but nothing compares to From This Moment On. It is a great tune, superbly sung, and it features the best dance sequence in cinema history. And that is no mean accolade, for if there is one thing Americans excel at, it is choreography. They are the masters. Always have been.
'From This Moment On'
I could have added another dozen or so great musical moments in cinematic history. Movies that just missed out include Glory (1989), Gladiator (2000) and The Carpetbaggers (1964), just to name three of them. My apologies if too many of my choices fell in the sixties, but that seemed to be when songwriters and composers were at their peak. No doubt the lovers of rap will disagree with me en masse, but I simply do not think their lyrics are clever, or their 'music' tuneful. As I used to tell my students at university, 'Writing, 'the cat sat on the mat with a fat rat on his hat, and that's that', is not hard to come up with. Five year-olds can do it. But that is for another day.