So far, in the entire history of Hollywood movie stars, only five have managed to reach the ripe old age of 100 – three women and two men. There are, however, quite a few beating down the door to 'The Hundred Club', plus a handful who fell just a bit short. Here is a short rundown on the oldest Hollywood movie stars living and dead.
Luise at the peak of her powers                                     
104      LUISE RAINER: Born 12 January 1910 in Dusseldorf, Germany, Miss Rainer outlasted all her peers, and by a considerable margin, too. She died in London on 30 December 2014, just thirteen days short of her 105th birthday! Rainer was the first actor to win back to back Oscars when she was successful in The Great Ziegfeld (1936) and The Good Earth (1937). An extremely modest and down to earth woman, she played down her profession, describing acting as similar to having a baby. 'Proud?' she asked rhetorically. 'No, every cow can do that'.
Estelle in Murder by Death (1976)
101      ESTELLE WINWOOD: Born on 24 January 1883 in Lee, Kent, UK, Estelle was one of those character actors we see gracing our screens all the time, but never bother to affix a name to. A lifelong lesbian, she nevertheless married four times, 'lavender' unions that kept inquisitive interviewers at bay. Two of her last films were Mel Brooks' The Producers (1967) and Neil Simon's Murder by Death (1976). She hated The Producers. 'I can't bear to watch it, even on a small television', she said. She passed away in 1984.
Burns & Allen at their peak                              George in later years
100      GEORGE BURNS: Born 20 January 1896 in New York City, his career consisted of two quite distinct halves. On radio he played the straight man to his wife Gracie Allen in The George Burns & Gracie Allen Show for 16 years (1934-50). After she passed away in 1964, he found enormous success as an actor in movies, even winning an Oscar in 1975 for The Sunshine Boys. George's trademark was his cigar and he smoked as many as ten a day until his death. When asked about retirement he replied, 'Retire? I'm going to stay in show business until I'm the only one left'. And he nearly did.
Crosby & Hope in Road to Utopia                                 Hope in later years
100      BOB HOPE: Born on 29 May 1903 in London, Hope's family moved to the US when he was five years old. Between 1940 and 1952 he made the 'Road to…' movies alongside Bing Crosby and Dorothy Lamour, a series of light-hearted comedies that made him a household name. Later in life he regularly entertained American troops in Vietnam and other conflicts, for which he received no fewer than five Special Academy Awards. He also made an absolute bundle from the TV rights to all the camp concerts, but that's another story for another time.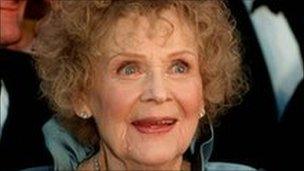 Gloria in her prime                                In Titanic (1997)
100      GLORIA STUART: Born on 4 July 1910 in Santa Monica, California, Gloria's entire acting career was a kind of 'preparation' for the movie that would make her face recognizable throughout the world. The movie was Titanic (1997), and at the tender age of 87 she played the 100 year-old Rose. She was even nominated for an Oscar for her performance, but missed out. If you ever get to watch the 1933 Eddie Cantor vehicle Roman Scandals, you will see 23 year-old Gloria playing the female lead. She died on 26 September 2010.
In Green Acres
99        EDDIE ALBERT: Born 22 April 1906 in Rock Island, Illinois, Eddie was a fine actor and a bona fide war hero in WW2 (see my piece here on Hollywood & WW2). Ironically, during the First World War his classmates referred to him as 'the enemy' because of his Germanic surname of Heimberger. One of the early prominent environmentalists, he is best remembered today for his portrayal of Oliver Wendell Douglas in TV's Green Acres series. He died on 26 May 2005 of pneumonia.
Gilbert & Gish                                                  Lillian in her dotage
99        LILLIAN GISH: Born on 14 October 1893 in Springfield, Ohio, Lillian and her sister Dorothy began their acting careers together. In 1912, Lillian made her first movie and would continue making them for the next seventy-five years, an astonishing work record in any business, much less screen acting. John Gilbert would deliberately mess up his love scenes with her, just so he could kiss her again and again, unaware she was a lesbian who would never marry or even have a boyfriend in her life. She passed away in her sleep on 27 February 1993.
In his best role, and in his dotage
98        ELI WALLACH: Born on 7 December 1915 in Brooklyn, New York City, Eli will be forever remembered as the bandit chieftain Calvera in The Magnificent Seven (1960). Why? Because the movie itself will live forever, in my opinion. The quintessential western to end all westerns. Back in 1966 he was almost killed doing the 'train' scene in The Good, the Bad & the Ugly, his next most memorable movie. 'I wish I had heard the music', he commented after watching the picture. 'I would have ridden the horse differently.' He died on 24 June 2014.  
At her peak                                               Today
99 not out:      OLIVIA DEHAVILLAND: Born on 1 July 1916 in Tokyo, Japan, Olivia was one of the most beautiful of all Hollywood actresses at her peak, the co-star of the dashing Errol Flynn in no fewer than eight films. Rumours abounded for decades that the two had an affair, but Olivia scotched them recently, saying they were in love with each other, but never consummated their feelings because 'he was happily married at the time'. Uh-huh. Still going strong, she is the older sister of the late Joan Fontaine who died in 2013 at 96.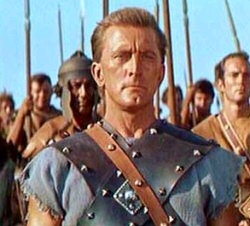 As Spartacus (1960)                                          In recent years
98 not out       KIRK DOUGLAS: Born on 9 December 1916 in Amsterdam, New York, Kirk keeps hanging in there, despite strokes and helicopter crashes, even a failed suicide attempt. He had a heart attack in 1986, survived a helicopter crash in 1991 that killed two of his fellow occupants, suffered a stroke in 1995, and had both kneecaps replaced in 2005. He gave up his 2-3 pack cigarette habit in 1950 after smoking for decades.
Then and now
98 not out       ZSA ZSA GABOR: Born on 6 February 1917 in Budapest, Hungary, Zsa Zsa was crowned Miss Hungary in 1936. The nine times married actress has been defying death for a number of years. In 2002 she was badly injured in a car accident, in 2005 and again in 2007 she suffered strokes that required surgery to clear blocked arteries, had hip replacement surgery in 2010, and had her right leg amputated in 2011. Yet she struggles on. In her prime she was a truly great beauty.
    Vera Lynn in WW2                                             In recent years
98 not out       DAME VERA LYNN: Born on 20 March 1917 in London, Vera achieved fame as 'The Forces Sweetheart' during the Second World War through her radio program on which she would sing wonderful songs such as 'The White Cliffs of Dover' and 'We'll Meet Again'. She also appeared in several films during the war, among them Rhythm Serenade (1943) and One Exciting Night (1944). In 2009, at the age of ninety-two, she had the Number 1 top-selling album in Britain, a positively staggering accomplishment for someone at that age. A truly remarkable lady, I hope she lives to be 200!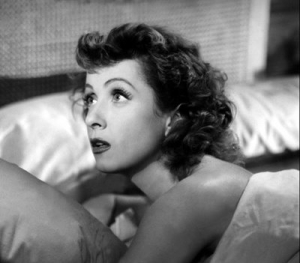 In the 1940s and in later years
98 not out       DANIELLE DARRIEUX: Born on 1 May 1917 in Bordeaux, France, Danielle is (at the time of writing) just two days away from her 98th birthday, so I am courageously assuming she will celebrate it. I surely hope so, for she has been one of my favourite actresses, ever since I saw her play Countess Staviska in 5 Fingers (1952). She was the second wife of the Dominican Republic's most notorious playboy, Porfirio Rubirosa, and made world headlines when heiress Doris Duke gave her one million dollars to agree to divorce him. In 1947 a million dollars was indeed a million dollars!