Here are a few pieces of trivia regarding actresses during World War Two that you may or may not know. The first one deals with selling War Bonds, the second involves touring with the United Services Organizations Inc. (USO), and the third looks at the famous Hollywood Canteen. Touring with the USO or selling War Bonds meant flying overseas to war zones or flying to bases and rallies at home. Air travel back then always had an element of danger, yet hundreds of movie personnel put aside their fears and served their country in whatever way they could. As you will see, Hollywood contributed an enormous amount of time and raised a stupendous amount of money throughout the conflict. A few unfortunates even gave their lives in the process. One such individual was the lovely Carole Lombard.
Carole Lombard                   Born in Fort Wayne, Indiana, USA in 1908.
Carole (above) was Hollywood's most famous casualty of World War Two. Her on-screen specialty was romantic comedy. Off-screen, she was always the life of the party, a vivacious, fun-loving blonde, willing to try just about anything, and possessed of (without doubt) the bluest language of anyone (male or female) in the industry. Carole called a spade a spade, usually accompanied by a string of coarse adjectives for emphasis. Nobody seemed to mind because she was so affable. It was these very qualities that drew Clark Gable to her in 1939. She had already been married to actor William Powell. That union dissolved amicably in 1933 and they remained friends for the remainder of her short life.
Gable and Lombard (seen below) settled down on their San Fernando Ranch. They called each other 'Ma' and 'Pa', and were deeply in love. Then the war came along. MGM immediately wanted them to go around the country selling War Bonds, but Clark baulked at the idea. He disliked crowds because he never knew how to handle them. 'Besides', he added, 'I'm not a salesman.' Carole, on the other hand, could sell a fridge to an Eskimo, so she volunteered straight away with her husband's blessing.
Accompanied by her mother, Bess, and Gables PR man Otto Winkler, she took the train out of LA. From Chicago, despite her mother's protests (the poor woman was terrified of air travel), the trio flew to Indianapolis where Carole put on a wonderful show. In one day she sold over two million dollars' worth of War Bonds. Hollywood's very first venture into the field was an unqualified triumph. The next day, she decided she wanted to get back to Gable as quickly as possible. Friends said later that she was worried about her husband working with Lana Turner, but there is no proof that he was cheating.
Carole's mother made no bones about the fact that she wanted to take the train home. In the end they tossed a coin, Carole correctly called 'tails', and they boarded a TWA flight. In Albuquerque some officers carrying military orders tried to 'bump' them off the plane, but Carole used all her humour and charm to talk them out of it. She, her mother and Otto stayed on board. Thirty-five miles west of Las Vegas the aircraft struck a mountain and all 22 persons aboard perished.
Gable was beside himself when he got the news and immediately departed for the crash site. Friends kept him from going up the mountain, but he insisted on being told the grisly details. Reluctantly, MGM executive Eddie Mannix informed him that Carole's body had been discovered 'burned and headless'. Gable was inconsolable. So, too, were many of her close friends, especially Spencer Tracy and Lucille Ball. The Hollywood Victory Committee wanted to build a monument to 'the first star to give her life for her country', but Gable refused them. Carole most definitely would not have agreed to that. Later in the war a Liberty ship was named after her. Gable launched it and wept unashamedly as he did so.
Marlene Dietrich                   Born in Berlin, Germany in 1901.
The much-maligned Marlene (above) did an awful lot of traveling and entertaining troops during the war, more often than not in dangerous areas close to the front lines. Like many stars, both male and female, she started back home, selling kisses at rallies. Hers went for the rather odd sum of $1,025 a pop. By comparison, scrumptious Lana Turner flogged hers for fifty thousand dollars per peck. The equally stunning Hedy Lamarr's went for half that amount, a measly $25,000. The guys did not really go in for that kind of thing, but skinny, little Frank Sinatra doled out smooches for a very reasonable $100 each. I suppose you could say Frank was a kind of 'K' Mart kisser
General James Gavin
When Marlene volunteered to go to Europe to entertain the troops, she really meant entertain the troops. She knew what the men wanted, and on many an occasion she gave it to them, officers and GI's alike, although she did say she preferred sleeping with the brass. 'All generals are lonely', she said. 'The G.I. can disappear in the bushes with a local girl. Not so the generals.' Being the kind-hearted, generous soul she was, Marlene went about correcting what she considered to be an 'imbalance'. We do not know how many GI's she slept with, but she certainly bedded two generals. One was George 'Blood and Guts' Patton. The other was the very married General James Gavin of the 82nd Airborne. Two years after the war his wife divorced him. 'I could compete with ordinary women', she said resignedly, 'but when the competition is Marlene Dietrich, what's the use?'
General George Patton
Marlene was over forty by then, but still very attractive, especially to a soldier far from home whose last sight of a woman was his mother waving goodbye at the railway station. Her favourite male lover, Jean Gabin, had gone back to France to fight. Her favourite female lover, writer Mercedes de Acosta, had gone back to Europe somewhere. Marlene needed company. Lieutenant Colonel Robert Armstrong said of her: 'She always insisted on eating with the boys, instead of the generals'. She was also known to take showers with them. She would simply walk in to the bathing area, take a shower, and then walk out as if nothing had happened. A lot of the soldiers thought she was nothing but a tease. She even caught a dose of 'crabs' at least once. She summoned a young Texan GI to her tent and asked him if he could get her something to clear it up. He got her some powder and showed her how to use it. Marlene was a trifle uncouth on occasion.
Despite having the morals of an alley cat, it is fair to say she often risked life and limb as she travelled through Europe with the US Army. Several times she was bombed, or her convoy strafed by German fighters, but she seemed to take it all in her stride. Her shows were full of sexy innuendo and extremely popular. On one memorable occasion she was even asked to speak with a group of young German prisoners. She did so at once, even sang 'Lili Marlene' to them. 'There was no greater moment in my life', she said. There were worse people in World War Two than Marlene Dietrich.
Bette Davis                             Born in Lowell, Massachusetts, USA in 1908.
I will be writing a full piece on Bette (above) later, but any discussion involving Hollywood women's contribution to the war effort would be incomplete if it did not include her work with the Hollywood Canteen. The idea originated with actor John Garfield when he worked at the Stage Door Canteen in New York City. He thought a similar set-up in Hollywood would be of immense morale-boosting importance to servicemen about to head off into a war zone. And he was right.
He put the notion to the best woman he knew for getting things done, Bette Davis. When it came to following an idea through she was like a terrier with a rat. She just would not let go until she was assured it had been completed to her satisfaction. Besides, Bette had clout. Hollywood 'biggies' tended to listen to what she had to say because she made lots of money for them. She soon had several executives on board from different studios, used their finances to purchase an abandoned night club off Sunset Boulevard, and then talked the 42 Hollywood unions into giving their assistance free of charge. In no time at all the Hollywood Canteen was up and running.
She even convinced the stars to contribute money as well as their time. Two productions, Thank Your Lucky Stars and Hollywood Canteen were made, with all the players donating their salaries to the project. Not all of them wanted to do that, of course. When comedian Eddie Cantor objected, (he was a tightwad of almost legendary stature), Bette and her cronies took him outside and 'convinced' him. It did not pay to mess with Bette Davis.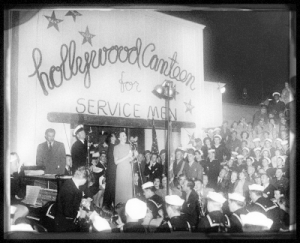 The Hollywood Canteen 1944
The Hollywood Canteen could hold up to 800 service personnel at a time, with a special roped off section for wheelchair and hospital cases. Bleachers were built so the public could pay to watch the stars arrive for duty. Few actors or actresses refused Bette when she rang and rostered them. Not even her arch enemy Joan Crawford. Among the rules laid down were: 'only non-alcoholic beverages to be served', and 'no leaving the premises with servicemen (or women for that matter)'. The first one was adhered to religiously. The second was broken all the time, not least of all by Bette herself.
Future TV host Johnny Carson was a young naval air cadet when he visited the Canteen during the war. He was absolutely thrilled to be able to dance with Marlene Dietrich. He also noticed that Bette seemed to 'disappear' from time to time with some handsome serviceman or other. Despite there being several very beautiful actresses on duty that night (and every night), Carson noticed that it was always Davis 'they clustered around'. A marine told him why. 'I hear she screws like a mink', he said. And it was true. She picked out the 'hunks' for herself. In fact, she even fell in love with one of them, Signal Corps Corporal Lewis A Riley, and wedding bells seemed in the offing, until he was suddenly transferred overseas. Those in the know were convinced that Warner Bros had something to do with it.
Yvonne de Carlo
Yvonne de Carlo was another regular at the Canteen who racked up a very healthy score dating guys she met there. She had a well-earned reputation for being just about the 'easiest' girl in town, not that it bothered her one iota. 'My pal Pat Starling and I quickly accumulated a sizeable collection of pilot's wings and other military insignia, which were given us as remembrances', she recalled. 'I've often wondered who among the many time-blurred faces made it through the war', she added. 'But more poignantly, who did not.' Fans of the sixties comedy TV series The Munsters will remember her playing Herman Munster's wife, Lilli.
Greta Garbo
In the interests of keeping the ledger straight, I should make one final mention of a star who surely did not go out of her way to contribute to the war effort or to make life a little nicer for the boys in uniform. Orson Welles recounted an incident that took place one evening when he took Greta Garbo to dinner. 'We came out of the restaurant and there was a soldier in uniform without a leg, standing on his crutches with an autograph book, and she refused it. That is how dumb she was! She refused him, yes, in front of my eyes!' No-one could ever accuse Marlene, Bette or Yvonne of refusing servicemen anything, much less an autograph. Different strokes for different folks I suppose.