There are several factors that come together to produce a motion picture star. Obviously, being able to actually act is a major component. Even so, I have no doubt there are countless great actors out there who will never, ever become movie stars, simply because ability on its own just isn't enough. A star must have 'appealing' looks; not necessarily stunningly attractive (although that helps), but he or she should possess a 'likeability' factor that has a certain uniqueness about it. Stars also have personality. They are invariably interesting to look at and (equally important) to listen to.
When you think about it, very few of the truly great movie stars possessed poor speaking voices. I say 'very few' because, as in most things, there are inevitably exceptions. Take Elizabeth Taylor, for instance. I have always found her voice to be little more than a grating, nasal whine. Awful. Yet she became an immensely popular star. Of course, possessing a face and figure that would stop a charging elephant in its tracks certainly helped, but that bloody voice! One of the reasons why I positively hate that dreadful, over-rated 'domestic', Who's Afraid of Virginia Woolf?, is because of her interminable screeching.
Another star with a lousy voice is Mel Gibson. Again, here is a guy with limited acting ability, but with classical good looks (when he was at his peak anyway) that saw him reach the top of the pile or close to it. Next time you watch a Gibson movie take notice of his voice. It has no character, no resonance. It is simply devoid of personality. Some actors can say, 'Pass the butter', and we are transfixed by them. Others, like Mel, can announce that the world is about to end, and we can barely stay awake as they say it.
After considerable deliberation I have arrived at the ten best (male) voices (in my humble opinion) in the history of movies. I shall tackle the females tomorrow. Of course, I do not expect my list will mirror your own, but hopefully it might give you food for thought. Here goes.
#10      Errol Flynn                Born in Hobart, Tasmania, Australia, 1909.
Errol scrambled into my top ten just ahead of Liam Neeson and Morgan Freeman because he had a pleasant, friendly voice that could (and did) charm the socks off most people, women especially. How much else came off depended on the woman I guess. Unfortunately, Errol couldn't act to save himself, but he was a real charmer with a voice to match. His biggest problem was settling on a genuine accent. He ditched his Aussie twang at a hundred miles an hour, opting for a kind of English one instead, but his studio kept throwing him into westerns. He was, he said, sick and tired of playing a cowboy with an English accent all the time.
The Adventures of Robin Hood (1938) has Errol at his peak.
#9        Cary Grant                Born in Bristol, England, 1904.
Cary always played the quintessential Englishman with the voice to match. You can always tell the unique voices. They are the ones that impressionists by the hundreds copy. I doubt if there was a single impressionist on the planet who did not do a 'Cary Grant' in his act when Cary was big box-office. There was always a certain 'warmth' about his voice too. You felt you could trust the man.
North by Northwest (1959)     is one of Cary's best.
#8        Yul Brynner              Born in Vladivostok, Russia, 1920.
Yul had a deep, resonant voice that contained the hint of an accent, but one that it was hard to identify as coming from any particular region. It gave him an air of superiority, a man of knowledge, someone who expected and usually got obedience. He always sounded as if he had a secret; that he knew something nobody else did.
The Magnificent Seven (1960) He is at his best in this.
#7        Robert Mitchum        Born in Bridgeport, Connecticut, USA, 1917.
Bob Mitchum was a tough guy and he had the voice of a tough guy, one that suited his screen persona to a 'T'. When he spoke, people listened. Readers may wonder why there are so few modern actors on my list. I think it is because today's stars are more 'manufactured' than the stars of yester-year. There appears to be a kind of 'formula' for acting excellence that they must adhere to, so they tend to have similar styles, voices, accents. This produces high quality performers, far more than ever before, but the uniqueness that a difficult upbringing brought to the likes of Mitchum and Flynn is missing in most cases.
The Enemy Below (1957)                    Just one of many fine performances.
#6        Sean Connery            Born in Edinburgh, Scotland, 1930.
I don't think I have ever met anyone who does not like Sean Connery. Just as nearly every girl on Earth drools over Johnny Depp, so almost every person, male or female, has nothing but fond feelings for the (dare I say it?) great Scot. Voice-wise, however, if Connery so much as burps, it has a Scottish accent. He can play any character he likes and play it with a Scottish voice. In The Hunt for Red October (1990) he was a Russian submarine commander. In The Wind and the Lion (1975) he was a Berber chieftain in Morocco. In Robin Hood, Prince of Thieves (1991) he was King Richard the Lion-Heart of England. In all three roles his magnificent Scottish burr resonated with nary a thought given to using an appropriate Russia, Berber or English accent. And cinema-goers (and critics) couldn't care less. It was, after all, Sean Connery.
Indiana Jones & the Last Crusade (1989)      My personal favourite Connery performance.
#5        James Earl Jones       Born in Arkabutla, Mississippi, USA, 1931.
James Earl Jones is the possessor of one of the truly magnificent voices ever to be heard on celluloid. It positively booms. Fans unfamiliar with his name would surely have heard him at some time in their lives because he is the voice of Darth Vader in the Star Wars pictures. David Prowse is inside the suit, but it is Jones who speaks the lines. Incidentally, the two men have never met. And in case you think he is a wonderfully rich voice and nothing else, it should be noted that James Earl Jones is an 'EGOT', one of just 14 people to have won an Emmy, a Grammy, an Oscar and a Tony.
The Great White Hope (1970)                         Jones's Oscar-nominated performance.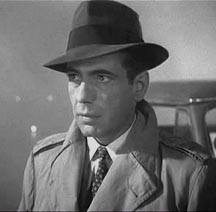 #4        Humphrey Bogart     Born in New York City, New York, USA, 1899.
Bogie was just 5'8" tall (173cm). As far as conventional good looks are concerned – he didn't have them. He wore a toupee and spoke with a lisp. He was in his forties when he made his biggest hit Casablanca (1942). Yet, despite all these strikes against him, he had two big pluses. He had charisma on the screen and he had a voice, lisp or no lisp, that was perfect for the characters he played. It had a kind of smoky, sincerity that immediately identified him as a man you could depend on in a tight spot. And it had style.
Casablanca (1942)                                          The ultimate Humphrey Bogart.
#3        Lee Marvin                Born in New York City, New York, 1924.
Whenever Lee Marvin appeared on the screen he commanded our attention, just with his sheer presence. Then he would speak, and that command intensified tenfold. The man's voice was incredibly rich and authoritative. If you were casting a drill sergeant you would make him your first choice every time. Even when he whispered or spoke softly, his voice had a quality unlike others. It was a powerful weapon in his acting armoury and he used it with stunning effect.
The Man Who Shot Liberty Valence (1962)    One of many top efforts.
#2        James Mason             Born in Huddersfield, Yorkshire, England, 1909.
The silky tones of James Mason have graced many a fine film. He could sound kindly, evil, even disinterested at times. But never dull. His Cambridge University and Old Vic background were clearly evident in his mellifluous voice which could effortlessly give his characters an air of intellect if that was required, or provide them with a sinister undertone if need be. He very nearly headed my list, but just missed out. A wonderful actor.
5 Fingers (1952)                                             A superb performance.
#1        George Sanders         Born in St Petersburg, Russia, 1906.
Sanders and Mason were very similar, but George had a voice that was always tinged with cynicism, not unlike the actor himself. The role of Addison deWitt in All About Eve (1950) was made for him. It won him an Oscar and rightly so. His beautiful English speaking voice is all the more remarkable when we consider he was born in Russia, not in Merry Olde England. If you wish to hear the language delivered with malevolence and style; then watch the above-mentioned picture and listen to suave George Sanders. What a star he was.
All About Eve (1950)                                       Perfection.
Gregory Peck in Twelve O'Clock High (1949)
Born in San Diego, California, USA, 1916.
Vincent Price in Laura (1944)
Born in St Louis, Missouri, USA, 1911.
NOTE: On reflection, I feel the above list would not be complete without the addition of two more names. To be frank, I simply overlooked them. Both were Americans; both possessed of beautiful speaking voices. I refer to Gregory Peck and the inimitable Vincent Price. I can scarcely believe I did not think of them yesterday when I wrote this piece. One of my favourite monologues in movie history is Peck's speech as General Savage to his aircrews in Twelve O'Clock High (1949). Price, on the other hand, was gifted with a set of pipes that simultaneously seemed to drip with honey and venom. Surprisingly, he was an American, not an Englishman as his tones seemed to indicate. He was also an expert in the culinary arts, but I shall expand on that at a later date. Perhaps, Laura (1944) does him as much justice as any of his many fine screen appearances. If I were to number these two great stars in my list, Peck would be at #4 and Price at #3. My apologies to fans of these terrific performers for originally ommitting them.