Chances are you have never even heard of an actress named Abigail Adams. Not surprising really, considering she only played bit parts in a few forties B-Grade westerns; but her story is a not uncommon tale of tragic Hollywood, of a young hopeful who ventured into Tinsel Town, tasted a modicum of success, met and romanced a few of the 'beautiful people', and then fell by the wayside at an early age.
Born in South Carolina in 1922, 19 year-old Abigail won first place in a 'singing models' competition that landed her a two-week engagement at New York City's Stork Club. When that ended she was signed as an understudy in a Broadway play. Soon afterwards she met 41 year-old actor Lyle Talbot, a notorious ladies man, who married her in January 1942. By the fall of the same year the union had been annulled, Talbot moving on to the third of his five wives.
By January 1943 Abigail was engaged again, this time to actor-singer Tony Martin. He was in the army at the time, but managed to pop the question whilst he was home on leave. The marriage never eventuated, possibly because she was rumoured to have gotten engaged to Mickey Rooney as well! Furthermore, she was soon engaged again, this time to Spanish-born concert pianist Jose Iturbi, a balding little man more than twice her age.
Sometime between November 1944 and March 1945 she met and fell hook, line and sinker for comedian George Jessel (pictured below). He, too, was more than double her age and scarcely a romantic figure, yet it was this relationship that would ultimately lead to her downfall. Before long, Abigail could be seen about town sporting yet another engagement ring, the latest one provided by Jessel. 'We are going to go steady for a while and see what happens', he told the press; as it turned out, an understatement if ever there was one.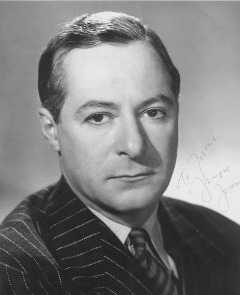 In May 1948 George and Abigail's engagement ended – for the first time anyway. Randy George had somehow garnered the affections of the rather stunning Greer Garson and was squiring her about town, much to his ex-fiancee's chagrin. By February 1949, however, George's affair with Garson was over and his ring was firmly back on Abigail's ever-twitching finger. 'I don't know when we'll be married', she told her mother. 'We haven't set the date yet'. A few days later the slippery as ever George told an interviewer: 'Just say we have no immediate plans. Maybe some time in the future'. (As plans go, that would have to about as vague as it gets). Maybe he sensed something, for about two months later, after a round of arguments and fights, the lovebirds split yet again. A pattern was beginning to emerge.
June 1949 rolled around and, true to form, they drifted back together again and were soon spotted dining and dancing at New York's top clubs. In January the following year, when Abigail asked her friends to help her dispose of her furniture, they (and the press) assumed she was either moving in with George or eloping with him. They were wrong on both counts. She and lover boy had split again, and she had decided to end it all by slashing her wrists. Like most things in her life she made a mess of it, but the attempt seemed to jump-start her relationship with good old George because they were quickly reunited for the umpteenth time.
Tired of movie life and the fact that her career was permanently stalled in first gear, Abigail took up singing again, this time as a jazz crooner. It was early 1951 and she and 'on again, off again' George were still an item. It took more than a year of auditions, but when she finally opened at Ciro's in March 1952 George was right there to share her triumph. In fact, the tabloids reported that he was openly moved by the occasion and wept copiously for the cameras.
Later that year he moved out to Los Angeles and, of course, Abigail followed. Their roller-coaster affair zoomed about for the next two and a half years until December 1954 when an intoxicated, barefooted, Abigail was arrested in a parked car in Mandeville Canyon, West Los Angeles. In the car with her were two equally drunk men, actors Broderick Crawford and Myron McCormick. The arresting officers stated that her outrage at being booked brought forth language that 'turned the air blue'. For her part, Abigail told newsmen later that she and her companions were, 'reciting Shakespearean sonnets and reading T. S. Elliot poems', when arrested. What's more, she assured them, she was stone cold sober at the time. So there. Did anyone believe her? Probably not. George certainly didn't.
A couple of days later Abigail announced that she had at last given up on her 11 year affair with her slippery fiancee. 'George and I are through. The wedding was called off'. As a matter of fact, nobody could ever really recall the wedding actually being on. Then, surprise, surprise, they changed their minds yet again and George was back in the saddle, taking her to the Santa Anita Racetrack for the day (no pun intended). She was in excellent spirits, he recalled later. It was February 11, 1955. Two days later Abigail's lifeless body was discovered in her Beverly Hills apartment. She had died from an overdose of sleeping pills, although no bottle or other container was found nearby. George reportedly fainted when told the news over the phone at the Hillcrest Country Club.
When asked to comment on his ex-fiancee's passing, mealy-mouthed George had this to say: 'She had a rather frustrated life, but of course you don't know why people do those things. She used to take a lot of pills for insomnia'. When asked about their relationship, he muttered something about them being engaged 'about eight years ago', but 'not recently'. Nevertheless, the press noted that Abigail Adams, after waiting 11 years in vain for George Jessel to tie the knot, had chosen to take her own life at the tender age of 33.
Jessel lived on for another 26 years, dying at the age of 81. The last of his three marriages had ended in 1943, a strong indicator that he never seriously meant to make an honest woman of Abigail at any stage of their relationship. He was a 'user' who enjoyed playing the field, and it suited his needs to have a bed-warmer to fall back on in lean times. There have been hundreds of Abigails in Hollywood down the decades. There will probably be hundreds more.