While making the enormously successful film Four Weddings and a Funeral (1993), Hugh Grant, its male lead, privately stated that in his opinion the picture was just plain 'awful'. Andie MacDowell got the female lead at the last minute after it had been turned down by both Melanie Griffith and Brooke Shields, but she liked the picture and agreed to take percentage points in lieu of a straight acting fee. The result of all this: Hugh received his fee of $100,000 and Andie picked up a cool $2 million. The picture grossed about $260 million worldwide. Even so, after several nondescript parts in film and TV, it was this picture that put Hugh on the map as a top cinema drawcard, and he has never looked back. Tragically, Charlotte Coleman, the actress who plays Scarlet, passed away from an asthma attack in 2001. She was only 33.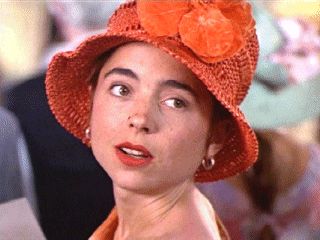 Unless you are a visitor from outer space, you would have to be aware that Hugh was arrested in Los Angeles in 1995 (just after completing Sense and Sensibility) with a hooker named Divine Brown. He and the lady who now describes herself as an 'actress', were caught indulging in what police officers called 'lewd behaviour'. In days gone by that would have spelled the end of an actor's career, but not so in Hugh's case. In what can only be assessed as a brilliant career move, he immediately appeared on America's The Tonight Show, and made light of the incident. Given his penchant for portraying stammering, sheepish and contrite little boys on screen, we are left to wonder if, perhaps, this too was nothing more than a carefully arranged performance, including his double entendre: 'I've never been one to blow my own trumpet'. Who knows? All in all, however, the exercise was a raging success. Fans world-wide loved his, 'OK, I made a mistake and got caught', approach to the whole sordid episode, and his career suddenly took off like a Harley Davidson. The cast of Sense and Sensibility back home in England considered the whole thing hilarious.
busted
Divine Brown
Regarding Julia Roberts, his co-star in Notting Hill (1999), he rather un-gallantly had this to say: 'Very big-mouthed! Literally, physically, she has a very big mouth. It is a very big mouth. When I was kissing her I was aware of a faint echo.' I bet Julia just loved that. He did say that Renee Zellweger was the best 'snogger' he had worked with, however, before adding that he and co-star Colin Firth in Bridget Jones's Diary (2001) indulged in some 'competitive snogging' with her, trying to outdo each other. 'You will have to ask Renee who she preferred.'
In 2001 he purchased an Andy Warhol painting of Elizabeth Taylor for nearly $4 million, selling it six years later for a staggering $23.5 million! On a personal level Grant has been involved in a couple of lengthy relationships and several short term ones, all the while being quite open about his distrust of ever marrying anyone. He and model/actress Elizabeth Hurley were together for about 13 years from 1987 until 2000, until the encounter with Miss Brown inevitably placed an irreversible damper on things. His relationship with Jemima Khan, ex-wife of Pakistani cricket legend Imran Khan, ended after three years in 2007.
Elizabeth Hurley
Jemima Khan
Grant has three children to this time (March 2015). The first, a girl named Tabitha, was born in 2011 to Tinglan Hong, a woman he met in a bar. At the hospital Hugh graciously stayed with her for about 30 minutes after the birth before making his apologies and heading off to play golf in Scotland. He made no bones about the fact that he had no intention, whatsoever, of contemplating matrimony with the mother of his daughter.
Hugh & Tinglan Hong
His second child, a boy born in 2012, was with Swedish TV producer Anna Eberstein. Again, any possibility of wedding bells was quickly put to rest by both parties. Then, for reasons known only to them, he and Miss Hong briefly reunited in 2012 to churn out his third child, a boy this time which they named Felix. He entered this world in 2013, just three months after Miss Everstein's little boy. Even by today's regrettable standards, fathering sons by two different women at pretty much the same time, and publicly declaring no interest in ever being married to either of them, seems to be a tad 'caddish'.
with Anna Eberstein
No doubt both mothers must have been slightly bemused by his highly publicised comment regarding his sudden crop of offspring: 'I don't particularly like babies. I don't mind them for about four minutes. That's my max. After that I can't quite see what everyone's fussing about.' A lot of women, especially mothers, might very well say the same thing about 55 year-old, 'love 'em and leave 'em', Hugh.