Goldfinger (1964) was the third of the James Bond franchise offerings, and it was released at the height of Bond fever that seemed to grip movie-goers world-wide. It all began back in 1962 with Dr No, the picture that not only launched Sean Connery on the unsuspecting women of the world, but Ursula Andress on the unsuspecting men as well.
It is interesting to note that the two greatest entertainment phenomenon of the 20th century, James Bond movies and the Beatles music, started within 24 hours of one another. Dr No premiered in London on 5 October 1962 and the Beatles' first single, Love Me Do, was released on the same day! It would be May 1963 before the Bond film opened in the USA.
Sean Connery did not actually set foot in America during the entire Goldfinger shoot. All his scenes, including those meant to be at the Kentucky ranch, Fort Knox and Miami, were shot on sound stages at Pinewood Studios, thirty miles west of London. Sales of the Aston Martin DB5 increased 50% in the aftermath of this movie. The idea for the revolving number-plates came from director Guy Hamilton who had just been hit with a parking ticket outside the studio. A laser beam was used for the first time in a movie here. In the book it was a chain-saw.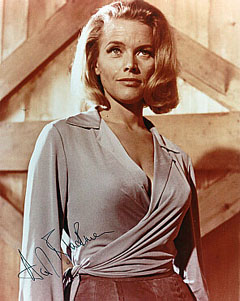 Honor Blackman plays Pussy Galore here and was 39 years old when she was chosen, making her the oldest Bond girl thus far, although the soon to be released Spectre (2015) will see fifty year-old Monica Bellucci outdo her comfortably. Understandable, I suppose, given that Daniel Craig, the latest Bond, is now 47 himself. Monica was born in 1964, the year Goldfinger was made. In Ian Fleming's novel, by the way, Pussy is a lesbian. That was one of many changes from book to movie that he never got to see, having died two months before its premiere.
Gert Frobe played the heavy, Auric Goldfinger, but he spoke very little English so most of his lines were dubbed throughout the movie by character actor Michael Collins. Frobe's career very nearly came to a screeching halt when it was discovered he was once a member of the Nazi Party in Germany during the war. He received the benefit of the doubt when a Jewish man named Mario Blumenau came forward and vowed it was Frobe who once saved his family from the Gestapo.
Harold Sakata, the actor who plays Goldfinger's henchman 'Odd Job', was a Hawaiian of Japanese descent. In the 1948 London Olympics he won a Silver Medal in the light heavyweight weightlifting division and later went on to a professional wrestling career under the colourful name of Tosh Togo; a 'bad guy' who allegedly threw salt in his opponents' eyes at opportune moments. He died from cancer in 1982.
Rumours persisted for years that actress Shirley Eaton had died on the set from skin suffocation after she was painted gold for her very famous scene. Not true. Skin suffocation is a myth. The human skin plays little or no part in the respiratory process and Eaton was not harmed, although it took several scrubbings and Turkish baths to remove all the gold paint. The skin is, however, the main surface for heat exchange, so it is possible to die from overheating if care is not taken.
Eaton was astonished (and disappointed) to discover at the picture's premiere that every line (bar one containing just three words) of her dialogue had been dubbed by another actress. Tania Mallet, who plays her equally ill-fated sister Tilly here, only made this one movie. She was paid a paltry 150 pounds a week to do so, while her modelling career at the time was earning her 2,000 pounds a week! In the book she falls in love with Pussy and is later killed by Odd Job at Fort Knox.
Most Bond plots are idiotic, but Goldfinger has to take the cake for sheer stupidity. Why, for instance, would Goldfinger go to all the trouble of killing one of the gangsters by having the man shot in his car, and then have the car crushed, knowing full well he would have to extricate his gold bullion from the trunk later? Why not just remove it first, or better still, not even put it in at all? Come to think of it, when he kills all the other mob bosses with nerve gas at his stud farm, what did he do about their bodyguards? These guys were the heads of crime families from all over America, so there would have to have been a small army of bodyguards tagging along. Mafia bosses don't go to the toilet without their torpedoes. And are we to believe that he can eliminate a gaggle of crime bosses from all over the country at his own ranch without anyone coming to look for them?
As for the brainless Fort Knox segment, I doubt if there has ever been a more stupid 'set up' in movie history. What would be the easier option I wonder? Option A – Arrest Goldfinger the moment Pussy Galore decides to betray his plans to Bond and the FBI, then have her testify against him so that he goes up the river for a very long stretch. Or Option B – Have around 10,000 soldiers in the Fort Knox area pretend to fall down as if gassed by Pussy's Flying Circus, wait until he blows open Fort Knox and gets his small army and a primed nuclear weapon inside the place, then launch a counter-attack to, hopefully, save the United States entire gold bullion stocks from being blown to smithereens or made radioactive (or both)? The producers, to their everlasting embarrassment, decided to go with Option B. Unbelievably, the picture went on to make a fortune, thanks to Connery's charisma and John Barry's fabulous score. In fact, Goldfinger became the fastest grossing film in cinema history up to that time, such was the impetus of 'Bond mania'. Go figure.