The daughter of Oscar-winning actor Jon Voight, (he won for his 1978 performance in Coming Home), Angelina Jolie Voight chose not to use her father's name because she had no time for him back then. She was always going to be an actress, as evidenced by her enrolment at the Lee Strasberg Theatre Institute at the ripe old age of eleven.
her father Jon Voight
her mother Marcheline Bertrand
As the years rolled by she progressed from bit parts to more important ones, until she landed the lead opposite Denzel Washington in The Bone Collector in 1999. However, it was her tour de force performance in Girl Interrupted in the same year that catapulted her into the limelight, earning her a Golden Globe, a Screen Actors Guild (SAG) award, and a Supporting Actress Oscar. She was truly off and running as a genuinely fine actress, but it was her weird private life that garnered the most attention.
In 1996, for instance, she wed her first husband Jonathon Lee Miller. He was her co-star in Hackers (1995), and the grandson of British thespian Bernard Miles who played 'M' in the first couple of thousand Bond films. What brought the nuptials a boatload of comment, however, was what Angie chose to wear. Forget traditional, she opted for black leather trousers and a white shirt with her husband-to-be's name painted on the back – in her blood. How romantic is that? They divorced in 2000. Possibly, Jonny was surprised, but nobody else was.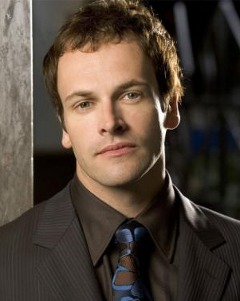 Jonathon Lee Miller
Enter husband number two in May 2000, the ever reliable, first magnitude oddball, Billy Bob Thornton. A match made in heaven. He was twenty years her senior and had gone through four wives already! And he was just as weird as her. The blissful duo gleefully told the world's press of their undying love while proudly displaying cute little matching vials of the other's blood draped around their necks. Hm. Blood again?Angie also has a tattoo of the Japanese sign for death, collects knives, and has a strong interest in mortuary science. 'There's something about death that is comforting', she said in 1996. 'The thought that you could die tomorrow frees you to appreciate life now.' Well, that's made my day.
Billy Bob Thornton & Angelina
In May 2003, the Angie/Billy Bob circus officially ended; their undying love as dead as the proverbial dodo. Surprise, surprise. Unfortunately for Angie, she now bore a 'Billy Bob Thornton' tat that just wouldn't go away. So, years later, she had the coordinates representing the birth countries of her children tattooed over the thing. Speaking of children, Angie and Billy Bob managed to adopt a Cambodian boy (Maddox) before they parted. Brad Pitt and Angie raise him; Thornton being out of the picture entirely.
In 2004 along came husband number three, Brad. Well, actually he became husband 3 about ten years later, but the two stars met in 2004 on the set of Mr. and Mrs. Smith. Rumors were rife that they were very involved from the get-go, but Angie has always denied this, stressing the point that her father had cheated on her mum years ago and, therefore, the thought of taking up with a married man was anathema to her. Brad was married to Jennifer Aniston at the time, but they separated in January 2005. He and Angie were seen together everywhere from then on. Clearly, Angie's 'no married men' rule had gone by the board. Probably long before that if truth be known.
planet Earth's most famous couple?
Back in 2004, before Brad that is, she openly admitted to having a string of one night stands in hotel rooms with various male friends. 'I decided to get closer to the men who were already very close friends of mine', she explained. 'As crazy as that sounds, meeting a man in a hotel room for a few hours and not seeing him again for a few months is about what I can handle'. Evidently, the same reasoning applied to the occasional woman as well, for she openly discussed her love affair with fashion model Jenny Shimizu. 'I probably would have married Jenny if I hadn't married my husband'. Which one? In 2000, Angie and her brother publicly declared that they were not involved in an incestuous relationship. Well, that's good news. At least neither tossed in the old Hollywood chestnut that they were' just good friends'.
'We never wanted our kids to be actors', Angie said not long ago. 'But we also wanted them to be around film and part of Mommy and Daddy's life and not be kept from it either. If and when they decide to be actors when they are older, I would ask that acting not be the center of their lives, because I don't think it is healthy'. Healthy or not, shortly after making this statement their five year-old daughter Vivienne Jolie-Pitt played the little princess in Mum's movie Maleficent (2014). Brad and Angie say this was totally 'unplanned'. I guess few plans, no matter how well-intentioned, can be expected to last forever.
in the title role – Maleficent
In 2003, Angie became the first recipient of the' 'Citizen of the World' Award, for her work with the United Nations High Commissioner for Refugees (UNHCR). Since 2001 she has tirelessly visited over twenty countries in her capacity as goodwill ambassador. Her environmental work saw her made an official citizen of Cambodia by its king in 2005. In 2006, she sold the first pictures of her newborn baby Shiloh for over 4 million dollars and gave the money to charity. In June 2014 she was made an honorary dame by Queen Elizabeth II in London.
When asked what happens to the money she makes from her movies, she replied, 'Save one-third, live on one-third, give away one-third'. Whatever we may think of her 'uneven' past, today Angelina Jolie and her husband are putting their money, their time and their energy where they can do the most good, in areas that are sorely in need of all the help they can get. Good on them.