Clark Gable befriended people he thought could benefit his career. He even married a couple of them. When he arrived in Hollywood in the mid 1920's he brought with him his much older wife, his acting tutor Josephine Dillon. He quickly ditched her for the equally older (but considerably wealthier) Ria Langham, whom he proceeded to cheat on as well with several young stars and starlets.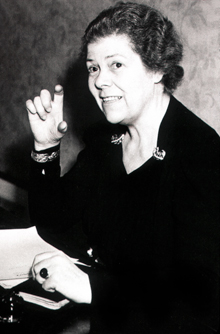 Josephine Dillon, the first Mrs Gable.
An affair with columnist Adela St Johns relieved his sexual boredom for a while and, by all accounts, produced an illegitimate child, although this was kept under wraps by the studio fixers. He then moved on to the already married Joan Crawford. Their dalliances were soon the worst kept secret in Hollywood and came to the attention of Gable's meal ticket, Ria, who promptly served MGM with an ultimatum. If something was not done to separate Crawford from Gable she would tell the press everything, including the not so well known fact that Clark was still wed to his first wife Josephine. Most people, even LB Mayer, assumed he and Ria were husband and wife because it was common knowledge they were living together.
Adela St. Johns
Louis B Mayer ruled MGM with an iron hand. Even a reasonably close pal like Gable was a business propositions first and a friend second. When word reached him about Clark and Joan he took immediate action. It was 1931, and although the lovebirds were not quite as big at the box-office as they would later become, they were nevertheless big enough to cost him a lot of money should their careers fall foul of public opinion. They had just finished shooting Possessed amid industry rumors that their romance on the screen was a mere flicker compared to the one away from it. Mayer took Gable aside (he knew Clark was the weaker character of the two) and told him to end the affair at once or his career and Crawford's would be over. 'I was such a new star that he could have ended my career within fifteen minutes after I walked out of that office', recalled Gable. 'I had no interest in being a waiter'.
Clark & Ria
Gable was ordered to secretly divorce Josephine, to publicly marry Ria at once, and to give Joan the 'heave-ho'. He complied at once and the newly-weds were then sent off on a publicity tour across America in one direction, while Crawford and her husband Douglas Fairbanks Junior were dispatched on their own publicity tour in the opposite direction. Gable had only just promised Crawford that he would get a divorce and marry her, but when faced with the possible end of his career he did what everyone expected him to do. He dropped her like a hot scone, even though she was by now pregnant with his child. An abortion was quickly arranged by the studio and Joan blithely lied to her husband, saying she had lost their baby due to a fall she took during filming.
Being sent away with his new wife angered Gable considerably, but it did nothing to stop his extra-marital dallying. While on tour he managed to seduce Marion Davies, the wife of 65 year-old newspaper magnate William Randolph Hearst. Then, once the publicity tours were over, he and Joan picked up where they had left off. From then onwards, however, their sex sessions were arranged in secret.
The gorgeous Marion Davies
The Gable-Crawford romance itself seems to have been deep and meaningful for reasons other than the obvious sexual attraction between the two stars. Both hailed from the American Midwest. Gable was from Ohio and Crawford, although originally from Texas, was raised in Kansas City. Their movie star personas were very much manufactured for them and while they publicly lived those personas to the full, in the privacy of each others company they relished the chance to be their old selves and drop the pretension.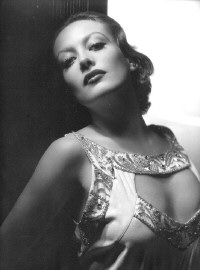 Joan Crawford
Forty years later, shortly before her death, Crawford admitted as much. Nevertheless, when it came to the crunch, both stars put their careers first and 'officially' ended the affair. Crawford later admitted that it went on for 'many, many more years than people thought'. If so, it must have been conducted in absolute secrecy, for Mayer did not give second chances. Just over a decade later Gable's wife, Carole Lombard, was tragically killed in a plane crash. Crawford immediately sent him a private note of consolation accompanied by an offer of a shoulder to cry on. That same evening the deeply distressed actor secretly drove to her home and stayed the night.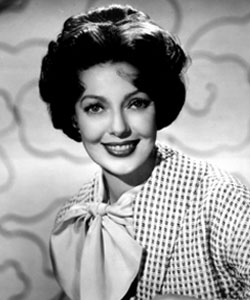 Loretta Young
But back to the thirties. He found time to impregnate Loretta Young when they made Call of the Wild together in 1935. The birth of a daughter followed nine months later, (Loretta was a staunch Catholic so an abortion was out of the question). She quickly 'adopted' the child from an orphanage. Anyone who knew Clark took one look at the baby's ears and knew it was his. Loretta took to pulling woolen hats over her them whenever someone came calling. Nobody was fooled, although her daughter would not discover her famous dad's name until her husband spilled the beans on their wedding night.
In his younger Broadway days Gable earned money as a stage gigolo, servicing many middle-aged and elderly women (and the occasional man such as gay actor/producer William Haines), among them actress Laura Hope Crews who would later play Aunt 'Pittypat' Hamilton in Gone with the Wind.
In September 1933, at 2am, an intoxicated Gable ran down and killed a woman named Tosca Roulien on Sunset Boulevard. John Huston took the rap for 'the King'. Then, a hastily conducted inquest found that Mrs Roulien had stepped off the curb into traffic without looking, thus contributing to her own death. Since the major studios had a stranglehold on the authorities in Hollywood at the time you can decide for yourself if justice was served. Just how heavy was the traffic on Sunset at 2 am back in 1933? The dead woman's family was paid $125,000 compensation by Mayer noy to pursue the matter further.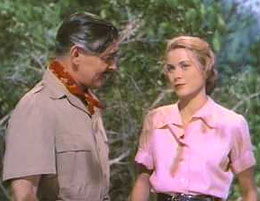 Gable & Kelly in Mogambo
Although Clark was 28 years her senior, Grace Kelly fell for him like a ton of bricks during the filming of Mogambo in 1953. Other than Ava Gardner who was by then an old flame and of little interest to him, Grace was about the only available attractive female on location in the wilds of Kenya, so the poor man was compelled to seduce her throughout the shoot or remain celibate. Tough choice. After Mogambo wrapped she followed him to London, but Clark put a guard on the stairs at the Connaught Hotel and refused to return her calls.
They met again in Hollywood and even spoke of marriage, but nothing came of it. Gable knew he was too old for her. Besides he knew she liked men as much as he liked women. When Hedda Hopper asked him about their fling, he lied through his teeth and said, 'Good God, no! I'm old enough to be her father'. As if that ever dissuaded a Hollywood hunk. When she was asked about the affair, the future Serene Highness of Monaco was decidedly less evasive. 'What else is there to do when you're alone in a tent in Africa with Clark Gable?'
Death claimed him before he reached 60, but Clark had crammed a lot of good times into his 59 years. Towards the end he was strolling along the corridors of Warner Bros with a friend, admiring the rows of portraits of lovely actresses who had graced the studio down the decades. 'Aren't they beautiful?' his friend said. 'Yes, they are', replied the 'King'. 'And I've had every one of them'.