KUNG FU (1972-5) 63 EPISODES                         
Every once in a while some 'genius' comes up with a concept in the entertainment industry that goes against all expectations and becomes a hit. Teenage Mutant Ninja Turtles was one such concept and Kung Fu was another. Just when westerns had clearly dropped from favour, having been milked to death for two whole decades, creators Ed Spielman and Herman Miller hit upon the idea of a Shaolin Monk wandering around in the Old West armed with nothing but his skill in Kung Fu. Who could possibly find such a concept interesting for three seasons and sixty-three episodes? Answer? Just about everyone. Furthermore, if the series star David Carradine had not walked away from it, the show would almost certainly have continued on its merry, winning way! He had sustained too many injuries during filming, however, and felt he was unable to go on.
According to the widow of martial arts legend Bruce Lee, it was her husband who came up with the concept anyway, not Spielman and Miller. It was supposed to be his series, she said, but then the network decided that American audiences were not quite ready for a series starring an Asian leading man, so David Carradine was picked to replace him. That is the story if you accept Dragon: The Bruce Lee Story (1993) as gospel. The show's producers vehemently deny this, claiming that Spielman and Miller conceived the series and that Carradine was always intended to portray Kwai Chang Caine. The fact that Carradine had no formal martial arts training, whatsoever, particularly aggravated Lee when he learned he had been turned down in favour of an actor unversed in Kung Fu. There is no concrete evidence to support the lady's claim, however.
Master Po
Caine is the orphaned son of an American man and a Chinese woman in mid-19th century China. Following the death of his maternal grandfather he is accepted into the Shaolin Monastery where he grows up to be a priest and a martial arts expert. When his beloved mentor and elder, the blind Master Po, is murdered by the Emperor's nephew, the outraged Caine avenges him by killing the nephew. With a price on his head, Caine flees to America in search of his family roots and his half-brother, Danny Caine. Throughout the series there are flashbacks to Caine's childhood and his mentor, Master Po, who refers to him as 'grasshopper'.
Throughout the three seasons of Kung Fu many prestigious guest stars put in appearances. These included Harrison Ford, Jodie Foster, Jose Feliciano, Leslie Nielsen, Lew Ayres, Nancy Kwan, William Shatner, Eddie Albert, Pat Morita, Don Johnson, Stefanie Powers, John Drew Barrymore, and scores of others. In May 1973, it became the # 1 show on American television, drawing a regular twenty-eight million viewers!
Even Carradine himself was amazed by the popularity of the series, although not at first. 'Man, I read that pilot script and flipped! But I never believed it would get on TV. I mean, a Chinese western, about a half-Chinese/ half-American Buddhist monk who wanders the gold rush country but doesn't care about gold, and defends the oppressed but won't carry a gun, and won't even step on an ant because he values all life, and hardly ever speaks. No way!'
LANCER (1968-70) 51 EPISODES                        
Another ranch family battling to make ends meet. Andrew Duggan portrays the patriarch, Murdoch Lancer, with Wayne Maunder as his older son, Scott, a veteran of the Union Army during the Civil War. James Stacy is the younger gunslinger son known as Johnny Madrid Lancer. Lovely Elizabeth Baur plays Murdoch's ward, Teresa O'Brien. The fifty-one hour-long episodes were shot in colour but westerns were a genre on the way out by then, plus there were already several series focused on ranch families. For instance, both the Lancer spread and The Big Valley spread were set in the San Joaquin Valley, virtually occupying the exact same stretch of land. Timing is of the essence when it comes to the creation of television series and, unfortunately, this quality series arrived on the scene a tad late. Even a half dozen years earlier would more than likely have seen it prove most successful. It has been likened by some to Bonanza but it was far more serious than that. The lead characters were more human; they each had character flaws which made them decidedly more interesting and easier to identify with.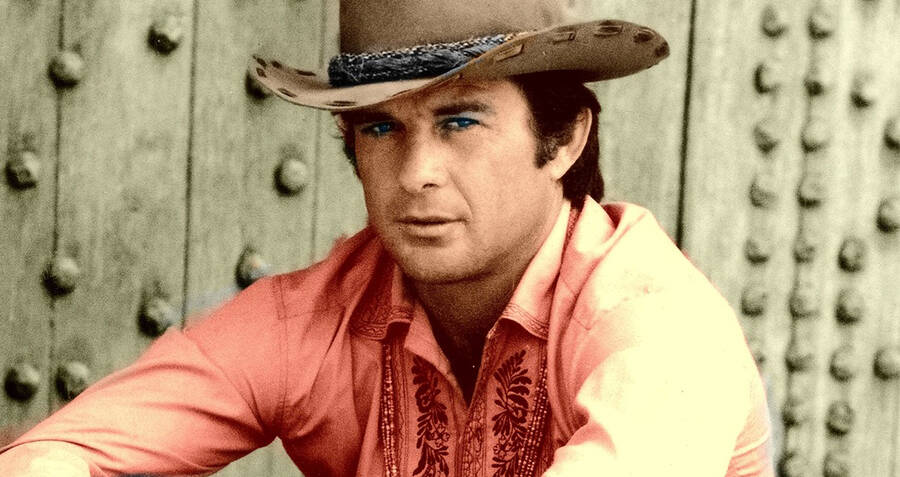 James Stacy
Off-screen, James Stacy's life was a turbulent one. In 1963, he married singer/actress Connie Stevens but they divorced three years later. Marriage # 2 was to Kim Darby in 1968. A year later, she played Mattie Ross opposite John Wayne in True Grit (1969) but divorced Stacy in June of that same year. They had one child together. Tragedy struck when Stacy lost his left arm and left leg in a terrible motorcycle in 1973; an accident that claimed his girlfriend's life. Medical bills bankrupted him but his ex-wives and friends helped him by organizing a benefit.
In 1991, he retired from acting altogether but in November 1995, after pleading 'no contest' to a charge of molesting an eleven year-old girl, he flew to Honolulu and attempted suicide. After consuming a pint of whiskey, he leapt from a 1,200 – foot (370 m) cliff but a ledge fourteen metres down stopped his fall and he survived. In March 1996, he received a six-year prison sentence which he served in full at Chino. Stacy died at seventy-nine in 2016.
LARAMIE (1959-63) 124 EPISODES                    
Unbelievable as it might seem, this series took off like a house on fire in Japan of all places! When its star Robert Fuller visited Tokyo in 1961, about 100,000 fans greeted him at Haneda Airport. Even the Beatles did not receive such an enthusiastic welcome when they first went to Japan in 1966. Fuller was even invited to dine with Prime Minister Ikeda. Perhaps, the fact that the two stars of the show, Fuller and John Smith, were not 'family' at the ranch, but hard-working hired hands, gave the series an air of authenticity that other 'ranch' shows lacked? Interestingly, the first episode was shown in colour although the remainder of season one was broadcast in black and white. Full colour transmissions were re-introduced for season three and thereafter.
As of October 2020, there are only two stars of western series that began in the 1950s still living – Bob Fuller (87) and Clint Eastwood (90). Eastwood played Rowdy Yates in Rawhide (1959-65). In Laramie Fuller played Jess Harper and his co-star John Smith played Slim Sherman. Smith was born Robert Van Orden in 1931, but changed his acting name to John Smith, in order to be 'the only one in the business'. When Laramie was cancelled at the last minute in 1963, he was offered the starring role in a new detective series but turned it down. In 1964, John Wayne recruited Smith to play the supporting role of Steve McCabe in his upcoming film Circus World, after Rod Taylor amicably walked off the picture because he felt the role was smaller than he had been led to believe. Smith and Fuller remained close off-screen friends for over forty years until John succumbed to cirrhosis of the liver at 63 in 1995.