KATHARINE HEPBURN (1907 – 2003)             
Kate Hepburn hailed from Hartford, Connecticut, where she was born in 1907. A natural redhead, she was a tomboy in her youth who wore her hair short and liked to call herself Jimmy. As early as the 1930s there were rumours she was bisexual. Biographer William J. Mann argued this was the case in his 2007 book, and ten years later Kate's close friend, columnist Liz Smith, attested in a documentary that she definitely was bisexual. Irene Mayer Selznick vowed that the 1968 movie The Swimmer had its origins in real life, that she and her then lover Kate thought it might be fun to swim to Malibu via their neighbours' back-yard pools, 'Sometimes the people were home', she recalled. 'In all cases, everybody knew us. If they didn't know me, they certainly knew Kate. We were never made to feel unwelcome.'
Young Kate
Laura Harding was heiress to the American Express fortune and, according to numerous individuals, enjoyed an on/off intimate relationship with Kate for decades. She often referred to herself as 'Kate's husband'. Claudette Colbert was said to be another intimate (from time to time) over a decade or so. The bisexual Judy Holliday agreed to 'sleep-overs' at Kate's Turtle Bay townhouse in Manhattan, although their romance was short-lived and over by 1949. Some reporters and writers saw Kate's penchant for wearing trousers (long before it was fashionable to do so) as some kind of evidence of homosexuality, but the lady herself stated many times that she simply felt comfortable in slacks. On one occasion in the early 1930s, after the costume department stole her slacks from her dressing room, she defiantly walked around the studio in her underwear until they were returned.
Kate & Laura Harding
She was nominated for Best Actress Academy Awards twelve times, winning four times – for Morning Glory (1933), Guess Who's Coming to Dinner (1967), The Lion in Winter (1968) and On Golden Pond (1981), although she never once attended the Oscars as a nominee. In fact, the only time she ever turned up was in 1974, to present the Irving Thalberg Award to her friend Lawrence Weingarten. Far from being prudish, she admitted in her book Me: Stories of My Life, to posing for nude photos when she was in her twenties. The pictures have long since disappeared.
With her husband Ludlow Ogden Smith
She only married once in her life and it was a mistake. While a student at Bryn Mawr she met Philadelphian socialite-businessman Ludlow Ogden Smith and married him. She was 21; he was 29. Theirs was a marriage in name only. Ludlow had plenty of money and they gave each other respectability, although it appears they never consummated the union at all. Many of her colleagues in the theatre were unaware she was even married. Even so, she pressured her husband to change his name to S. Ogden Ludlow because she did not fancy being known as Kate Smith. She moved to California in 1932 and immediately entered into a relationship with her agent, Leland Hayward. Two years later she went to Mexico for a quick divorce from Ludlow. It was mutually agreed to do so and the two remained friends until his death in 1979.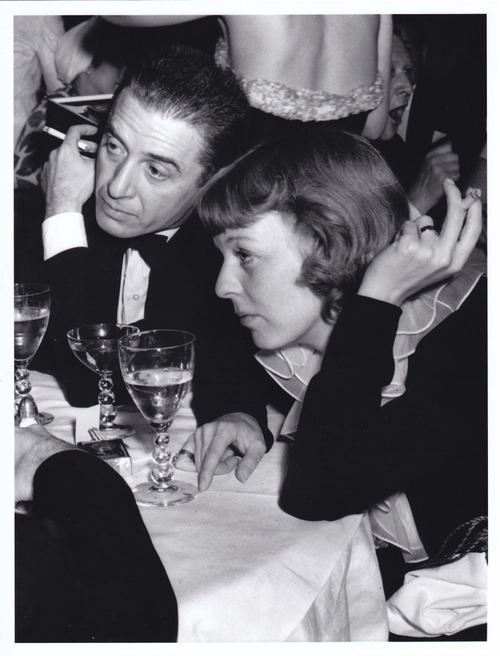 Leland Hayward & Margaret Sullavan
The story went around that the aging John Barrmore attempted to seduce Kate in her dressing-room when they co-starred in A Bill of Divorcement (1932). It was said that he walked in uninvited, stripped naked, and suggested they 'get on with it'. Kate haughtily said 'no' (that time), but insiders claim she later indulged him. When she made A Woman Rebels in 1936, she and newcomer Van Heflin were soon intimately involved. She took it upon herself to help the young actor with his career, but when she obtained the filming rights to The Philadelphia Story and chose not to offer him the lead, Heflin got into a huff and did a runner. That same year she told Laura Harding of enduring a one-night stand with the spectacularly endowed Franchot Tone when they appeared in Quality Street (1937), confiding that 'he was too much man for me'.
The Broadway version
Leland Hayward proposed marriage once their respective divorces came through in 1936, but by then Kate had lost interest in him because she was smitten with married director John Ford. She desperately hoped Ford might leave his wife for her but he continued to procrastinate. Meanwhile, Hayward found out about Kate and Ford and, in retaliation, embarked upon an affair with Margaret Sullavan whom he later married. Most people assumed he had dumped Kate but insiders knew better. Her affair with Ford had begun on the set of Mary of Scotland (1936) and both parties were consumed with passion. Ford even intimated to his pal John Wayne that 'Kate Hepburn is the kind of woman a man could almost leave his wife for.' Kate offered his wife $150,000 for his freedom but the offer was rejected out of hand. The lady already had plenty of money and, besides, she knew her husband had no intention of leaving her for Kate or for anybody else.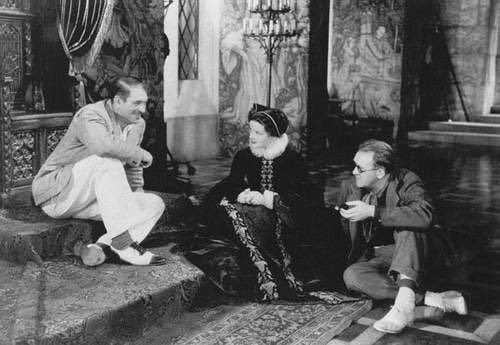 Kate with John Ford (R) on the set of Mary of Scotland (1936)
Cary Grant introduced Howard Hughes to Kate in 1935. She was still hot for Ford when Hughes asked to marry her. Kate was desperate to resurrect her career after being labelled 'box-office poison' that year and still hoping Ford would leave his wife for her. Nevertheless, she agreed to sail to Nassau with Hughes aboard his yacht, the Southern Cross. Before sailing, she told Ford that she expected a firm answer one way or the other on her return! The man was still procrastinating when she gave up on him and moved in with Hughes. She even took the billionaire to Fenwick to meet the Hepburn family but they found him rude and offensive. He hated Fenwick anyway and could not wait to get out of there. Any marriage hopes were subsequently dashed. Before they parted company for good, Hughes bought her a platinum, diamond & sapphire brooch for around $20,000. Both Kate and the brooch managed to survive the Great New England Hurricane of September 21, 1938, while she was there considering one of Howard's marriage proposals. Six hundred and eighty-two souls were not so lucky. The brooch would fetch $120,000 at Sotheby's in 2004.
Howard Hughes – Kate Hepburn
The romance of Spencer Tracy and Kate Hepburn has acquired legendary status in Tinsel town, although it was anything but a match made in heaven. Meeting him when she was 34 years old and Spencer 41, Kate would dote on the alcoholic Tracy for decades. When he embarked upon his week-long binges he was unbearable, often wallowing in his own filth in hotel bathtubs full of bottles of whiskey! Kate would degrade herself for days at a time whilst being treated abominably by him for her trouble. Tracy never had any intention of divorcing his wife, Louise, something he had clearly demonstrated during his lengthy romance with Loretta Young. Tracy plunged into an affair with 31 year-old Gene Tierney when they made Plymouth Adventure (1952) together. Kate knew nothing about it. In fact, in the four years since they co-starred in Pat and Mike (1952), they spent just six months together.
Tracy & Hepburn in Woman of the Year (1942)
They lived at different residences and were careful not to be seen together in public. Kate lived at John Gilbert's old house on Tower Drive and Tracy resided at the Beverly Hills Hotel. As the years rolled by he became more and more dependent on her. For her part, she mothered him and obeyed him. The couple made nine films together between 1941 and 1967, commencing with Woman of the Year (1942) and culminating in Guess Who's Coming to Dinner (1967), which was completed just before Tracy's death.
Mrs. Spencer Tracy
Kate nursed and took care of him for 18 years, yet when he died he willed his entire estate to Louise. Only after his wife died in 1983, did Kate speak openly of her love for Tracy. She also claimed she did not know how he felt about her, despite their 26 years together. She did not attend his funeral out of respect to his family. Instead, she went to the home of writer/director Richard Brooks, where she watched and wept as he screened Tracy's Oscar-winning 1937 film Captains Courageous.
Back in 1946, Kate was initially unimpressed by Robert Mitchum on the set of Undercurrent  and verbally belittled his acting on a daily basis. He took this as a kind of disguised expression of her physical attraction for him. One day, he seduced her in her dressing-room, although she later confided to friends that he had 'interested her' – but only briefly. Paul Henreid was another brief interlude when they made Song of Love together the following year. She and Robert Walker (who was also in the film) were intimate as well, albeit briefly.
Kate & Spence in Guess Who's Coming to Dinner (1967)
In 1991, Kate told a journalist, "I'm an atheist, and that's it. I believe there's nothing we can know, except that we should be kind to each other and do what we can for other people'. Contrary to public opinion, she did not suffer from Parkinson's disease at all. She set the record straight in a 1993 TV documentary which she narrated herself, stating: "Now to squash a rumour. No, I don't have Parkinson's. I inherited my shaking head from my grandfather Hepburn. I discovered that whiskey helps stop the shaking. Problem is, if you're not careful, it stops the rest of you too. My head just shakes, but I promise you, it ain't gonna fall off!" Hospitalized with pneumonia in 1996, she came close to death a couple of times but pulled through. In 2003 an aggressive tumour was discovered in her neck but it was a cardiac arrest that claimed her in 2003, one month after her 96th birthday.