Veronica Lake became famous during World War Two, primarily because of her silly 'Peekaboo' hair style that was copied by thousands of young women employed in the war industry. I recently watched her in a quaint little 1942 film called Sullivan's Travels and I was surprised to find her giving a really enjoyable performance alongside Joel McCrea. The picture was written and directed by her one-time lover Preston Sturges. Evidently, he was livid when he discovered she was six months pregnant when filming began. According to her autobiography, Veronica said he had to be physically restrained upon learning the news. She also had serious problems with her leading man Joel McCrea who flatly refused to ever work with her again. He was too much of a gentleman to say why.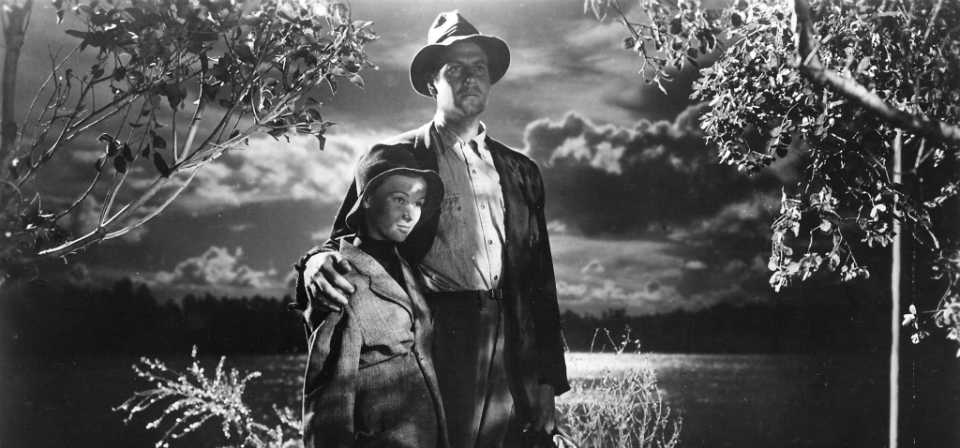 Sullivan's Travels (1942) – Lake 4'11", McCrea 6'3″
Lake was a partying animal in Hollywood, yet she liked to brag that she was not one of those girls who 'played the Hollywood game'. To hear her peers tell it, however, she played her own games at her Mandeville Canyon home where she happily brought home partners and supplied them with free booze and sex on a nightly basis. Paramount art supervisor John Engstead recalled hearing news of her affairs on a daily basis. 'Veronica was a nice enough lady burdened with more bosoms than brains', he said. She also used sex to get producers to meet her requirements during shooting of her movies. 'They're not giving me what I want', a six-months pregnant Veronica told a friend. 'But my producer gets in on the plane at 7 o'clock. So, by 8 o'clock I'll have him in bed and by 9 o'clock I will have anything I want'. That was how she operated.
In July 1943 she deliberately brought about a miscarriage by climbing onto a stool and jumping off! She immediately began to hemorrhage and was rushed to hospital. Her producer/lover had refused to divorce his wife and marry her. She was herself married anyway, but that did not prevent her making a play for her attending doctor in retaliation. Dr McGee was also a married man. They commenced a sexual relationship right there in the hospital, but he would not leave his wife either. When he started to feel guilty about the affair he quickly ended it.
John S. Detlie
Veronica's baby, a little boy, arrived three months premature and died seven days after his birth. Her husband, John S. Detlie, knew only too well that the child was not his. Interestingly, not a single flower arrived from anyone at Paramount while Veronica was hospitalized. When an executive attempted to organize a 'flower fund' he was regularly met with the same response: 'That goddam bitch, I wouldn't send her anything.' So he gave up the ghost. Later, flowers arrived from all over America once the tabloids disclosed that Veronica was devastated by the loss of her 'desperately wanted' child.
Soon after the boy's death Veronica filed for divorce. At the hearing she managed to convince the court that her husband was totally responsible for the breakdown of the marriage and that she was a fit mother to care for their daughter Elaine. In fact, Lake was a horrendous mother known to beat the little girl severely if she soiled her diaper. On top of that Veronica was an alcoholic, yet she easily won custody of her two children by Detlie and he drifted out of her life.
Twenty-one years old and free as a bird, Veronica was soon dating heavily. 'But the very fact I had half a dozen different dates', she told an interviewer, 'shows that I wasn't serious about any of them.' Maybe so, but she slept with them just the same. Gary Cooper, Clark Gable, Bob Hope, Howard Hughes, Victor Mature and Milton Berle all warmed her bed at one time or another. Most were one night stands. Before her looks faded completely she added John F Kennedy, Porfirio Rubirosa, Jorge Guinle, William Dozier and Jean Negulesco to her lengthy list. She was, nevertheless, unpredictable. Errol Flynn tried his damndest to bed her, but she steadfastly rejected him on numerous occasions.
Sturges angered Paramount when he told Life Magazine, 'One of the charms about Veronica is she has a pear-shaped ass, rather than apple-shaped.' Lake accepted two thousand dollars for her part in the same article because she was strapped financially at the time. Soon afterwards Manhattan socialite Tommy Manville sent her the following proposition: 'Will pay you 100 thousand dollars, repeat 100 thousand dollars, to marry me STOP Promise divorce with three repeat three days STOP Request immediate answer STOP Thank you. Tommy Manville'. It was an extraordinary proposal from a filthy rich clown who would marry eleven women in thirteen marriages and squander over a million dollars in divorce settlements. Lake seriously contemplated his weird proposal, but ultimately said 'no', as unpredictable as ever.
Tommy Manville
By the beginning of 1944 Veronica's popularity had begun to wane. The 'Peekaboo' hairstyle gimmick had also run its course, but it was her scandalous lifestyle that really took its toll on the public. She had always been difficult to handle, even at the height of her fame, but now there were other less volatile, prettier young stars coming through the ranks and challenging her spot in Hollywood's pecking oder. But then, two things happened to change her luck. First, she married director Andre DeToth. Second, she became Alan Ladd's choice once again as his leading lady in The Blue Dahlia. They had already made This Gun for Hire together back in 1942 and it had been a box-office winner. His successes of late had earned him a say in who would appear opposite him, and that meant one thing only to big Al. His leading lady had to be shorter in height than him. He was barely 5'6". Veronica was a tiny 4'11", the shortest actress (along with Judy Garland) in Hollywood. It was a pairing made in movie heaven. In all, the couple would make seven film noirs together before the public tired of both the genre and them.
Ladd & Lake in The Blue Dahlia
The Blue Dahlia proved to be Veronica's last good role. Its writer, Raymond Chandler, referred to her as 'Moronica Lake'. He was not a fan. By 1948 Paramount had cut her loose. From 1952 until 1966 she did spots on television and a little stage work, but as the booze took over her life parts became few and far between. By 1962 she was tending bar in an old hotel and living there. Several times she was picked up by the police for being 'drunk and disorderly'. Her final appearance on the silver screen was in a low budget dud called Flesh Feast (1970). Less than three years later she died, the official cause of death being 'hepatitis and acute renal failure'. Her kidneys had collapsed and she had cirrhosis of the liver. She was only 50.
Veronica in 1969
Her career had spanned 30 years and consisted of just 30 movies and some TV guest appearances. Surprisingly, she learned to fly an airplane in 1946 and in 1948 flew a light plane from Los Angeles to New York. Among her many lovers was Marlon Brando when he was just starting to hit the big time. Years later, upon learning she was bankrupt and struggling to make ends meet, he sent her a check for a thousand dollars. She was far too proud to cash it. Instead, she kept it framed in her living room to show to friends.
With lecherous Fredric March in I Married a Witch (1942)
For all her faults, and they were many, Veronica held no illusions about the industry she inhabited for three decades. 'Hollywood gives a girl the aura of one giant, self-contained orgy farm, its inhabitants dedicated to crawling into every pair of pants they can find', she said. She liked Alan Ladd and admired Paulette Goddard for her honesty. Like most of her peers (if not all of them), she had no time for the lecherous Fredric March with whom she made I Married a Witch in 1942. 'He treated me like dirt under his talented feet', she recalled with bitterness. 'Of all actors to end up under the covers with. That happened in one scene and Mr. March is lucky he didn't get my knee in his groin.'
Her famous 'Peekaboo' hair style
Doing her bit for the war effort in a documentary
Veronica Lake will always hold a tiny place in the history of World War Two long after her movie career has faded into oblivion. Her 'Peekaboo' hairstyle was the cause of a mini crisis in the war industry when a few copycat young women caught their long tresses in machinery at factories around the nation. Veronica agreed to make a small instructional film (minus her famous coif), asking America's women to wear more practical hair styles.
Her family did not seem to be overly interested in what happened to her ashes after her death in 1973. For three years the urn sat unclaimed on a shelf in the funeral home until it disappeared. Thirty years later it resurfaced in an antique shop in New York in 2004. Presumably, the contents were eventually spread along the Virgin Islands coastline in accordance with her wishes several decades earlier.